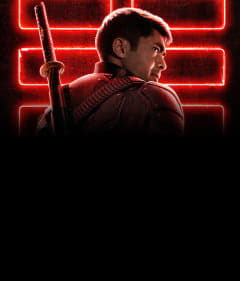 AMC STUBS® MEMBER EXCLUSIVE
Enter Our SNAKE EYES Sweepstakes
Get tickets to see the classified origin story, SNAKE EYES at AMC 7/22-8/1 and you'll be entered for a chance to win the ultimate gaming prize pack.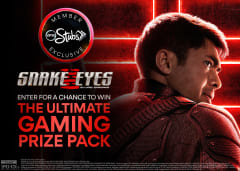 AMC STUBS® MEMBER EXCLUSIVE
The Ultimate Gaming Prize Pack
One lucky AMC Stubs® member will receive a top-of-the-line gaming desktop computer, 49" curved HDR LED monitor, Bluetooth speaker system, headphones, keyboard, mouse and a gift card for games.
Snake Eyes
2 hr 1 min

PG13

JUL 23, 2021
ACTION
Official Rules
SNAKE EYES: G.I. JOE ORIGINS SWEEPSTAKES
AMERICAN MULTI-CINEMA, INC. OFFICIAL RULES ("Official Rules")
NO PURCHASE NECESSARY TO ENTER OR WIN. A PURCHASE WILL NOT INCREASE YOUR ODDS OF WINNING. VOID WHERE PROHIBITED BY LAW.
Sweepstakes Entry Period. The "Sweepstakes Entry Period" begins at 12:00:01 A.M. Eastern Time ("ET") on July 9, 2021 ends at 11:59:59 P.M. ET on August 1, 2021.
Eligibility. The SNAKE EYES: G.I. JOE ORIGINS SWEEPSTAKES ("Sweepstakes") is open only to legal U.S. residents residing in one of the 48 contiguous Continental United States, excluding Rhode Island, or the District of Columbia ("Eligibility Area"), who are at least: (a) 18 years of age or (b) the age of majority in their state of residence, if higher than 18, at the time of entry. AMC Stubs Insider, Premiere and A-List members are eligible to participate. Void in Alaska, Hawaii, Rhode Island, Puerto Rico, the U.S. Virgin Islands, U.S. military installations in foreign countries and where prohibited or restricted by law. Employees, officers, directors, members, managers, agents and representatives and their immediate families or members of their household (i.e., spouse, partner, parents, children, siblings, legal guardians, in-laws, grandparents and grandchildren, regardless of where they live) of American Multi-Cinema, Inc. ("Sponsor"), Paramount Pictures Corporation ("Studio"), Promotional Resources Group LLC ("Sweepstakes Administrator") or each of their respective partners, affiliates, subsidiaries, parent companies, divisions and advertising, promotion, public relations agencies (collectively, "Promotion Entities") are not eligible to enter or win. Studio is not responsible for the collection, submission or processing of entries, the administration of the Sweepstakes, the selection of the winner or the fulfillment of the prize. Entrants are supplying their information to Sponsor and not to Studio.
How to Enter. During the Sweepstakes Entry Period, an eligible person may enter as follows, with a limit of one (1) entry per person, regardless of entry method:

Ticket Purchase with AMC Stubs® Membership Number or Account:  Use your AMC Stubs Membership Number (or log into your AMC Stubs Account) when purchasing a ticket to SNAKE EYES: G.I. JOE ORIGINS ("Film") at any AMC theatre showing the film, at amctheatres.com or at a designated ticketing partner's website. By completing the ticket purchase transaction, the AMC Stubs Member (as per Sponsor's records) will receive one (1) entry  (subject to the limitation stated above).  AMC Stubs Member will only receive one (1) entry regardless of the number of Film tickets purchased or if Film ticket is purchased as Private Theatre Rental for him/herself and others. No entry will be received if the AMC Stubs Membership Number is not provided by the AMC Stubs Member when purchasing Film ticket at the box office or at an Automated Box Office (as applicable). [If AMC Stubs Member does not have his/her Membership Number, he/she may request box office personnel to look for his/her AMC Stubs Account by providing his/her name and phone number.] For online purchase, no entry will be received if the complete AMC Stubs Membership Number is not inputted or recorded by the AMC Stubs Member in the designated area of www.amctheatres.com or a designated ticketing partner's transaction website. No entry will be received if the ticket purchase transaction is later voided for any reason (e.g., non-payment) or use of AMC Stubs Membership Number/Account is determined by the Sponsor in its sole discretion not to be in full compliance with the Terms and Conditions of the AMC Stubs Program.
MAIL ENTRY - NO PURCHASE NECESSARY. An eligible person may enter the Sweepstakes (subject to the limitation stated above) by mail by printing their First and Last Name, Street Address, City, State, Zip Code, Date of Birth, Daytime Phone Number and Email Address (if any) on a 3"x5" card and mailing to SNAKE EYES SWEEPSTAKES NPN ENTRY, P.O. Box 546, Tenafly, NJ 07670, to be postmarked by August 2, 2021 and received by August 9, 2021. If valid, 3"x5" card will result in receipt of one (1) entry (subject to the limitations stated above and in this paragraph). If more than one (1) valid 3"x5" card is submitted, only the first valid 3"x5" card will result in receipt of entry with all additional 3"x5" cards declared void; if 3" x 5" card entrant also entered via Film Ticket purchase, only one (1) entry will be received with all other attempted entries declared void. But, should Sponsor/Sweepstakes Administrator determine that a given individual has engaged in repeated, egregious or blatant violations of the entry limit, such individual will be disqualified from the Sweepstakes altogether and all of his/her attempted entries declared void. No copies, mechanical reproductions or metered mail accepted. Proof of mailing does not constitute proof of delivery or proof of entry.    
Only complete and valid entries will be eligible.  By entering the Sweepstakes, each entrant warrants that he or she has read and agrees to abide and be bound by these Official Rules and that he or she is not prohibited from participating in the Sweepstakes. Eligible entrants agree that Sponsor shall retain full authority, in its sole discretion, to interpret and administer these Official Rules, and entrants agree to be bound by all decisions and interpretations made in good faith by the Sponsor and/or Sweepstakes Administrator.
All entries become property of Sponsor and will not be acknowledged or returned. Entries that are late, incomplete, garbled/jumbled, illegible, misdirected, lost, damaged, delayed, stolen, postage due or otherwise not in compliance with these Official Rules are void. Entries made by any other individual or any entity, and/or originating at any other website or Email address, including, without limitation, commercial sweepstakes subscription notification and/or entering service sites, will be declared invalid and disqualified for this Sweepstakes. Promotion Entities are not responsible for technical failures of any kind, including, but not limited to, electronic malfunctioning of any telephone network, computer hardware or software; any failed, incomplete, garbled or delayed computer transmissions or any combination thereof; or for any error, human, technical or otherwise. Sponsor reserves the right, in its sole discretion, to disqualify any fraudulent entries or any individual it finds tampering with the operation or entry process of the Sweepstakes or acting in violation of these Official Rules. If, for any reason, an entry is determined by Sponsor or Sweepstakes Administrator to have been erroneously deleted, lost or otherwise destroyed or corrupted, entrant's sole remedy is a replacement entry in the Sweepstakes, if feasible; if not feasible for any reason, Sponsor and Sweepstakes Administrator shall not have any liability to entrant in conjunction with same.
Winner Selection. On or about August 11, 2021, Sponsor/Sweepstakes Administrator will randomly select one entry, from all eligible entries received to receive the below defined prize ("Prize"). Decisions of the Sweepstakes Administrator and Sponsor will be final and binding on all matters relating to this Sweepstakes. If the potential winner does not respond within five (5) business days of the first notification attempt, is found to be ineligible, does not comply with these Official Rules or declines to accept Prize, the potential winner may be disqualified in Sponsor's sole discretion, and in such case Sponsor/Sweepstakes Administrator may select an alternate winner based on a random drawing from remaining eligible entries. 
Prize. Prize consists of the following:
Prize (1) – the "Ultimate Gaming Prize Pack" which consists of:
desktop computer with Windows 10 operating system; 16 GB RAM; 1 TB solid state drive; graphics card.
49" curved gaming monitor.
Two wireless bookshelf speakers.
Premium Gaming chair.
Wireless mechanical gaming keyboard.
Wireless optical gaming mouse.
Wireless over-the-ear headphones.
$1,000 gift card which may be used to purchase games.
Approximate Retail Value:  $4,815.00.
No substitution or cash redemption of Prize is allowed, except at the sole discretion of the Sponsor. Sponsor reserves the right to substitute Prize (in whole or in part) with another prize/prize component of equal or greater value.   Sponsor and Sweepstakes Administrator are not responsible for any inability of winner to accept or use Prize (or any portion thereof) for any reason. No more than the stated number of Prizes (that is, one [1] prize) will be awarded. Prize must be accepted in its entirety or declined. Winner is solely responsible for all unspecified costs and expenses associated with Prize acceptance and use, including all costs of installation, maintenance and operation of hardware/software elements of "Ultimate Gaming Prize Pack". Winner is also solely responsible for all applicable local, state and federal taxes on prize.  Prize is awarded "as is" with no warranty, representation or guarantee of any kind by Sponsor or Studio; specific elements of "Ultimate Gaming Prize Pack" only come with the warranty from the corresponding product manufacturer (if and as applicable). Sponsor will determine issuer of gift card; use of gift card is subject to issuer's terms and conditions which may include expiration date (where lawful). Transfer of Prize is not permitted without the permission of Sponsor which may be granted or withheld in its sole discretion and without liability of any kind. Prize value as stated represents Sponsor's good faith determination of approximate retail value of prize.
Prize will be delivered to winner at a street address in the 48 contiguous United States (excluding Rhode Island) or the District of Columbia. Various elements of "Ultimate Gaming Prize Pack" may be delivered to winner separately. Delivery of Prize in its entirety may take approximately up to three (3) months after completion of winner verification procedure.
Odds of Winning. Odds of winning the Prize depend upon the total number of eligible entries received.
Claiming the Prize. The potential winner will be notified by Email (if provided) and/or mail or phone. In the event that Sweepstakes Administrator cannot contact the potential winner of the Prize despite reasonable (in its sole discretion) attempts, Sponsor/Sweepstakes Administrator may, in their sole discretion, randomly select a new, alternate potential winner from the remaining eligible entries received. Return of Prize or prize notification as undeliverable (including, if applicable, due to failure of an AMC Stubs Member to include his/her current Email address or mailing address as part of his/her Member profile information) will result in disqualification and an alternate potential winner may be selected in Sponsor's sole discretion. The potential winner will be required to complete, execute and return to the address requested an Affidavit and Liability/Publicity Release within five (5) days of receipt of same. If Affidavit and Liability/Publicity Release are not returned to Sponsor/Sweepstakes Administrator prior to such deadline, the Prize may be forfeited in Sponsor's sole discretion, such potential winner shall be disqualified, and an alternate winner selected by Sponsor/Sweepstakes Administrator in a subsequent random drawing from the remaining eligible entries. Except where prohibited by law, winner also grants Sponsor and its designees the right to use the winner's full name, hometown, images and likenesses for advertising, publicity and promotion purposes, including print, broadcast and on-line announcements, without further compensation other than Prize and at no expense to the winner, and Sponsor shall not be obligated to make any such use.
Taxes. Winner is responsible for all applicable local, state and federal taxes. Sponsor or Sweepstakes Administrator will issue winner an IRS 1099 Tax Form, and winner agrees to fully cooperate in complying with applicable governmental reporting requirements. The potential winner will be required to complete, sign and return to Sponsor/Sweepstakes Administrator an IRS Form W-9 prior to receiving the Prize.  Failure to complete, sign and return a W-9 will result in the winner being disqualified, and in such case Sponsor/Sweepstakes Administrator may, in their sole discretion, select an alternate winner in a random drawing from remaining eligible entries.
General. Each entrant agrees to, accepts and shall abide by these Official Rules and agrees that any disputes shall be resolved by Sponsor, in its sole discretion. Sponsor reserves the right to cancel/terminate, modify, amend or suspend the Sweepstakes if in Sponsor's sole determination it believes that the integrity of the Sweepstakes has been, or could be, compromised or that the Sweepstakes is not capable of running as planned or fairly, including without limitation due to tampering, unauthorized intervention, fraud, or force majeure or any other causes beyond Sponsor's control. Sweepstakes void where prohibited or restricted. If any provision of this Sweepstakes shall be deemed to violate any federal, state or municipal law, it shall be amended to conform to such law and all other provisions shall remain in full force and effect. Sponsor is not responsible for any typographical or other errors in the printing of these Official Rules, administration of this Sweepstakes or in the announcement of the winner or Prize.  In the event this Sweepstakes is cancelled for any reason, Sponsor reserves the right to conduct a random drawing to award Prize from among all eligible, non-suspect entries received prior to the time of the action or event warranting such cancellation.  Notice of such action by Sponsor will be posted on amctheatres.com/snake-eyes-sweepstakes.
DISPUTES RESOLVED VIA ARBITRATION. To the fullest extent permitted by law, by participating in the Sweepstakes, you understand and agree that any claim or dispute regarding the Sweepstakes or these Official Rules will be resolved individually (NOT AS PART OF A CLASS ACTION/PROCEEDING) by means of binding arbitration (NOT IN A COURT OF LAW; THE RIGHT TO A JURY TRIAL IS BEING WAIVED). As fully set forth in the "Arbitration" provision of the Terms and Conditions of Use of the AMC Theatres website (accessible at amctheatres.com/terms-and-conditions), such arbitration will be conducted by a one-member panel of the American Arbitration Association; will be conducted under the Federal Arbitration Act; and will be governed by Kansas law, regardless of choice of law principles.
Release. By participating, each entrant agrees to hold harmless the Promotion Entities, their respective employees, officers, directors, shareholders, representatives, agents, successors and assigns, from any liability whatsoever, and waive and release such parties from any and all causes of action, for any claims, costs, injuries, losses, or damages of any kind (including, without limitation, claims, costs, injuries, losses and damages related to personal injuries, death, damage to or destruction of property, rights of publicity or privacy, defamation or portrayal in a false light, whether intentional or unintentional) arising out of or in connection with the Sweepstakes or acceptance, possession, or use/misuse of Prize, participation in any Sweepstakes-related activity, or participation in the Sweepstakes, whether under a theory of contract, torts (including, without limitation, negligence), warranty, or any other theory or cause of action.
Privacy. Information submitted in connection with the Sweepstakes will be treated in accordance with these Official Rules and Sponsor's Privacy Policy (as may be amended from time to time), currently located at amctheatres.com/privacy-policy; provided, that in the event of any conflict between these Official Rules and such Privacy Policy, the terms and conditions of these Official Rules shall prevail only with respect to the conduct of this Sweepstakes.
Sponsor. This Sweepstakes is sponsored by American Multi-Cinema, Inc., 11500 Ash St., Leawood, KS 66211. Sponsor will provide the winner's list upon request. To obtain the winner's list or a copy of these Official Rules, send a self-addressed, stamped envelope to SNAKE EYES WINNER/RULES (as applicable), P.O. Box 412, Tenafly, NJ 07670 for receipt by August 20, 2021.