Experience Pandora in RealD® 3D

See James Cameron's AVATAR: THE WAY OF WATER in a completely new dimension! The long-awaited sequel is in RealD® 3D, starting 12/16.

AMC ARTISAN FILMS

Step into BABYLON

Don't miss this epic extravaganza as it unravels behind the scenes of old Hollywood, opening in theatres 12/22.

AMC ARTISAN FILMS

A True Story of Love and Endurance

SPOILER ALERT follows Michael and Kit's relationship as it transforms when one of them falls ill. Now showing at select locations, everywhere 12/8.

AMC Stubs Has Options for Every Movie Fan

Join AMC Stubs A-List™ to see up to 3 movies every week with FREE online reservations and our best benefits. Choose Premiere for premium perks, or join Insider to get started for FREE.

Try the New AMC Theatres MegaBag To Go

It's 3x bigger than our large popcorn! Carry it out from concessions for just $14.99+tax and get things poppin' wherever you go!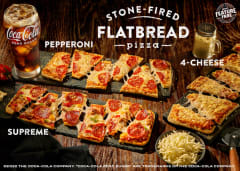 Get It While Its Hot!
All flatbread pizzas are $1 off for a limited time! Your choice of pepperoni, supreme or 4-cheese baked fresh and ready to enjoy. Discount reflected on menu. Excludes Dine-In Locations. Offer valid 12/7-12/15.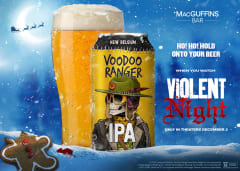 He Knows What You've Been Drinking
So drink good for your own sake. Enjoy a New Belgium VooDoo Ranger IPA from MacGuffins Bar and get tickets to see Santa go on a slay ride this Christmas in VIOLENT NIGHT, now playing.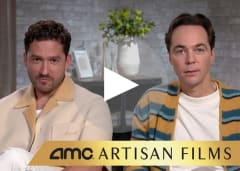 AMC EXCLUSIVE
Authentic Love Story
Watch our exclusive SPOILER ALERT interview with Jim Parsons, Ben Aldridge, Sally Field, Bill Irwin and author, Michael Ausiello.
AMC STUBS® MEMBER EXCLUSIVE
The DreamWorks Campus Sweepstakes
Get tickets to PUSS IN BOOTS: THE LAST WISH 12/21-1/1 to be entered for a trip to tour DreamWorks Animation Campus in L.A. Rent or buy PUSS IN BOOTS (2011) via AMC Theatres On Demand for extra entry.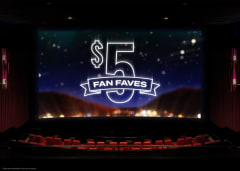 See Big-Screen Movies for Just $5
We offer a selection of fan fave films with tickets for just $5+tax every day, so you can experience movies the way they were meant to be seen, on the big screen at AMC Theatres.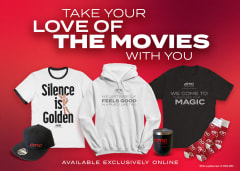 The Movies Have Never Looked Better
Go from big screen to on the scene with our AMC Theatres merch. Shop movie magic style with our online selection of apparel, foil-print posters, blankets, tumblers, and more!