The lovable loser is a fan-favorite character in indie comedies. We rooted for Paulie Bleeker (Michael Cera) and Juno MacGuff (Elliot Page) in JUNO; for Lars Lindstrom (Ryan Gosling) in LARS AND THE REAL GIRL; for Nick Halsey (Will Ferrell) in EVERYTHING MUST GO; and for every wedding guest at TABLE 19 (Anna Kendrick, Lisa Kudrow, Craig Robinson). We've all been in their shoes at one time or another, and we want to see them — people like us — win.
At least, this has been true in the context of getting the girl, overcoming challenges, or simply finding inner happiness and fulfillment. Rarely, if ever, have we cheered on the "bad guys," but LOGAN LUCKY will make you do just that.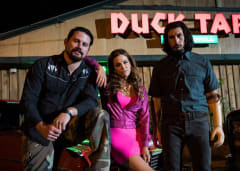 Two down-on-their-luck brothers, Jimmy (Channing Tatum) and Clyde Logan (Adam Driver), scheme an elaborate robbery during the legendary Coca-Cola 600 race at Charlotte Motor Speedway. They enlist the criminal expertise of Joe Bang (Daniel Craig) to pull off the sting, but first, they have to break him out of jail. With Joe free, the Logans and their friends, the Redneck Robbers, execute their plan to steal $14 million during NASCAR's longest race and finally put an end to the Logan family curse.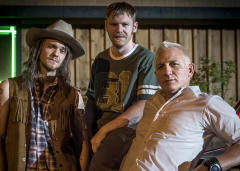 Not exactly your average underdog story or heist film — though director Steven Soderbergh has played in this genre before, with OCEAN'S 11, 12 and 13. "When I read (the script), it felt like it was a kind of film that I like to watch, the kind of film I like to make," Soderbergh said in an interview with The Associated Press. "It was different. It didn't feel like a repeat of the OCEAN'S movie. It's in the same universe, but in a different galaxy."
LOGAN LUCKY is a "hillbilly heist:" carried out by a few good ol' boys with nothing to lose; however, it stars an A-list cast, including Katherine Waterston, Sebastian Stan, Riley Keough, Hilary Swank, Seth MacFarlane and Katie Holmes. The film also features NASCAR drivers Kyle Busch, Carl Edwards, Brad Keselowski, Joey Logano, Ryan Blaney and Kyle Larson … though, none of them play actual drivers. (You'll just have to watch the movie to spot their cameos.)
See how the other half steals this Friday, August 18. Catch LOGAN LUCKY at an AMC theatre near you — get your tickets today.