Ridley Scott wants to stay in the ALIEN business, and Walt Disney Studios may be the beneficiary of that decision.
Scott has made all of his ALIEN films — including two prequels in PROMETHEUS and ALIEN: COVENANT — for 20th Century Fox. But since Fox has been assumed by Disney, the future of the sci-fi/horror franchise might have been in question.
The legendary director put a few of those fears to rest in a recent interview with the Hollywood Reporter on behalf of the original ALIEN turning 40. Scott looked back on the formation of his space-set masterpiece and how he figured out how to wring scares out of a modest budget. But he also looked ahead to the possibility of more exploration in the pre-ALIEN world, picking up where ALIEN: COVENANT left the story in 2017.
Scott admitted to THR that there have been discussions between himself and Disney about making another chapter in the ALIEN saga. But he immediately cautioned that the series needs to continuously evolve, because the minute it doesn't, the concept of the series — and the threat of the Xenomorph creature — grows stale.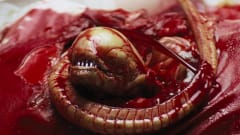 "You get to the point when you say, 'OK, it's dead in the water,'" Scott said. "I think ALIEN VS. PREDATOR was a daft idea. And I'm not sure it did very well or not — I don't know. But it somehow brought down the beast. And I said to them, 'Listen, you can resurrect this, but we have to go back to scratch and go to a prequel, if you like.' So, we go to PROMETHEUS, which was not bad actually. But you know, there's no alien in it, except the baby at the end that showed, itself, the possibility. I mean, it had the silhouette of an alien, right? The alien [origin concept] is uniquely attached to Mother Nature. It simply comes off a wood beetle that will lay eggs inside some unsuspecting insect. And in so doing, the form of the egg will become the host for this new creature. That's hideous. But that was what it was. And you can't keep repeating that because the joke gets boring."
Ridley Scott has shown that he's willing to take the ALIEN franchise in completely new directions, exploring genetics, cloning, philosophy, old-age religion and so much more in both PROMETHEUS and ALIEN: COVENANT. But the question remains whether or not Disney wants him to keep exploring the threads of the saga.
A while ago, it was believed that Scott had enough story to carry his prequels all the way up until the moment where ALIEN begins, with young Sigourney Weaver and the crew of the Nostromo receiving a distress signal from LV-426.
It sounds like Scott wants to keep telling these stories and evolving the series as he goes. And Disney sounds interested, for now. We'll see what comes from these discussions and keep you in the loop.