It's been over a year since we last saw the release of a film fueled by rock and roll. BABY DRIVER (2017), though a great action movie, wouldn't have had the same impact without its heart-pumping soundtrack, featuring Beck, The Damned and more. Fortunately, this month, we get not one, but two films that use rock music as the driving force of the story. Learn more about A STAR IS BORN and BOHEMIAN RHAPSODY and get your tickets at AMC.
A Star is Born
A STAR IS BORN was a big undertaking for Bradley Cooper and an even bigger accomplishment. He made his directorial debut with the romance-drama — which is sure to receive multiple Academy Award® nominations — as well as co-wrote the script and starred alongside Lady Gaga. He even helped come up with his character's sound and some of the film's original songs.
"I had a sound in my head that I wanted Jackson's guitar to sound like, and it was heavily influenced by Neil Young," Cooper told us in an exclusive interview. He also said he spent "months and months working on that voice" and practicing guitar with Lukas Nelson, who plays in his on-screen band (the real-life Promise of the Real).
A STAR IS BORN opens with "Black Eyes," a gritty rock and roll, country mashup Cooper co-wrote with Nelson. Cooper and Nelson also collaborated on the guitar solo-driven "Out of Time."
Lady Gaga wrote or co-wrote nearly every other song in the film, reuniting with DJ White Shadow and Hillary Lindsey. While many of her tracks reflect the soft rock, country-esque sound of "Joanne," fans will also hear her iconic pop sound in "Why Did You Do That?" and "Hair Body Face."
Whichever musical genres you love, you'll want to experience the concert-quality A STAR IS BORN in theatres. Get your tickets at AMC today.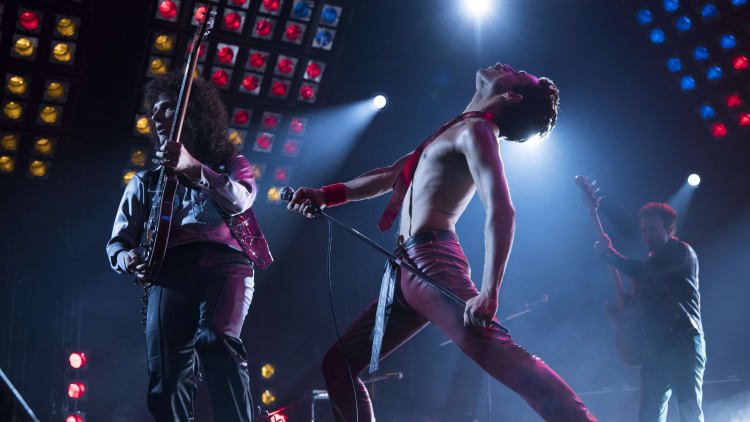 Bohemian Rhapsody
Get ready to sing along to "We Will Rock You," "We Are the Champions" and, of course, "Bohemian Rhapsody." The new bio-drama, opening November 2, is a foot-stomping celebration of Queen, their music and their legendary lead singer, Freddie Mercury. 
Almost everyone can name at least a few Queen hits, but many don't know about the band's journey to fame or about Mercury's extraordinary life. BOHEMIAN RHAPSODY shares those stories, with incredible performances that'll make you laugh, cry and cheer for an encore.
Rami Malek stars as the flamboyant front-man. At CinemaCon 2018, Malek said, "When I first got this role, I thought, 'This could be a career-defining performance.' And then I realized it could also be a career killer if I didn't get it right. Freddie Mercury is the greatest performer of all time. There is no one like this human being."
To prepare for the "insurmountable task," Malek studied Mercury beyond his career. He learned about his struggles and pain — the things that gave Queen's music life. "The greatest compliment I could get was an email from (Queen guitarist) Brian May saying that he was moved to tears and that if Freddie were here today he couldn't be more proud of what we had accomplished in the film."
BOHEMIAN RHAPSODY has been 10 years in the making, but the film — and its soundtrack — will be worth the wait. Get your advance tickets to the November 2 release at AMC today.