Few things in life are greater than the feeling of that first kiss: the butterflies in your stomach, the anticipation, and the moment when you plant your lips on the person you've been nursing a crush on for ages.
Some of the best romantic films know how to capture that moment perfectly, making us swoon right along with the couples on screen. As the new comedy ISN'T IT ROMANTIC dances into theatres this Valentine's Day — complete with a beautiful kiss set against the Manhattan skyline — we're taking a look back at the best kisses in rom-com movie history to get you in the mood for love.
Breakfast at Tiffany's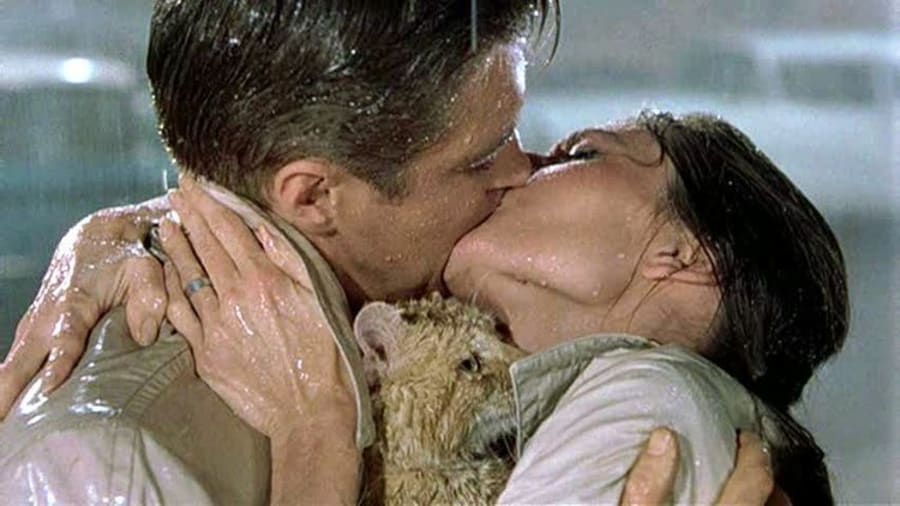 In this iconic 1961 film, Audrey Hepburn plays Holly Golightly, a New York socialite determined to cement her place in upper-class society and leave her mysterious past behind. But the arrival of a handsome writer named Paul turns her whole world upside down, and she eventually decides her feelings for him are worth more than her social aspirations. All that romantic buildup finally pays off when the pair share a passionate kiss in the rain.
Pretty Woman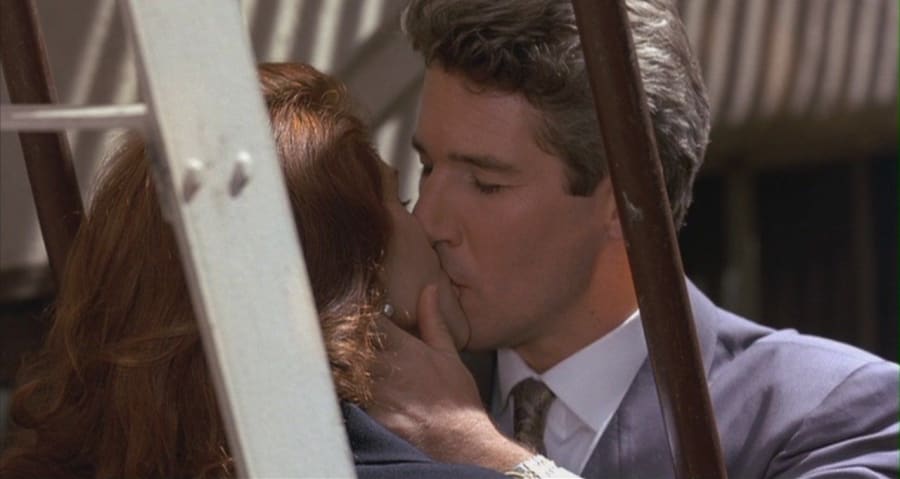 One of Julia Roberts' most famous roles was in this 1990 film, in which she stars as a sex worker named Vivian who is hired by a successful businessman, played by Richard Gere. Even though they come from different worlds, the unlikely duo can't help falling in love. The pair share more than one kiss in the movie, but it's the one at the end — when Gere shows up at Vivian's apartment to sweep her off her feet — that's the most magical.
Four Weddings and a Funeral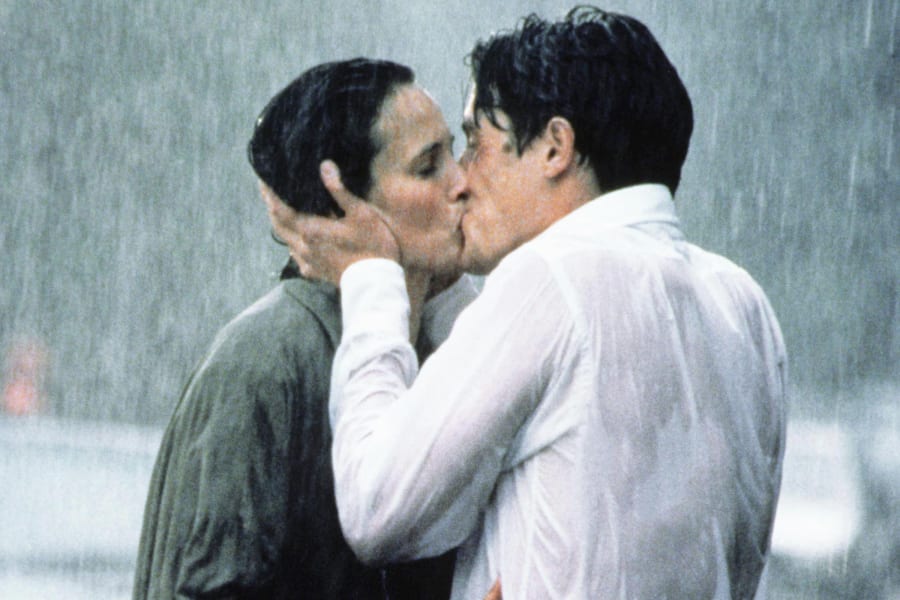 Another kiss in the rain! This time it's between Hugh Grant and Andie MacDowell in this 1994 British rom-com classic. Grant plays an Englishman who falls for an American woman that he keeps running into at — you guessed it — four weddings and a funeral. When the pair finally kisses, it's electrifying and totally worth the wait.
10 Things I Hate About You

This 1999 teen rom-com puts a clever spin on William Shakespeare's "The Taming of the Shrew," with Julia Stiles as a rebellious young woman named Kat who has no interest in dating. A classmate who wants to date her sister pays the school bad boy (the late Heath Ledger) to take Kat out, and he ends up genuinely falling for her. After discovering the ruse, Kat realizes she has feelings for him, too, and the pair shares a sweet first real kiss in the school parking lot.
Bridget Jones' Diary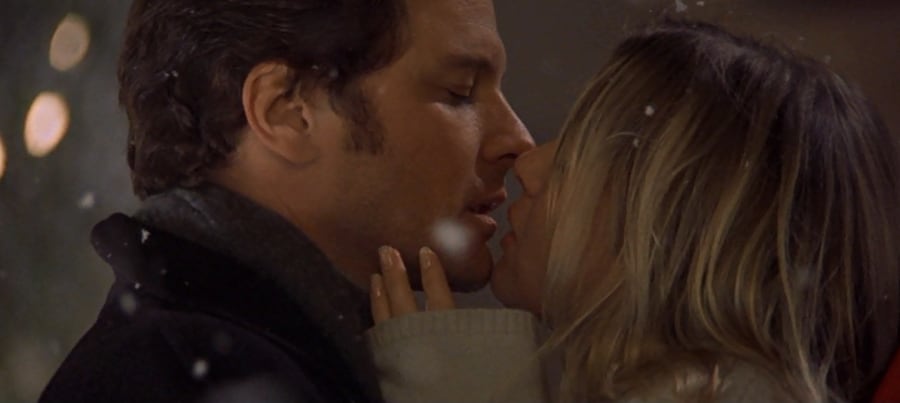 In this delightful reimagining of Jane Austen's "Pride and Prejudice," Renée Zellweger plays Bridget, a 32-year-old single woman who is unlucky in love. After a crummy affair with her boss (Hugh Grant), she eventually realizes that the right man has been in front of her face all along: Mark Darcy (Colin Firth). Bridget races through the streets (without pants on!) to find Mark, and they share a dizzying smooch as the snow falls around them.
Never Been Kissed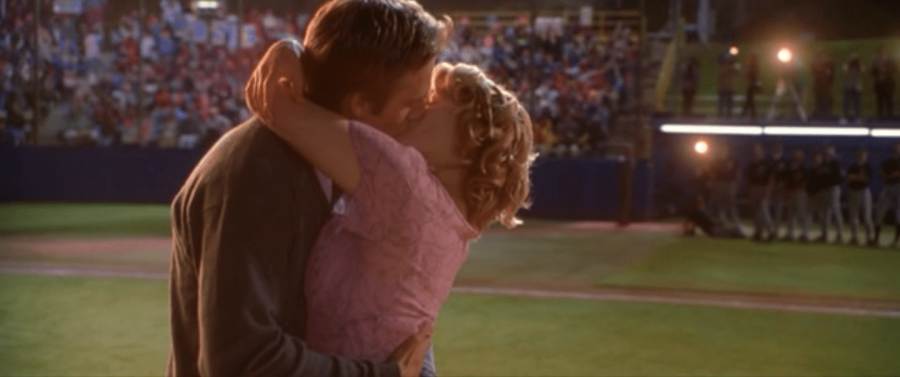 Josie (Drew Barrymore) is a 25-year-old copy editor who falls in love with an English teacher named Sam (Michael Vartan) after she takes an assignment that forces her to pose as a high school student. Josie puts her career and her burgeoning new relationship on the line when she reveals her true identity and makes an offer: If Sam still wants to be with her, he should meet her on the pitcher's mound during a baseball game to give Josie her first real kiss. Just when it looks like he won't, he totally does, and the crowd goes wild.
Crazy, Stupid, Love
In the first of three films together, Ryan Gosling and Emma Stone play total opposites: Jacob is a vain womanizer who's made a career out of dating. Hannah is a law school grad who shuts Jacob down when he tries to hit on her at a bar. But after Hannah dumps her lame boyfriend, she runs back to the bar, determined to hook up with Jacob and forget her ex. Hannah rushes over to Jacob and, to his surprise, delivers a massive kiss. Unlike most rom-com kisses, this one doesn't come at the end; instead, it kicks off the whole affair.