Many exciting adventure movies are heading our way in 2018, and the closest on our radar is Adrift. Shailene Woodley and Sam Claflin star as sailors and lovers Tami Oldham and Richard Sharp. Set in 1983, Adrift focuses on the pair's journey across the ocean, which becomes life-threatening when they sail directly into a hurricane.
Following the hurricane, Tami awakes to find Richard severely injured. She must sail them to shore before it's too late. Adrift sounds like a heart-pumping spectacle, but what makes it even more thrilling is the fact that it's based on a true story.
What Really Happened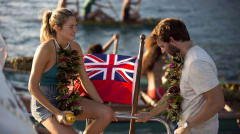 Adrift takes its inspiration from Tami Oldham Ashcraft's story. In 1983, she was happier than ever, sailing with her fiancé Richard Sharp. After sailing together for six months, the pair took a job delivering a 44-foot yacht from Tahiti to San Diego. Unfortunately, this decision set them on course for the most catastrophic event imaginable.
Three weeks into their trip to San Diego the pair was struck by Hurricane Raymond — which would go down as one of the worst hurricanes in history. The treacherous storm conditions made sailing almost impossible, and Tami and Richard did all they could to keep the yacht afloat. As they battled 40 foot waves, the hurricane roared on. Richard tried to protect Tami, telling her to get below deck. According to Tami's book, Red Sky in Mourning: A True Story of Love, Loss and Survival at Sea, she heard Richard shouting before she was knocked out.
Tami came to several hours later, to find that the hurricane had subsided. This is where the true events are seemingly different from those portrayed in the film. In the trailer for Adrift, we see Tami awake to find Richard missing. However, after a brief search she locates him. He's injured, but he's alive. But the true story is much more harrowing. In reality, Tami never found Richard. When she awoke after being knocked out, Richard was nowhere to be seen.
Is This Real Life Or A Fictionalization?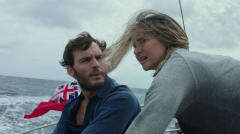 Perhaps the film version has altered the events for a happier ending, or perhaps the fictionalized version of Tami hallucinates Richard and the trailer is cleverly throwing viewers off the story's track. There's even a mention of hallucinations from Richard earlier in the trailer to establish that idea.
If it's the latter, this is a pretty clever technique. Considering the majority of the film takes place at sea following the hurricane, it would be hard to dramatize Tami's quest for survival if she had no one to talk to. We couldn't know what she was thinking, or how she was coping with the situation. Moreover, the real-life Tami has spoken of the "inner voice" that kept her going, so the hallucination of Richard could be a great way to dramatize this.
Though she was mourning the loss of her fiancé, in real life, Tami refused to give up. 40 days after the hurricane struck, a Japanese research ship saw her boat at the entrance of the Hilo Harbour in Hawaii. She was finally safe.
The heartbreaking true story of Tami and Richard sounds like something out a film, but the sad truth is that it's all real. Adrift brings their story to the big screen next month and, even though it'll be an emotional rollercoaster, we're extremely excited to see it.
Adrift hits theaters on June 1.