In Creed, the young fighter Adonis, played by Michael B. Jordan, battled to earn his place as a boxer. In Creed II, the son of former world champion Apollo Creed fights to reclaim the circumstances around his father's death, and to rewrite the history of the Creed family name.
Tickets are now on sale for Creed II, directed by Steven Caple Jr. Jordan returns, as do Sylvester Stallone and Tessa Thompson. And Dolph Lundgren, who played the towering Russian boxer Ivan Drago in Rocky IV, comes back as well. The character has his son Viktor, a contender played by real-life fighter Florian Munteanu, in tow. They're trying to write a new future for their own family name.
Here's how two families looking for second chances collide in Creed II.
"If He Dies, He Dies"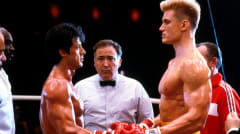 In 1985, Rocky IV introduced Ivan Drago, a gigantic Russian fighter played by Dolph Lundgren. The blonde warrior was basically a Soviet super-soldier in sporting disguise. He challenged Apollo Creed to an exposition bout, and against the advice of friends like Rocky, the headstrong champ agreed to the fight.
Drago took the fight seriously. Creed did not — and his attitude cost him his life. The out-of-shape champ couldn't stand up to the Soviet puncher's assault. After a couple of rounds, a massive hit from Drago left Creed dead in Rocky's arms.
Grieving and furious, Rocky set up a follow-up bout in the Soviet Union, in which he would fight Drago himself. While the blonde bruiser trained in a high-tech, state of the art facility, Rocky readied himself with rudimentary methods and a demanding natural environment buried in snow. Rocky won that fight, leaving Drago feeling disgraced and disregarded.
History Repeats?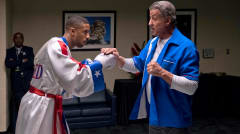 Now Adonis Creed has begun to redefine his father's name with outstanding performances in the ring. Still, we know from the previous film that "Donnie" can be just as headstrong as his father. So when Ivan and son Viktor show up to challenge the young boxer, Donnie can't resist.
He has to fight, he thinks. It's his chance to defeat the family that destroyed his father. Looking at trailers for Creed II, with Donnie training out in the desert, it seems like Rocky even puts his Rocky IV techniques to work once again.
It's easy to see why he'd do that for Donnie. To some extent, Rocky blames himself for Apollo's death. Training Adonis is a second chance for him. Adonis blames the Drago family for his father's death, and so the fight represents a second chance for him as well. And Ivan Drago sees the opportunity for his son to defeat Creed's son as a chance to redeem his own family name.
We Write Our Own Destiny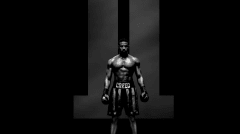 Of course, the person who really destroyed Apollo Creed was Apollo himself. He didn't approach the fight like one that could actually hurt him. He was glib and unprepared. It's not difficult to imagine that Donnie is effectively goaded into fighting Viktor Drago — he's not one to back down from a challenge. And with his father's legacy on the line, he's virtually guaranteed to jump into the ring. Problem is, the Dragos have more to gain than he does. There's a different sort of second chance here, for Donnie to make the same mistake his father did.
Sometimes a second chance is just an illusion. There's no way to bring Apollo Creed back to life, or to change Ivan Drago's sense of having been cast aside after his defeat. The only ones who can really win or lose here are Donnie and Viktor. The big question is whether one of them will effectively be the cause of their own defeat.
Get tickets for Creed II now before the film is in theaters on November 21.