When Daniel Bae notices Natasha Kingsley in a crowded train station, it's love at first sight. Cue the classic grand gesture of him chasing after her to win her over. Only, Natasha is not a hopeless romantic like Daniel. She's a realist who relies on science and facts, and more pressing, she's facing deportation … tomorrow.
THE SUN IS ALSO A STAR is based on the YA novel of the same name by Nicola Yoon, but this romantic drama is more complex than your average YA story. Both of our leads are at a crossroads. Daniel (Charles Melton) is on his way to an interview with Dartmouth College, where his parents have pressured him to study to become a doctor. Natasha (Yara Shahidi) more than anything wants to stay in New York City, where her family immigrated nearly a decade ago from Jamaica.
What happens in the next 24 hours will change the course of their lives forever, and that is the basis of THE SUN IS ALSO A STAR's biggest question: Can two people fall in love in a day?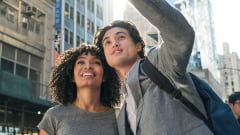 Daniel and Natasha are at least determined to try (her with some convincing). They spend as much time as possible together exploring the city and their respective cultures. Director Ry Russo-Young does an incredible job at showing how their histories intertwine and clash in a way that supports the story and reinforces the feeling that the universe is pulling these two apart, as much as it is pushing them together.
The casting of Melton and Shahidi as the stars is, simply, perfect. They have a natural chemistry on screen — and c'mon, they're both gorgeous! Because the film takes place over 24 hours, we get to immerse ourselves in beautiful, vibrant scenery, too. We're never taken outside of the moment.
As for the big question about love and fate, you'll have to find out the answer yourself when THE SUN IS ALSO A STAR reaches AMC theatres this weekend.