The Dark Universe is about to undergo some major changes. The interconnected horror universe that Universal Pictures attempted to launch with THE MUMMY in 2017 is taking a hard left turn and has recruited fresh and exciting talent to lead its next monster-movie experiment.
Leigh Whannell, the director behind UPGRADE and the sequel INSIDIOUS: CHAPTER 3, has signed on the dotted line to helm THE INVISIBLE MAN for Universal as part of its monster banner. However, in the report by Variety, Whannell's THE INVISIBLE MAN movie will not be part of any connected Dark Universe project, as the studio is veering away from trying to build a cinematic world around their classic monster-movie properties.
"Throughout cinematic history, Universal's classic monsters have been reinvented through the prism of each new filmmaker who brought these characters to life," said Peter Cramer, Universal's president of production, to Variety. "We are excited to take a more individualized approach for their return to screen, shepherded by creators who have stories they are passionate to tell with them."
Apparently, Leigh Whannell had a passionate pitch for THE INVISIBLE MAN movie, and so Universal brought him aboard. But he's not alone. Whannell will be producing this horror movie with Jason Blum, the creative force behind Blumhouse Productions, which has produced such recent horror hits as HALLOWEEN (2018), HAPPY DEATH DAY, THE VISIT and THE PURGE.
This likely means that Johnny Depp no longer will be attached to the lead role in THE INVISIBLE MAN movie. Depp was part of this shared-universe concept of the Dark Universe. In Tom Cruise's THE MUMMY movie, it was established that a secret society known as Prodigium existed to protect the world from the emergence of creatures such as Dracula, the Wolf Man and, naturally, the Mummy. Prodigium was led by Dr. Henry Jekyll, who was played on screen by Russell Crowe. But a photograph released by Universal revealed that Crowe and Cruise were going to be joined in the Dark Universe by Depp and Javier Bardem. Now, the series appears to be heading in a new direction.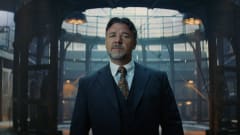 Hiring Leigh Whannell, with Jason Blum as a producer, suggests that THE INVISIBLE MAN feature will go harder into the horror roots of the character. THE MUMMY, meanwhile, had horror elements, but operated more as an action-adventure with Tom Cruise in its lead role.
There's no guarantee that Whannell's THE INVISIBLE MAN will be the first movie rolled into production in the Monster Universe, as the Variety article notes that Universal Pictures is currently listening to other pitches from creative storytellers centered around the other characters in Universal's stable. That could include Dracula, the Wolf Man, the Creature from the Black Lagoon and Frankenstein.
But for now, the monster business is about to be booming again at Universal. It's just heading in a different direction from what was expected after the release of Tom Cruise's THE MUMMY.