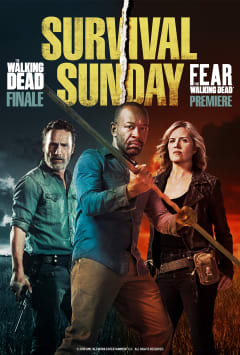 Two great shows. One epic night. One amazing getaway offered exclusively from AMC.
Fans of The Walking Dead universe can now experience their favorite post-apocalyptic world on the big screen in Survival Sunday: The Walking Dead & Fear the Walking Dead, coming to AMC theatres nationwide on April 15 only. Will Rick and Negan heed Carl's last wishes or tear each other apart in a violent final showdown? Will Morgan's killing streak extend to his arrival on Fear?
Find out the answers to these questions and more. Watch as "All Out War" ends and new adventures begin in this highly anticipated series crossover.
Moviegoers will enjoy a commercial-free screening of the season 8 finale of The Walking Dead and the season 4 premiere of Fear the Walking Dead, plus thrilling bonus content. But only one "Dead-head" will win a trip to go on location of The Walking Dead and attend a Last Supper at the Sanctuary. Get your tickets to Survival Sunday at an AMC theatre near you, and you'll be automatically registered for our exclusive sweepstakes.
Fathom Events and AMC present this special one-night event in more than 750 theatres across the U.S. Throughout the year, Fathom gives moviegoers the opportunity to see Broadway shows, Metropolitan Opera performances, live concerts, sporting events, comedy shows, original programming and more.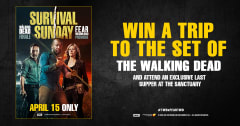 With exceptional views that put you unbelievably close to the action, there's no better way to experience The Walking Dead and Fear the Walking Dead than on the big screen at AMC. Get your tickets now to Survival Sunday — April 15 only, at 8:30 p.m. ET — and be registered to win a trip to go on location of The Walking Dead.