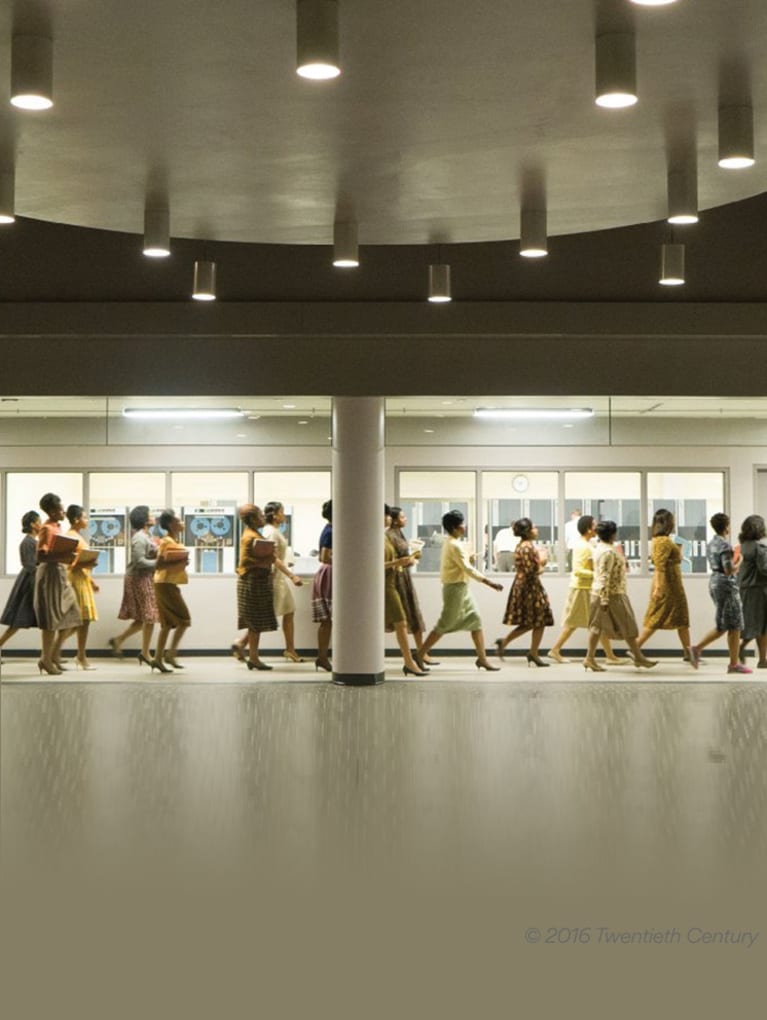 Official Rules
The Hidden Figures Screening Event
No Purchase Necessary
The Hidden Figures Screening Promotion (the "Promotion") is sponsored by Twenty-First Century Fox, Inc. and American Multi-Cinema, Inc. ("Sponsors"). The Promotion begins February 13, 2017 at 10:00am EST and ends on February 28, 2017 at 11:59pm EST (the "Promotion Period").
ELIGIBILITY: This Promotion is open only to legal residents of the United States (void in Puerto Rico) who are 18 years of age or older at the time of entry ("Entrants"). Employees, officers, directors, agents, representatives, and the immediate family members of Sponsors, their parent companies, affiliates, subsidiaries, advertising, promotion agencies and promotion partners are ineligible to enter. This Promotion is void where prohibited by law. All federal, state, and local laws and regulations apply.
HOW TO ENTER:
NO PURCHASE NECESSARY. To enter and participate in the Promotion:
Go to http://twentyfirstcfimpactdev.prod.acquia-sites.com/hidden-figures-screening (the "Promotion Site"), during the Promotion Period. Follow the on-screen instructions to properly complete the online application form in order to submit your entry for the Promotion (each a "Submission"). Before uploading your Submission, you will be required to agree that you have read and agree to these Official Rules. Sponsors take no responsibility and assume no liability for any Submission that you or anyone else creates, stores, shares, posts or otherwise transmits. You shall be solely responsible for your Submission and the consequences of posting, publishing it, or sharing it. Submissions that do not include all required information and adhere to these Official Rules as determined by Sponsors, in their sole discretion, will be considered void. Sponsors may, in their sole discretion, disqualify any Submission and/or Entrant they deem non-compliant with these Official Rules.
By submitting your Submission, you represent and warrant to Sponsors that (i) the Submission is wholly original and does not infringe upon or otherwise violate any right of any third party or contain any third party material (other than that requested by Sponsors), whether protected by copyright or otherwise, (ii) you have all rights necessary to submit the Submission in the Promotion in accordance with these Official Rules, (iii) no party other than you has any right, title or interest in and/or to the Submission and/or any part of the Submission.
By entering the Promotion, you (a) waive all moral rights in the Submission in favor of Sponsors and (b) grant to Sponsors a perpetual, fully-paid, irrevocable, exclusive license to reproduce, prepare derivative works of, distribute, display, exhibit, transmit, broadcast, televise, digitize, alter, edit, manipulate, incorporate into other materials, and otherwise use, and permit others to use and perform throughout the world your Submission in any manner, form, or format now or hereinafter created, including on the Internet, and for any purpose, including, but not limited to, advertising or promotion of the Sponsors' motion pictures and services, all without further consent from or payment to you. You agree that Sponsors have no obligation to post your Submission on any website.
Submissions that are late (including delayed data transmissions), unable to be viewed, forged, illegible, incomplete, misdirected, or otherwise not in compliance with these Official Rules will be disqualified. Sponsors reserve the right to determine in their sole discretion which Submissions have satisfied the entry requirements. Sponsors will not notify entrants whether or not their Submission has been rejected or accepted.
Only one Submission per individual will be accepted in the Promotion.
SELECTION OF WINNER:
The judges of the Promotion, who are employees of Sponsors or selected by Sponsors ("Judges") will review the eligible Submissions to determine the Entrants selected to receive screenings. The Judges will choose recipients of Screenings according to the following judging criteria, applied to the content of the essay questions in the Submissions: 50% - Your expression of the connection of your group to the film "Hidden Figures", 50% - Your expression of impact that the Screening will have on your group ("Judging Criteria"). In all matters, the decisions of the Judges and Sponsors shall be final.
On or about March 10, 2017, Judges will select potential screening recipients. Potential recipients will be notified via email or phone, on or about March 13, 2017. If a potential screening recipient cannot be reached after a reasonable effort has been exerted during two (2) business days from the date of the attempted notification, or if he/she is found to be ineligible, or if he/she cannot or does not comply with these Official Rules, an alternate recipient may be selected.
SCREENING GIVEAWAYS:
There will be at least ten (10) Screenings total granted to the recipients selected by Sponsors. Screenings will take place at movie theaters chosen by Sponsors in their sole discretion on a date and time chosen by Sponsors in their sole discretion. Sponsors do not guarantee the number of seats that may be available for such screenings, but they are expected to permit at least 50 individuals to attend. All travel and other expenses associated with the Screenings is the sole responsibility of the entrants and attendees at the Screenings.
If a Screening cannot be awarded due to circumstances beyond the control of the Sponsors, a substitute Screening or item of equal or greater value may be provided at the Sponsor's sole discretion.
The approximate retail value ("ARV") of a Screening is $500 to $2,000 U.S. Dollars (Actual value depends on number of attendees and location/time of Screening.)
Grand Total ARV of all Screenings in Promotion: $10,000 to $15,000 U.S. Dollars.
CONDITIONS: By entering, participants agree to be bound by these complete Official Rules. All federal, state and local laws and regulations apply. All applicable federal, state and local taxes are the responsibility of the Screening recipients. Sponsors, and Sponsors' officers, directors, parent companies, affiliates, subsidiaries and advertising and promotion agencies are not responsible for: (i) late, lost, delayed, damaged, misdirected, incomplete, stolen, postage due or illegible entries; (ii) any injuries, losses, or damages of any kind caused by participation in the Promotion or resulting from travel to/from or attendance at a Screening; or (iii) printing, distribution or production errors. Screening notification as undeliverable will result in disqualification and an alternate recipient may be selected. Entry and/or acceptance of Screening constitutes permission for the Sponsors and their agencies to use the winner's name, address (city and state/province/territory), Submission, and/or likeness for advertising and trade purposes without further compensation or authorization, worldwide and in perpetuity, in any and all forms of media, now known and hereafter devised, including without limitation Internet, unless prohibited by law. Any person attempting to defraud or in any way tamper with this Promotion will be ineligible for Screening and may be prosecuted to the full extent of the law. If, for any reason, the Promotion is not capable of running as originally planned, Sponsors at their sole discretion reserves the right to modify, suspend or cancel the Promotion. Void where prohibited.
DISCLAIMERS; RELEASE: Sponsors are not liable for losses or injuries of any kind resulting from participation in Promotion, or any technical malfunctions of the telephone network, computer Internet system, computer dating mechanism, computer equipment, software, or any combination thereof, or any entries that are late (including delayed data transmissions), tampered with, garbled, incomplete, misdirected, lost, forged, illegible, mutilated, mechanically duplicated, mass machine printed, or otherwise not in compliance with these Official Rules. Sponsors are not responsible or liable for any injury or damage to an entrant's or third person's computer and/or its contents, related to or resulting from Promotion. Entrants agree to release and waive any claims they may have against Sponsors for any and all injuries, claims, damages, losses, costs, or expenses of any kind (including without limitation attorney's fees) resulting from acceptance, use, or misuse of any prize or element thereof, or participation or inability to participate in this promotion
COPY OF OFFICIAL RULES/WINNERS NAME: For a copy of the Official Rules or the name of the winner (please specify), send a self-addressed, stamped envelope to: The HIDDEN FIGURES SCREENING Event, c/o 21st Century Fox, Inc., 1185 Avenue of the Americas, 22nd Floor, New York, NY 10036.