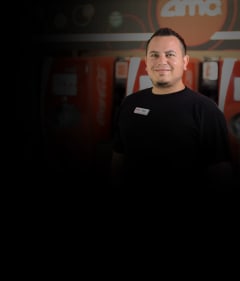 AMC Theatres® remains committed to the health and safety of our guests and crew. We continue to listen, learn, and evolve to keep our theatres Safe & Clean.
Proud To Partner With Clorox®
AMC Theatres teamed up with Clorox to improve cleanliness, comfort and confidence in our AMC Safe & Clean theatre experience.
Take advantage of the Clorox hand sanitizer and wipe stations throughout the theatre during your visit.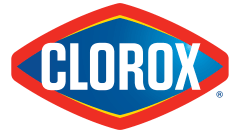 Maximized Fresh Air Flow & MERV 13 Filters
Fresh, outdoor air is constantly circulated in our theatres by opening HVAC dampers, running supply fans and by running exhaust fans 24/7. Our filtration systems have also been upgraded beyond the industry standard of MERV 8 to MERV 13 filters. MERV 13 filters capture the tiniest of droplets, which could contain the COVID-19 virus, whereas the industry standard MERV 8 filter does not.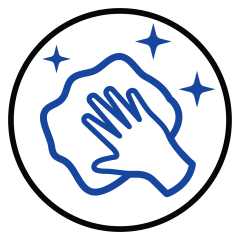 Thoroughly Enhanced Cleaning Procedures
Frequently touched surfaces are routinely cleaned and sanitized using EPA registered products and tactics.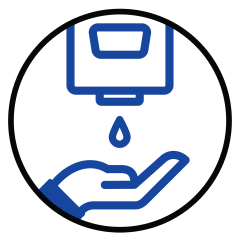 Clorox® Disinfecting Wipes & Hand Sanitizer Available
Take advantage of the sanitizer and Clorox® disinfecting wipe stations throughout the theatre, especially at concessions, before and after pouring your favorite Coca-Cola Freestyle® drink.
AMC Theatres Continues to Meet or Exceed State and Local Mandates
We follow area mandates. If masks are required by mandate, masks must always be worn, only to be removed while actively enjoying food or drinks. If a mandate requires proof of vaccination, please be prepared to follow the mandate specifics, and show your vaccine documentation and photo ID if required. There will be visible signage at the theatre to inform you of these requirements.
Questions? The answer may be in our FAQs.
AMC is closely monitoring federal, state and local guidelines and our policies and procedures will continue to evolve accordingly.
Clorox is not an exclusive supplier of AMC.
Clorox products are EPA-approved to kill the virus that causes COVID-19/the SARS-CoV-2 virus on hard, non-porous surfaces when used as directed.