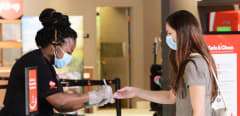 Masks Required for All
Because we care about your health, masks are required for all guests and crew throughout the theatre, regardless of vaccination status and regardless of local or state guidelines. If needed, masks are available to purchase for just $1.
In the auditorium, masks are still required, but may be removed while enjoying food and drinks. Protect yourself and others by wearing a mask throughout your visit.
Select theatres have local or state mandates which require masks be worn at all times. Therefore, no food or beverages are permitted. Please check your local theatre page for theatre specific details.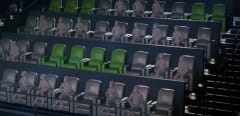 Reduced Auditorium Capacities
All AMC, AMC DINE-IN™ and AMC CLASSIC® auditorium capacities are reduced to meet or exceed state or local guidelines.
In auditoriums with AMC Signature Recliners, our ticketing technology will block the seats on either side of your selection, and there is already enough space between rows to allow for social distancing. In auditoriums with traditional seating, the seats in front of, behind and beside your selection will be blocked. In auditoriums that do not offer reserved seating, please make sure to leave adequate distance between yourself and other guests.
Once you're in the auditorium, if you are uncomfortable in your reserved seat, please see an associate for assistance.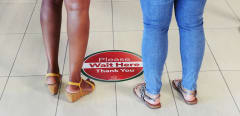 Social Distancing Standards
Please remember to maintain social distance throughout your visit. Follow the directional signs and the reminders posted throughout the theatre for guidance.
Clorox® Disinfecting Wipes & Hand Sanitizer Available
Take advantage of the sanitizer and Clorox® disinfecting wipe stations throughout the theatre, especially at concessions, before and after pouring your favorite Coca-Cola Freestyle® drink.
Reduce Touch Points
Credit, debit or AMC gift cards are strongly preferred at the theatre, but cash is accepted. Mobile food & drink ordering is now available at all theatres nationwide, and we encourage guests to order ahead and buy their tickets online or on our app.
Self-Check Your Health
If you have symptoms such as fever or cough, or have come in contact with someone with symptoms, please take care and come back to see a movie with us when you are well.