Lonely Elisa is trapped in a life of silence and isolation.
Every day is the same routine: She prepares hard-boiled eggs for herself and a meal for her starving artist neighbor, Giles; polishes her sensible work shoes; and catches the bus barely in time for her overnight shift at a hidden, high-security government laboratory.
But Elisa's life is changed forever when she and co-worker Zelda discover a secret classified experiment the lab's staff call the "Asset" (as the aquatic creature is being studied, and often tortured, in an effort to stay ahead of the Russians).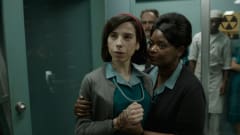 Set against the backdrop of Cold War-era America circa 1963, THE SHAPE OF WATER is a visually spectacular and heart-stirring film about love, loss and acceptance of "the other."
In our exclusive interview with THE SHAPE OF WATER cast, Richard Jenkins (Giles) said writer-director-producer Guillermo del Toro took a "big risk to ask an audience to fall in love with" a mute custodian (Sally Hawkins) and mysterious sea creature (Doug Jones). Hear more from the star in the clip below.
Del Toro's risk paid off. Their relationship is not only believable, but also deeply moving.
Elisa's connection to the Asset is immediate — and with hard-boiled eggs and Glenn Miller records, she earns his trust and mutual affection, which transforms into true love. Though neither of the leads can communicate, aside from rudimentary sign language, their body language speaks volumes.
As del Toro described the film to us, THE SHAPE OF WATER captures "the magic of a fairy tale and the beauty of a classical movie," wrapped in the wonder of sci-fi. One moment, we're enchanted by the creature's glowing blue gills; the next, we're swept away in a Broadway-style dance between the two lovers. Alexandre Desplat's romantic score with Dan Laustsen's dreamy cinematography further elevate the film's unique charm.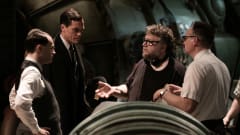 THE SHAPE OF WATER was a passion project for del Toro: He's wanted to make this film since he was 7 years old, when he first watched CREATURE FROM THE BLACK LAGOON. In his 30s, he pitched his version in which Gill-Man and his love interest ended up together to Universal Studios, but the film never came to fruition — until he found a new path.
THE SHAPE OF WATER leads the Golden Globes film categories with seven nominations: Best Director of a Motion Picture (Guillermo del Toro); Best Motion Picture — Drama; Best Original Score of a Motion Picture (Alexandre Desplat); Best Performance by an Actor in a Supporting Role in Any Motion Picture (Richard Jenkins); Best Performance by an Actress in a Motion Picture Drama (Sally Hawkins); Best Performance by an Actress in a Supporting Role in Any Motion Picture (Octavia Spencer); and Best Screenplay — Motion Picture (Guillermo del Toro and Vanessa Taylor).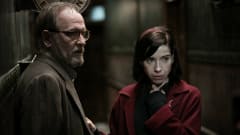 The film also received two SAG Award nominations for Outstanding Performance by a Female Actor in a Leading Role (Sally Hawkins) and Outstanding Performance by a Male Actor in a Supporting Role (Richard Jenkins).
Whether you love historical dramas, fantasy films or fairy tales, THE SHAPE OF WATER will capture your heart and attention. Don't miss the multi-genre film on the big screen at AMC. Get your tickets to THE SHAPE OF WATER today.