Before 20th Century Fox jumped into their upcoming film slate, they opened their Thursday morning CinemaCon presentation with a choreographed, DEADPOOL-themed dance number and a brief look back at 2017 — their third consecutive year of grossing over $3 billion.
President of Domestic Distribution Chris Aronson also announced a new, innovative technology that will allow guests to interact with movies. With CtrlMovie, in partnership with Chooseco, audiences will be able to make real-time choices about stories and see how they play out on screen. We're excited to find out how CtrlMovie will integrate into theatres and to bring 20th Century Fox's newest releases to an AMC near you soon.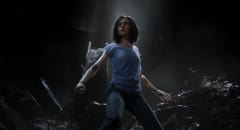 ALITA: BATTLE ANGEL
From visionary filmmakers James Cameron (AVATAR) and Robert Rodriguez (SIN CITY) comes ALITA: BATTLE ANGEL, an immersive and epic adventure that will capture the hearts of audiences worldwide. Co-producer Jon Landau and Rodriguez took the CinemaCon stage to share an exclusive look at two scenes from the film, which has finally come to fruition after more than 10 years.
Cameron, who co-produced and co-wrote the script, was also tapped to direct, but AVATAR and its four, in-progress sequels have kept him busy. So, Rodriguez stepped in. "James Cameron's work has had a massive impact on my work," Rodriguez said. "Critical to the success [of ALITA] is a strong, relatable, female protagonist. To make a film with James Cameron has been a personal dream of mine."
ALITA: BATTLE ANGEL arrives in theatres December 21.
THE HATE U GIVE
Based on the YA novel, THE HATE U GIVE is the story of a teen girl stuck between two worlds. Director George Tillman, Jr. was inspired to adapt the book for the big screen after 30 minutes of reading. "Those 30 minutes changed my life," Tillman, Jr. said. "'It's not enough to be me.' That line really touched me; I connected with it."
For the lead, Tillman, Jr. and his crew chose Amandla Stenberg, who was also in attendance. "We're living in a time where it is very easy to be desensitized to what is happening in the world," Stenberg said. "Young people today are questioning norms, seeking solutions and finding their voice. I hope this movie inspires others as it did me."
They closed their presentation by sharing the trailer for THE HATE U GIVE, which opens this fall.
BAD TIMES AT THE EL ROYALE
Seven strangers, each with a secret to bury, meet at Lake Tahoe's El Royale, a rundown hotel with a dark past. Over the course of one fateful night, everyone will have a last shot at redemption ... before everything goes to hell. Jeff Bridges, Chris Hemsworth, Jon Hamm, Dakota Johnson and Cynthia Erivo lead an all-star cast in BAD TIMES AT THE EL ROYALE.
20th Century Fox shared footage from the dark and violent film, which releases October 5.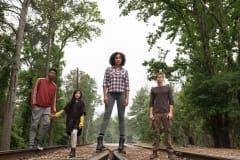 THE DARKEST MINDS
One brave girl will lead a group of rebels in the first film of a new YA franchise, THE DARKEST MINDS. In the sci-fi thriller, teens mysteriously develop powerful new abilities and are declared a threat by the government and detained. Amandla Stenberg stars as 16-year-old Ruby, one of the most powerful young people anyone has encountered; Bradley Whitford plays the president.
AMC and the CinemaCon audience received a sneak peek at the film, which arrives in theatres August 3.
WIDOWS
From Academy Award®-winning director Steve McQueen (12 YEARS A SLAVE) and co-writer and bestselling author Gillian Flynn (GONE GIRL) comes a blistering, modern-day thriller set against the backdrop of crime, passion and corruption. WIDOWS is the story of four women with nothing in common except a debt left behind by their dead husbands' criminal activities.
Oscar® winner Viola Davis, Elizabeth Debicki, Michelle Rodriguez and Cynthia Erivo star as the strong and street smart widows. The film also features Liam Neeson, Colin Farrell, Robert Duvall, Daniel Kaluuya, Lukas Haas and Brian Tyree Henry.
The studio shared a scene with Davis and Neeson and left the CinemaCon audience wanting more. WIDOWS opens November 16.
THE PREDATOR
From the outer reaches of space to the small-town streets of suburbia, the hunt comes home in Shane Black's explosive reinvention of the PREDATOR series. Now, the universe's most lethal hunters are stronger, smarter and deadlier than ever before, having genetically upgraded themselves with DNA from other species. When a young boy accidentally triggers their return to Earth, only a ragtag crew of ex-soldiers and a disgruntled science teacher can prevent the end of the human race.
With a mix of intense action, humor and thrills, THE PREDATOR will be the perfect film to get in the Halloween spirit. Catch THE PREDATOR in theatres September 14.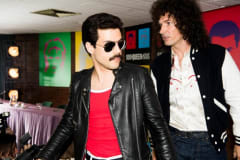 BOHEMIAN RHAPSODY
"This was truly a long journey, and I can't believe we're here," said producer Graham King before he shared footage from his new film, BOHEMIAN RHAPSODY, the story of legendary Queen front-man Freddy Mercury.
Th bio-drama, which chronicles Mercury's life on and off stage, has been 10 years in the making. King and his crew took their time to ensure they accurately captured Mercury's spirit. "Freddy Mercury invented playing to the masses, and I believe this movie does the same," King said. "It is a true celebration of Queen's music. One of Freddy's dying wishes was for the band to carry on the legacy for as long as they could. I am incredibly proud to be part of that legacy."
Star Rami Malek gives a layered portrayal of the iconic lead singer that will make audiences laugh, cry, sing and stomp their feet. "When I first got this role," he said, "I thought this could be a career-defining performance. And then I realized it could also be a career killer if I didn't get it right. Freddy Mercury is the greatest performer of all time. There is no one like this human being."
To prepare for the "insurmountable task," Malek studied Mercury beyond his career. He learned about his struggles and pain — the things that gave Queen's music life. He embraced Mercury's imperfections and sang as loudly as he could. "The greatest compliment I could get was an email from (Queen guitarist) Brian May saying that he was moved to tears and that if Freddy were here today he couldn't be more proud of what we had accomplished in the film."
The 20th Century Fox presentation closed with a special look at BOHEMIAN RHAPSODY and a local high school band playing the hit song.
CinemaCon isn't over yet. Visit AMC Scene later this afternoon for more insider news and add AMC on social media for live updates.