Though we're sad CinemaCon 2018 is coming to an end, the last presentation left us with a few laughs. Actor and comedian Lil Rel Howery (GET OUT) hosted the Lionsgate event, starting with a standup routine about going to the movies.
He then shared footage from his new comedy, UNCLE DREW, and a special video from Uncle Drew himself, star Kyrie Irving. AMC and the rest of the audience got to see on-set, behind-the-scenes moments from the film, which opens June 29.
Next to the stage was lifelong friends Daveed Diggs and Rafael Casal, who co-wrote and star in BLINDSPOTTING, a timely and wildly entertaining story about the intersection of race and class, set against the backdrop of a rapidly gentrifying Oakland. "We spent nine years working on the screenplay that is a love letter to the Bay area — our hometown," Casal said before playing the film's trailer.
To close, Diggs and Casal read a poem they wrote this morning about Oakland. See BLINDSPOTTING in theatres July 20.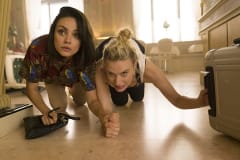 Switching gears, Mila Kunis and Kate McKinnon came to the stage to introduce THE SPY WHO DUMPED ME, a comedy about two best friends who get roped into a world of international espionage. Kunis described the film's different aspects while McKinnon acted them out: car chases, explosions, gun fights, romance. "[THE SPY WHO DUMPED ME] is the funniest action movie you will see this year," McKinnon guaranteed. The duo then shared the never-before-seen trailer for the film, which arrives in theatres August 3.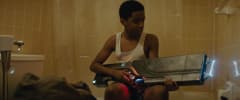 Based on the short BAG MAN from Jonathan and Josh Baker, KIN is a sci-fi crime film starring Carrie Coon, James Franco and Zoë Kravitz. Producer Shawn Levy (ARRIVAL) sent the CinemaCon audience a video introduction of the film, which opens August 13. If you prefer a little more fright in your films, you'll want to see the horror HELLFEST, which releases just in time for Halloween.
Stars of A SIMPLE FAVOUR Anna Kendrick and Blake Lively joined director Paul Feig on stage next, with a drink cart in tow to demonstrate how to make the perfect martini. "We had a blast making this movie," Lively said. From the first look at the first full-length trailer, A SIMPLE FAVOUR will be full of twists and turns and incredibly stylish. Catch the crime thriller September 14.
"When was the last time we had a great submarine movie?" Gerard Butler asked in a video message before introducing his latest film. Also starring Academy Award®-winner Gary Oldman, HUNTER KILLER is a smart action thriller that will keep you guessing. Look out for HUNTER KILLER in theatres October 26.
To close the Lionsgate presentation, ROBIN HOOD stars Taron Egerton and Academy Award-winner Jamie Foxx introduced the revived adventure and addressed what we were all thinking. "There are no tights," Foxx said. "It's not like that. The way Otto (Bathurst) has captured this movie is different — well, you'll see." We will see November 21.
AMC has enjoyed our time with each star and studio and are already looking forward to next year's CinemaCon. If you missed any of our event coverage, browse the AMC Scene and be sure to follow our social accounts. We'll be releasing photos, videos and interviews soon. Stay tuned.