Paramount Pictures' CinemaCon presentation started off with a bang: Chairman and CEO Jim Gianopulos announced the studio is already working on a sequel to A QUIET PLACE. The horror/thriller, which was released earlier this month, is the third highest-grossing film of 2018. Based on this news and the rest of their upcoming film slate, Paramount is poised for a successful — and busy — 2018 and beyond.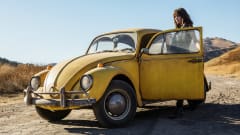 BUMBLEBEE
Academy Award®-nominated filmmaker Travis Knight introduced his new TRANSFORMERS spinoff, BUMBLEBEE, with help from stars Hailee Steinfeld, John Cena and Jorge Lendeborg Jr. The acclaimed director said he used to play with the Transformers toys as a kid and make up stories with "lots of explosions" and action. But his latest film also has a lot of emotion.
Steinfeld said, "I think I can speak for John and Jorge when I say it was an amazing experience working with Travis. He really is a special kind of storyteller with a sensitive heart. The relationship between Bumblebee and Charlie had to be authentic and have heart, and I think we accomplished that."
Lendeborg Jr. added, "BUMBLEBEE is special. It's amazing, and it's for everyone. I'm so grateful to be part of it." Based on the footage the team shared at the event, BUMBLEBEE will be a great film for all ages. BUMBLEBEE buzzes into theatres December 21.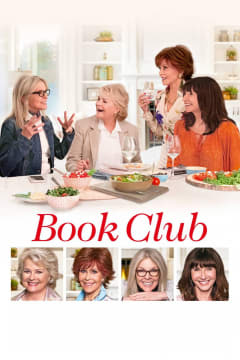 BOOK CLUB
Together, the cast of BOOK CLUB represent nine Oscar® nominations and four wins. They are truly movie legends. Stars Jane Fonda, Candice Bergen, Diane Keaton and Mary Steenburgen took the CinemaCon stage to share a few scenes from the new comedy, which opens May 18. BOOK CLUB also stars Andy Garcia, Craig T. Nelson, Don Johnson and Richard Dreyfuss.
Paramount Players
The division of Paramount Pictures that focuses on "contemporary properties" gave a brief introduction of horror ELI, live action adventure DORA THE EXPLORER, and spooky ARE YOU AFRAID OF THE DARK?, based on the kids' TV series. All three films will be released in 2019.
WHAT MEN WANT
Though WHAT MEN WANT hasn't started filming yet — production begins tomorrow — star Taraji P. Henson was in attendance to talk about her new rom-com. She joked that preparation for her role has been driving her crazy, as men keep giving her advice. Catch WHAT MEN WANT in theatres January 11, 2019.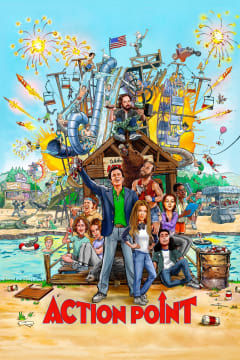 ACTION POINT
Stuntman Johnny Knoxville shared the trailer for his new comedy, ACTION POINT, which arrives in theatres June 1. "I guarantee this will have the most broken bones of any clip you'll see today," he said. During filming, Knoxville had four concussions, a broken wrist, two broken ribs, an orbital fracture in his left eye, and he lost a few teeth — all for your enjoyment.
INSTANT FAMILY
From the director of DADDY'S HOME comes a new heartwarming comedy starring Mark Wahlberg, Rose Byrne and Octavia Spencer. Sean Anders, who also wrote INSTANT FAMILY, was inspired by his own foster-to-adoption experience. AMC got a first look at the film, which opens February 15, 2019.
Untitled Tyler Perry Movie
Perry's first film from Paramount Players wrapped up shooting last week and has a release date — November 2 — but the movie still needs a title. Star Tiffany Haddish said, "The crew laughed a lot; you know the movie is funny when the crew laughs."
Haddish plays a recently released jailbird, who's the complete opposite of her "sophisticated and uptight" sister. After Haddish's character gets a job at the coffeeshop her sister frequents, she discovers her sister is getting catfished.
WONDER PARK
The upcoming animated adventure-comedy features an all-star cast, including Jennifer Garner, Mila Kunis, Matthew Broderick, Jeffrey Tambor, Ken Jeong, Kenan Thompson and John Oliver. Singer-songwriter Rachel Platten performed an original song from WONDER PARK for the CinemaCon audience.
Then, Paramount announced for the first time a handful of other new animated films: MONSTER ON THE HILL (2020), LUCK (2021) and THE SPONGEBOB MOVIE: IT'S A WONDERFUL SPONGE (July 31, 2020).
Skydance
Media company and Paramount Pictures partner Skydance will continue to make large, tent-pole action films with the studio. Their upcoming slate includes GEMINI MAN (2019), starring Will Smith; TOP GUN: MAVERICK (2019), starring Tom Cruise; an untitled TERMINATOR film; and two new STAR TREK films.
OVERLORD
J.J. Abrams described the new film as "bat (expletive) crazy." Based on the footage, we have to agree, and fans won't have to wait much longer to see the horror for themselves. OVERLORD opens October 26.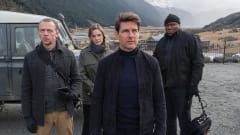 MISSION: IMPOSSIBLE — FALLOUT
The MISSION: IMPOSSIBLE films have grossed more than $3 billion at the box office, and with Ethan Hunt's team back in action, FALLOUT is sure to be another hit.
Star and CinemaCon Pioneer of the Year Tom Cruise with director Christopher McQuarrie introduced the new film to close out Paramount Pictures' presentation. They started by sharing behind-the-scenes details about one of the film's most impressive stunts.
Through animatics, we saw how McQuarrie designed a complex skydiving sequence, based on Cruise's idea, and the largest wind tunnel in the world as a practice space. "Tom can do more than what anyone in the room wants him to do," McQuarrie said. The first challenge, he went on to explain, was to make sure the audience could see Cruise's face. The second was to determine how much was possible to do without killing him.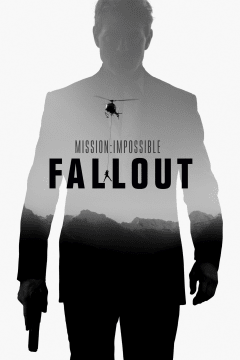 The scene was shot at sunset, with a three-minute window for the light. The team built a special helmet with a glass front and oxygen for Cruise, who had to be within 3 feet of the camera to be in focus. It took 106 takes to get the footage.
Stars Henry Cavill, Angela Basset and Simon Pegg came to the stage. Cavill said, "There was a really cool moment in the helicopter, and I could hear Tom Cruise talking in the earphones. I really thought I was in TOP GUN." Bassett added, "I didn't get the extreme stunt, but I got the extreme cold."
The team then shared a 15-minute scene set in Paris, where Cruise and Cavill have infiltrated a gang of terrorists, and they have to stop a motorcade. Paramount concluded the event with all of the talent on stage for group photos.
What's next at CinemaCon? You'll have to check back and see. Stay tuned on social and our blog for more updates.