The second day of CinemaCon wrapped up with a celebrity-packed presentation from STXfilms, hosted by Chairman Adam Fogelson. AMC spent the evening learning about STX's upcoming releases and what makes them particularly special: Every single title features stars in signature roles.
Take Shailene Woodley, a trusted and respected female lead. She and Sam Claflin star in the new drama ADRIFT, directed by Baltasar Kormákur. The three appeared on the STX stage to discuss the film, which was mostly shot on open water. Kormákur said he's all about creating a journey for the audience that they can feel and experience viscerally — despite his own seasickness.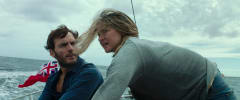 Woodley was a passionate advocate for the project. Her friends from Hawaii wrote the script. "It's really about true love," she said. "In the face of any situation, in any extreme experience, what happens to you? It was an exciting experience to see two people stripped to their core to get through it. It's not every day that you get to experience something like this — to work with a filmmaker who is willing to film on the open water."
Claflin added, "The whole experience from start to finish was eye opening. I didn't have any sailing experience. Anyone who has spent any time on the water knows how unpredictable it can be."
AMC and the audience were given an extended look at the film's trailer and footage. ADRIFT sails into theatres June 1.
Fogelson then invited to the stage Jennifer Garner, a star with "a warmth and honesty about her that is undeniable," he said. Garner leads the new thriller PEPPERMINT, directed by Pierre Morel.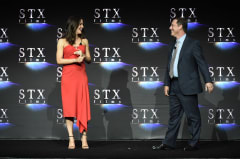 When asked why she took on an action film after a long break from the genre, Garner explained, "The thing about 'Alias' that made it so special was J.J.'s script. To do action for the sake of action hasn't appealed to me. But this script felt like someone was capitalizing in the right way — in a smart way. It was the right combination of the director and the script."
To prepare for her role, Garner "upped everything — workouts, taking care of myself, boxing, martial arts, and I worked out with the stunt doubles to train. The stunt community in LA is so wonderful. My double and I have a long history of her pushing me, and I did it with her support and all of your support."
Garner then shared a few scenes from PEPPERMINT, which opens September 7.
Next up was triple threat Jennifer Lopez. Lopez is a force of nature. Watching her sing and dance without breaking a sweat is a sight to behold. Despite her fame and success, she has always stayed true to her roots — she's still Jenny from the Block — which makes her perfectly poised for SECOND ACT. The new rom-com, which opens this Thanksgiving, is about struggling with unfulfilled dreams. Though Lopez was unable to attend the event, she filmed a greeting for the CinemaCon audience and shared the film's extended trailer.
AMC also learned of another artist's upcoming film, UGLYDOLLS, in which the plush specialty toys begin to come to life. Rapper Pitbull signed on to voice one of the characters and produce the music. Partners like Walmart are already signing on for the rights, further demonstrating the appeal of the franchise. UGLYDOLLS releases next May.
At last year's CinemaCon, star Mark Wahlberg and director Peter Berg introduced MILE 22, a government agent action film that turns the sub-genre on its head. This year, we were given a first look at MILE 22 in a presentation with Wahlberg, Berg, Iko Uwais, Lauren Cohan and Ronda Rousey.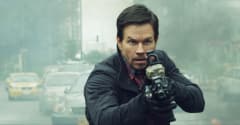 Berg concisely explained what the film is about: a third option for military conflict response. Wahlberg finished shooting just hours before appearing on stage and made a special trip to attend the event. When asked what piqued his interest about this character and movie, Wahlberg said, "It sounded like a really fun character — someone who answered to nobody. We had done three movies that were about real-life events, tragic events. We had put a lot of emotion out there and wanted to do something where they could just have some fun. We wanted a guy, a character, who was very opinionated. Once the action starts, it never stops."
For Cohan, she makes "a conscious choice to play these women who take a lot of responsibility with their fate. What appealed to me was the overall intensity of the whole thing. I've definitely been drawn to a lot of action. These characters really only get to interact with each other, and we get to see how they silently protect people."
Rousey was casual and confident when asked about her transition from MMA into this role. "It really prepared me not to be intimidated, with the stakes so high because of big names associated with it. I know I can handle the ride. It's going to be a big success, and I called it." We'll see for ourselves August 3.
Producers Melissa McCarthy and husband Ben Falcone closed the presentation with THE HAPPYTIME MURDERS, an outrageously dark puppet satire in which McCarthy also stars. Directed by Brian Henson — son of famed puppeteer and Muppets creator Jim Henson — the new comedy pulls back the curtain of a world where people and puppets co-exist. The red-band trailer received a good mix of shock, awe and laughter. Catch THE HAPPYTIME MURDERS in theatres August 17.
Don't miss our other CinemaCon presentation recaps. Check back often on AMC Scene and our social channels for more coverage.