From Mexico to India to South Korea, AMC scours the world in search of global gems to bring to a movie screen near you. Join us in celebrating diversity and the cinematic contributions of international countries. Learn more about our inclusive programming and the foreign films you won't want to miss at AMC this weekend.
Overseas Must-Sees: Asian-Pacific Cinema
AMC is proud to feature the latest Asian-Pacific releases, including THE VILLAINESS, a South Korean action-thriller directed by Jung Byung-gil.
In its bloody, opening scene, you are a trained hit person, taking out wave after wave of assailants with precision. Every forceful shot and swing is seen from a first-person perspective (think OLDBOY, THE RAID and HARDCORE HENRY), until mirrors reveal the real attacker, Sook-hee, and the point of view shifts.
Honed from childhood into a merciless killing machine by a criminal organization, assassin Sook-hee is recruited as a sleeper agent with the promise of freedom after 10 years of service — and she jumps at the chance for a normal life. But soon enough, secrets from her past destroy everything she's worked for, and now nobody can stand in her way as she embarks on a roaring rampage of revenge.
Kim Ok-vin stars as the murderer on a mission in this nonstop action film that gives a welcome shot of adrenaline to the classic femme fatale story. If you enjoyed KILL BILL and LA FEMME NIKITA, you'll love THE VILLAINESS at AMC.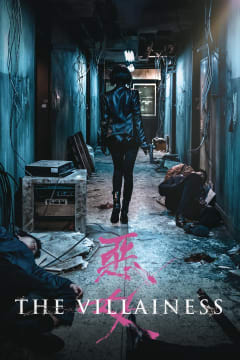 The Villainess
From Bollywood to Your Hood: Indian Cinema
Enjoy an ever-changing selection of films from the country that produces more movies than any other! BAADSHAHO, a Hindi heist drama bolstered by desire, bursts into AMC theatres this Friday, September 1.
Co-produced and directed by Milan Luthria, the film stars a street-wise group of thieves played by Ajay Devgn (one of India's favorite anti-heroes), Vidyut Jammwal, Emraan Hashmi, Esha Gupta, Ileana D'Cruz and Sanjay Mishra.
BAADSHAHO takes us to the emergency era of 1975, when there was political unrest in the full country. When Rani Gitanjali's (Ileana) palace in Jaipur is raided for gold, she is arrested for withholding it without declaration. The government seizes the gold and decides to transfer it via road to Delhi in a truck with officer Singh, a cocky cop in charge of the whole operation. The story takes us through a thrilling journey between Jaipur and Delhi, along with various obstacles, secrets and revelations. It explores the relationships between these characters amongst fun, banter, deceit, betrayal and loads of drama.
Within 16 hours of its posting on YouTube, the teaser trailer garnered 5 million views — an indication this film is already intriguing audiences and building excitement across the globe. Get your tickets for BAADSHAHO at AMC on opening night, September 1.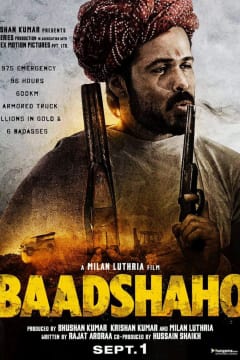 Baadshaho
Colorful Culture and Customs: Pantallas AMC
Experience the vibrant traditions of the Latino community through English and Spanish-language films, like HAZLO COMO HOMBRE.
Mauricio Ochmann and Aislinn Derbez — two of the biggest celebrities in the Spanish-speaking world — star in the anti-machista comedy, directed by Nicolás López.
Raul (Ochmann), Eduardo (Humberto Busto) and Santiago (Alfonso Dosal) have led a happy and masculine life from their childhood, until, one day, Santiago confesses to them that he is gay — even though he's engaged to marry Raul's sister (Derbez). Raul, the alpha male and more homophobic of the three, will try to convince his friend that it is nothing more than a simple sexual confusion, until, when the situation becomes unsustainable, Eduardo and Raul will set aside their prejudices and decide to help Santiago to venture into his new gay life.
HAZLO COMO HOMBRE was released in Mexico on August 11 and is their highest-grossing local film of 2017. Its Thursday bow made $591,537 at the Mexican box office, over double the biggest U.S. bow, BABY DRIVER ($239,565)! Don't miss your chance to see HAZLO COMO HOMBRE at an AMC near you.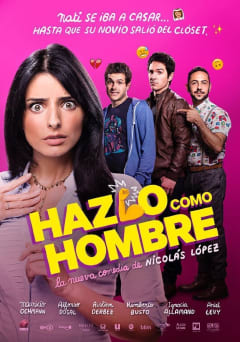 Hazlo Como Hombre