Some actors, like Dwayne Johnson or Tom Cruise, find a role they're good at playing and really lean into it. And then, there are actors who continually surprise us, always taking roles that challenge the way we see them. That's Jesse Eisenberg's method.
With over two decades of experience in Hollywood, Eisenberg has become a sneaky superstar, thanks in large part to his tendency to embrace characters with darker sides. We love Jesse Eisenberg because he isn't afraid to play bad guys. Well, one might call them that, but the guys Eisenberg plays best — as his role in THE ART OF SELF-DEFENSE, coming in July — are usually a little more complex than simply being "bad."
Naturally Nice Guy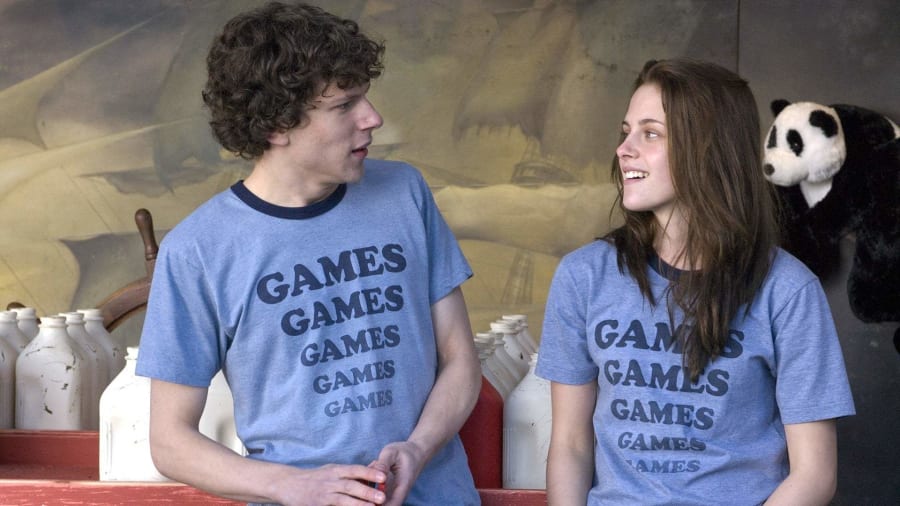 Unlike some of his contemporaries and co-stars, Eisenberg seems like an everyday person; he's probably friendly. His natural vibe is a bit sheepish, maybe even a little dorky. That made him perfect for playing characters in hit comedies like ADVENTURELAND (above) and ZOMBIELAND — films where he stars as a shy, nerdy character whose experiences (whether working at an amusement park for the summer or fighting zombies) help him break out of his shell.
Eisenberg played similar roles in smaller films, including THE SQUID AND THE WHALE and indie drama THE EDUCATION OF CHARLIE BANKS. A skilled actor who also has experience in theatre and television, Eisenberg is just as smart in real life as he tends to be on screen, which is why the next chapter of his career wasn't exactly surprising.
Playing Against Type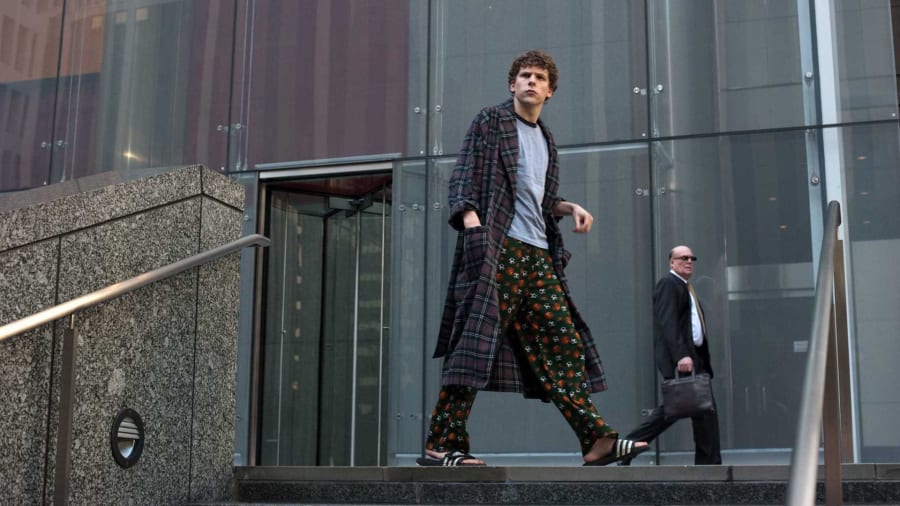 In 2010, Jesse Eisenberg became a major star with his role in THE SOCIAL NETWORK, from FIGHT CLUB director David Fincher. Eisenberg played Facebook creator Mark Zuckerberg in a story which explored the beginnings of the social media platform and the legal battle that erupted over its formation. The actor played Zuckerberg as an introverted computer whiz with a narcissistic streak. He's brilliant, but also difficult and occasionally cruel.
THE SOCIAL NETWORK (above) put a new spin on Eisenberg's persona, transforming his likable nerdy energy into something tinged with darkness. It was the first role that really took advantage of an intense quality under the actor's affability and turned the tables on the kinds of characters he typically played.
In the years that followed, Eisenberg continued to take similar roles while avoiding being typecast. NOW YOU SEE ME had him playing a cocky magician, while THE DOUBLE cast him as a lonely office worker who's confronted by the appearance of his doppelgänger — a man who looks and talks just like him, but is superior in every way. In THE END OF THE TOUR, Eisenberg plays an intelligent and sensitive journalist who spends a whirlwind few days with his favorite author, only to have his expectations completely upended by their time together.
Great at Being Bad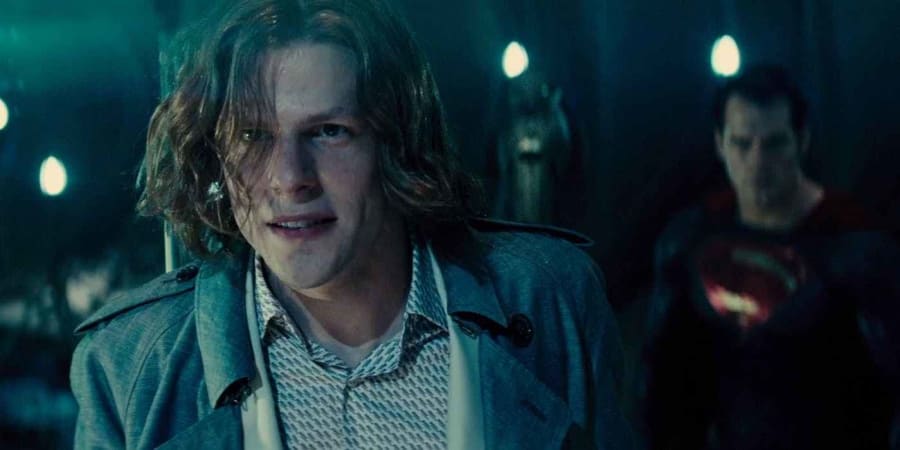 Eisenberg's take on Mark Zuckerberg in THE SOCIAL NETWORK isn't your typical bad guy, and while you certainly wouldn't call him "good," he's more of an antihero. Most of Eisenberg's characters are morally complex, and while some have sinister or immoral tendencies, they can't be easily classified. It wasn't until 2016's BATMAN V SUPERMAN: DAWN OF JUSTICE that Eisenberg showed us just how good he could be at playing bad. As Superman's longtime archnemesis, Lex Luthor, Eisenberg was downright evil. At the same time, he brought an eccentric and occasionally manic energy to the role. His was completely different from any Lex Luthor we'd seen before. It was scarily effective, to say the least, and there was no question that Eisenberg was actually playing a bad guy this time around.
The role also helped to reinforce his status as a wild card actor who takes unexpected roles, and his latest film is no exception. In fact, THE ART OF SELF-DEFENSE feels like the ultimate Jesse Eisenberg role. The dark comedy stars Eisenberg as Casey, a mild-mannered accountant who seeks out martial arts training after he's violently mugged. Falling under the spell of an eccentric sensei, Casey tries to become what he fears most: a violent man with no regard for the lives and feelings of others (a stereotypical jerk, really). THE ART OF SELF-DEFENSE allows Eisenberg to play the shy nerd while also showing how great he is at being bad. It's the best of both worlds.
THE ART OF SELF-DEFENSE opens on July 12.