A color-changing cat, magical broomstick, and strange, glowing flower will lead AMC movie lovers on a dazzling new adventure this Thursday, January 18. Don't miss our special, one-night premiere of MARY AND THE WITCH'S FLOWER, presented by Fathom Events and GKIDS.
Based on the classic children's book "The Little Broomstick," MARY AND THE WITCH'S FLOWER is an all-ages action-fantasy film full of jaw-dropping imaginative worlds, ingenious characters, and the stirring, heartfelt story of a young girl trying to find her place. In addition to your entry into the wondrous world, you will receive a free collectible pin with your ticket purchase (while supplies last).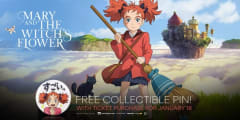 Mary (Ruby Barnhill) is an ordinary young girl stuck in the country with her Great-Aunt Charlotte and seemingly no adventures or friends in sight. She follows a mysterious cat into the nearby forest, where she discovers an old broomstick and the rare Fly-by-Night flower, which blossoms only once every seven years and only in that forest. Together, the flower and the broomstick whisk Mary high above the clouds and far away to Endor College — a school of magic run by headmistress Madam Mumblechook (Academy Award®-winner Kate Winslet) and the brilliant Doctor Dee (Academy Award®-winner Jim Broadben). But there are terrible things happening at the school, and when Mary tells a lie, she must risk her life to try to set things right.
Watch the never-been-seen opening scene of the thrilling magical adventure.
MARY AND THE WITCH'S FLOWER is the debut film from Studio Ponoc, which was co-founded by Academy Award®-nominated director Hiromasa Yonebayashi (WHEN MARNIE WAS THERE, THE SECRET WORLD OF ARRIETTY) and Academy Award®-nominated producer Yoshiaki Nishimura (THE TALE OF THE PRINCESS KAGUYA, WHEN MARNIE WAS THERE) — both former filmmakers for the legendary Studio Ghibli.
They utilized the talents of 450 artists (many from Ghibli) and open source animation software to create this visually stunning film with a hopeful message of change that's empowering for kids and adults alike.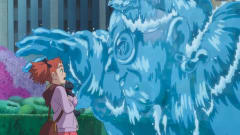 Don't miss the dazzling premiere of MARY AND THE WITCH'S FLOWER this Thursday, January 18 at AMC. The English language version will be shown at 7 p.m. local time; the English subtitled version at 8 p.m. local time. Get your tickets for our special one-night event and your free collectible pin (while supplies last).
If you and your family aren't able to attend the premiere, plan a fun weekend outing. MARY AND THE WITCH'S FLOWER opens in select AMC theatres on Friday, January 19. (Screenings will not include collectible pin).