Carrie Fisher left us way too soon last December, but for millions of Star Wars fans around the world, she will forever remain in our hearts as the iconic Princess Leia, and in recent times, as the resilient General Organa.
Many have produced fan art in honor of the popular actress/author, and the latest to do so is freelance illustrator Joe Corroney, who has created Star Wars art for Lucasfilm and Disney. Corroney has offered fans a first look of his in memoriam artwork of Carrie Fisher as Princess Leia. Take a look:
'To Us, She Is Royalty'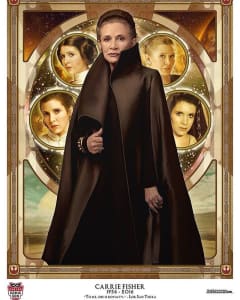 Using the image of Carrie Fisher as General Organa as she appears in the upcoming Star Wars: The Last Jedi at the forefront, the artwork also highlights Princess Leia's various looks from Star Wars IV: A New Hope to Star Wars VII: The Force Awakens.
Judging from the responses on Corroney's Facebook and Instagram accounts, fans are absolutely delighted with the stunning tribute artwork, with praises ranging from "amazing work" and "simply gorgeous" to "absolutely incredible!"
The Force is definitely strong in this sweet tribute to the one and only Princess Leia.
Catch Carrie Fisher in her (reportedly) last Star Wars outing in Star Wars Episode VIII: The Last Jedi, which speeds into theaters on December 15, 2017.