It's been over a decade since we last saw Nancy Drew on the big screen. Thanks to director Katt Shea and co-producer Ellen DeGeneres (yes, the one and only), the teen detective is coming back to theatres on March 15 in NANCY DREW AND THE HIDDEN STAIRCASE. AMC Stubs® members who purchase tickets now through March 25 could win a trip to LA to see the Ellen DeGeneres Show, tour the Warner Bros. studio and get a $250 gift card.
The new family-friendly adventure is based on the book of the same name and follows the titular character and her friends as they try to solve a mystery at the Twin Elms Mansion.
The creaking footsteps, exploding lightbulbs and ominous creature point to ghostly activity — maybe from the original homeowner, Malcolm Colfax — or is high school bully Derek Barnes behind the strange happenings?
We'll have to wait until the opening of THE HIDDEN STAIRCASE to find out. Until then, let's take a closer look at the film's stars.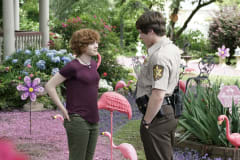 Sophia Lillis
Sophia Lillis is a relatively new actress, making her feature film debut in 2016 in drama 37. Just a year later, Lillis joined the cast of horror IT as Beverly Marsh, a member of the Losers' Club who faced more than one monster in the film. As Nancy Drew in THE HIDDEN STAIRCASE, Lillis will undoubtedly be prepared for whatever comes her way.
Sam Trammell
Best known for his role as Sam Merlotte in TV series "True Blood," Sam Trammell joins the cast as Carson Drew, Nancy's father. After the death of his wife, Carson decides to leave Chicago behind and make a fresh start with his daughter in River Heights, where the film takes place.
Linda Lavin
Linda Lavin's starring role as Alice Hyatt in TV comedy series "Alice" (1976–1985) made her a household name and multi Golden Globe winner. In THE HIDDEN STAIRCASE, Lavin plays Flora, the new owner of the Twin Elms Mansion who enlists Nancy's help to solve the mystery.
Zoe Renee
Another newcomer, Zoe Renee plays George, one of Nancy's best friends and a fellow sleuth. Her previous acting credits include WELCOME TO THE BUBS (short), JINN and "The Quad."
Mackenzie Graham
NANCY DREW AND THE HIDDEN STAIRCASE is Mackenzie Graham's first credited role. (Prior, she was "Female Teen" in an episode of TV series "The Purge.") She plays Bess, another friend of Nancy and cousin of George.
Laura Wiggins Rounding out Nancy's clique is Helen, played by Laura Wiggins (TV series "Shameless"). Helen is known as the mean girl, and she's a few years older than the others, but they all join forces to help Flora.
Andrea Anders
Last but not least, Andrea Anders (THE STEPFORD WIVES) plays Hannah, the Drew family's housekeeper. In the book, she is like a second mother to Nancy: protective but supportive. We're not sure how big of a role she'll play in the film, as we only see a glimpse of her in the trailer.
Don't forget: If you're an AMC Stubs member, you could win a trip to LA to see the Ellen DeGeneres Show, tour the Warner Bros. studio and get a $250 gift card when you purchase tickets to NANCY DREW AND THE HIDDEN STAIRCASE before March 25.