Almost 20 years after Disney enchanted audiences of all ages with ALADDIN, the studio is back with a new, live-action version of the story. Starring Will Smith as Genie and directed by Guy Ritchie (SHERLOCK HOLMES), the remake of the beloved animated film takes viewers back to the fictional city of Agrabah for a thrilling adventure featuring classic songs and new and familiar faces.
Disney's live-action ALADDIN really feels like a whole new world, and it's populated with a whole new roster of rising stars. Let's get to know the fresh faces of Disney's new ALADDIN.
A Whole New Cast
For ALADDIN, it was important that Disney find a diverse group of actors. The fictional city of Agrabah is inspired by real places like India, Arabia and even China. (The original "Aladdin" story, from "The Thousand and One Nights" collection of folktales, actually features a Chinese protagonist). That gave Disney a lot of room to find the best young actors to take on the lead roles of Aladdin and Princess Jasmine.
Mena Massoud as Aladdin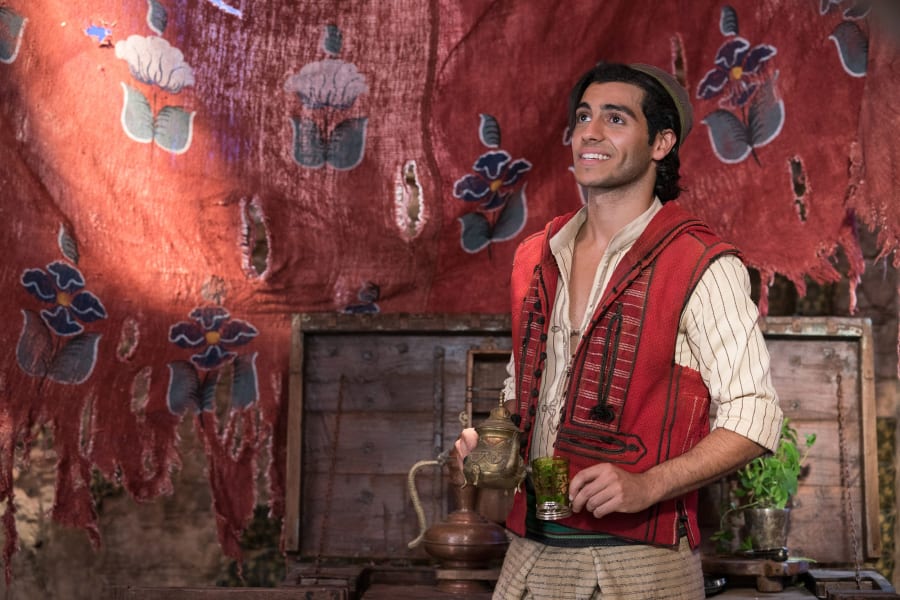 Mena Massoud plays Aladdin, the young "street urchin" who tries to woo the princess by assuming the identity of fictional Prince Ali (with the help of Genie, of course). Massoud is a Canadian actor of Egyptian descent who grew up in Ontario. He's a relative newcomer to Hollywood: Massoud has only appeared in a few films and is best known for his recent recurring role on the first season of Amazon's "Jack Ryan" series. Not only can Massoud act, but he can also sing. That's an important part of playing Aladdin, but a more crucial component for the actor playing another lead character …
Naomi Scott as Jasmine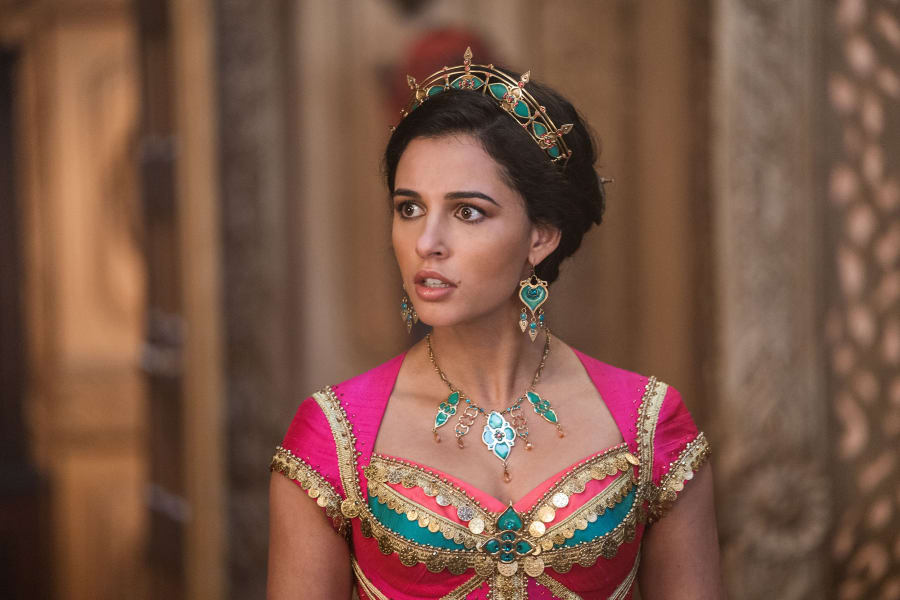 The role of Princess Jasmine went to Naomi Scott, a British actress of Indian descent who has a background in pop music. Scott's big breakout came in the 2011 Disney movie LEMONADE MOUTH, a teen musical set at a summer camp. In addition to her vocal skills, Scott is an excellent actress whose star is on the rise. She played Kimberly, aka the Pink Ranger, in the 2017 POWER RANGERS movie. Up next, she's taking on another major blockbuster role in CHARLIE'S ANGELS, opposite Kristen Stewart. Actress Elizabeth Banks is directing the action flick based on the classic franchise.
Marwan Kenzari as Jafar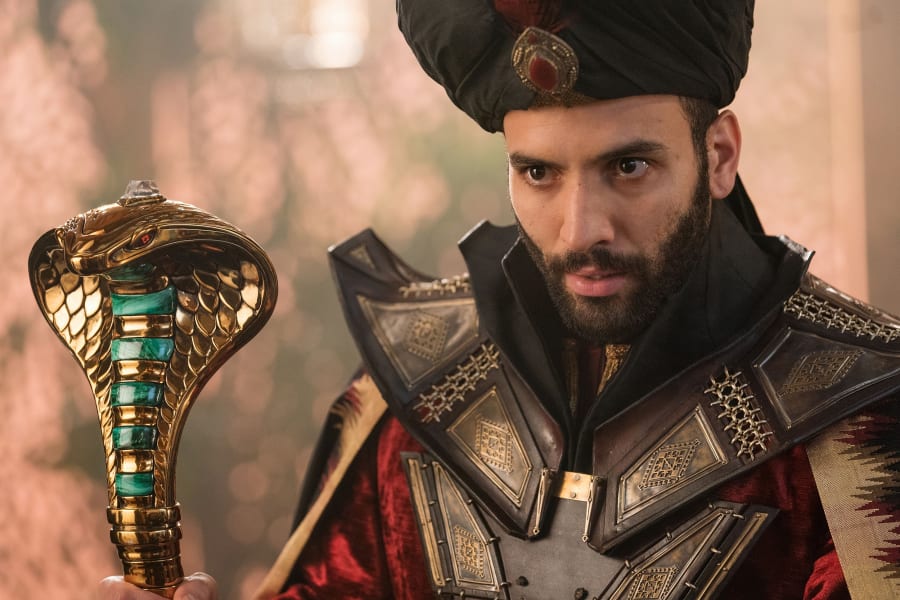 Another fresh face in ALADDIN is Marwan Kenzari, who plays the evil villain Jafar. With an acting career that began in 2008, Kenzari is hardly a newcomer, but up until recently, the Dutch and Tunisian actor has mostly appeared in foreign films and TV series. Over the past few years, Kenzari has crossed over to the American mainstream, appearing in blockbusters like BEN-HUR, THE MUMMY (with Tom Cruise) and MURDER ON THE ORIENT EXPRESS.
Some Familiar Faces (and Voices), Too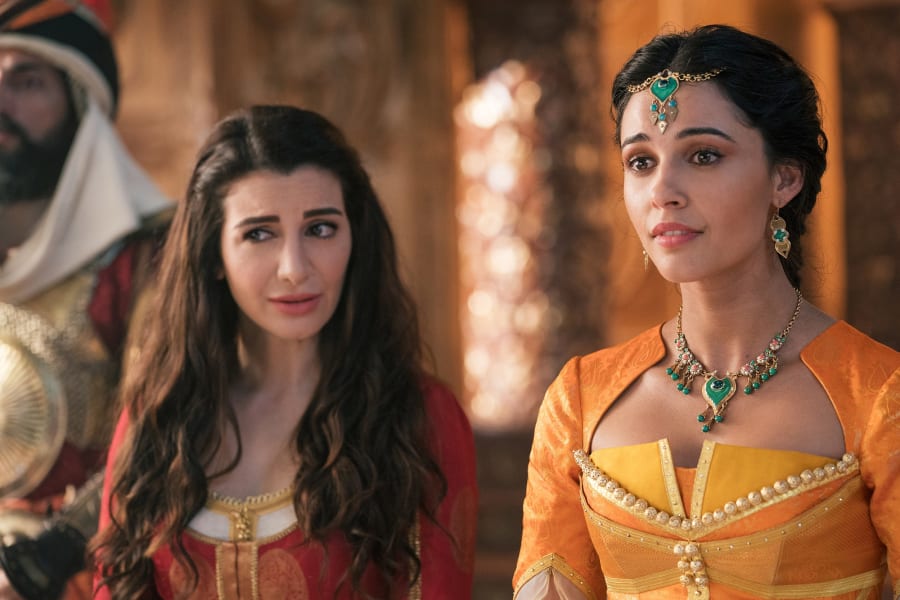 In addition to the fresh new talent in ALADDIN, the film boasts an excellent cast filled with familiar faces — and voices. Billy Magnussen, the scene-stealing star of films like GAME NIGHT and INGRID GOES WEST, stars as Prince Anders, a new antagonist created for this version. His is not the only new character invented for the film; former "SNL" star Nasim Pedrad plays Dalia, Jasmine's handmaiden, best friend and confidante.
Navid Negahban, best known for his roles in "Homeland" and "Legion," plays Jasmine's father, the Sultan of Agrabah. Fellow "Homeland" star Numan Acar plays Hakim, Jafar's right-hand man, with Alan Tudyk (ROGUE ONE: A STAR WARS STORY) lending his voice to Iago, Jafar's parrot. Frank Welker voices multiple roles: Aladdin's monkey sidekick, Abu; the mystical Cave of Wonders; and Jasmine's pet tiger, Rajah. Those are all repeat performances, too, as Welker voiced all three characters in the original animated film.
ALADDIN brings magic to theatres on May 24.