Unable to attend the Mayweather-McGregor fight in Las Vegas? We're in your corner. See the brooding showdown on the big screen at an AMC theatre near you. Tickets are available now for the event on Saturday, August 26 at 9 p.m. ET.
This will be the first time boxing and MMA collide in the ring, and Fathom Events and Mayweather Promotions want to ensure all fans have the opportunity to watch the punches up close.
Mayweather said, "The buzz that my fight against Conor McGregor is getting has been great already, so what better way to watch this larger-than-life event than on the big screen? We brought boxing back to movie theatres eight years ago, and it was a huge success. But this event is on a different level, and I'm so glad we are giving fans another way to see all the action. Grab your popcorn, because this is a fight no one will want to miss."
Team Mayweather
Floyd "Money" Mayweather is considered one of the greatest boxers of all time. In his 20 years in the professional ring, he has won 49 out of 49 fights.
He started young, but even then, he was a champion: He won the prestigious Golden Gloves Championship at age 16. In the 1996 Atlanta Olympics, he won a bronze medal after being beaten in the semi-finals of the featherweight competition. That was the first and last time Mayweather experienced defeat.
Since then, he has fought at and won world titles in five separate weight divisions and collected 15 title belts overall. Now, he's coming out of retirement (yet again) to face off with McGregor.
Team McGregor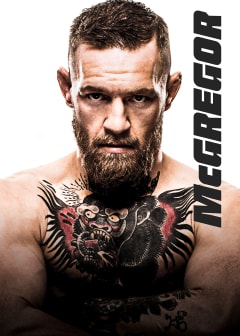 Conor "The Notorious" McGregor is a strong contender. Though he has less years of fighting — and life — experience than Mayweather, he's 21–3 in the octagon.
He made his professional MMA debut in March 2008 at Cage of Truth 2, where he defeated Gary Morris by second round (T)KO. Four years later, McGregor defeated David Hill at Cage Warriors Fighting Championship 47 and took home the organization's featherweight championship.
After winning the lightweight strap at Cage Warriors Fighting Championship 51 in 2012, the UFC took notice, and McGregor made his UFC debut in April 2013 with a first round TKO of Marcus Brimage.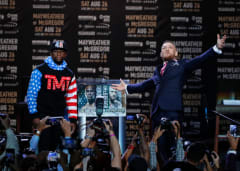 Who Will Win?
Leading up to their highly anticipated clash, the fighters have focused more on showmanship — flaunting their wealth and status within their respective arenas — than sportsmanship. The two have been taking jabs at each other for a year over social media and when they finally met face to face at their first press conference this July.
As entertaining as their trash talking has been, this isn't a battle of words. We're ready to see who will "walk to walk" in the ring — are you? Get your tickets for Mayweather vs. McGregor on Saturday, August 26 at 9 p.m. ET at AMC.