Wrestlers have been making the jump from the WWE to the big screen for years. There's something about the possibility of silver-screen stardom that lures all types of personalities out of the ring and into the multiplex. Some have struggled to make names for themselves as legitimate actors. Others, though, have gone on to become some of the biggest movie stars on the planet.
FIGHTING WITH MY FAMILY reverses the trend a bit. It's based on the true-life story of Saraya-Jade "Paige" Bevis, an English wrestler who gets her shot at the WWE after landing a rare audition. But Paige, in the movie, is played by Florence Pugh, an English actor making her way up in the business. We started thinking about some of the best professional wrestlers who have made the leap over to movie stardom. And any list like this has to start with Pugh's co-star in FIGHTING WITH MY FAMILY — and easily one of the biggest action stars in the business at the moment.
Dwayne Johnson
Hollywood can smell what The Rock is cooking. The man routinely makes franchises better, whether he's throwing his weight into a new G.I. JOE sequel, breathing life into the FAST & FURIOUS series, or reimagining JUMANJI and turning it into a contemporary hit. The Rock has had phases in his film career that have been up and down. But at the moment? There are no bigger former wrestlers who have turned to acting and found success.
John Cena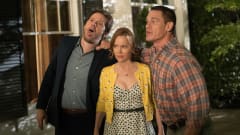 If The Rock were to look in his proverbial rearview mirror, the one-time wrestler he would see following right in his footsteps likely would be John Cena. While many wrestlers — from Triple H to Bill Goldberg — have found success in direct-to-DVD action thrillers, Cena has switched gears numerous times, proving himself in big-screen comedies (BLOCKERS, TRAINWRECK) and big-budget action (BUMBLEBEE). The future remains bright for Cena on the big screen.
Dave Bautista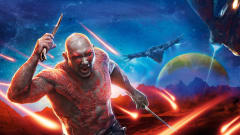 All it takes is one role, and your career can be defined. For Dave Bautista, that role happened to be Drax the Destroyer in the original GUARDIANS OF THE GALAXY. James Gunn cast the wrestler, but as an actor, Bautista brought empathy, pathos and spot-on humor to the role of a grieving father seeking vengeance against Thanos (Josh Brolin). The fact that Bautista has gone on to appear in JAMES BOND movies and ensemble dramas only speaks to his range.
Steve Austin
The man known as Stone Cold has made an impact in a number of different genres, trying comedy as part of Adam Sandler's THE LONGEST YARD while also participating in Sylvester Stallone's THE EXPENDABLES saga. He comes from a line of wrestlers like Jesse "The Body" Ventura, who are outstanding complements to a leading man or woman. But Austin hasn't yet found the franchise that he, alone, can carry. Get this man a series, Hollywood!
Stacy Keibler
Let's not let the men have all of the fun. Stacy Keibler was a prominent figure in the WCW and the WWE for years, competing in SmackDowns and WrestleManias as a solo and tag-team act. Her on-screen charisma translated into roles in Jake Gyllenhaal's BUBBLE BOY and the sports comedy THE COMEBACKS. She has stayed very busy on television, competing on "Dancing With the Stars" and appearing on "How I Met Your Mother" and "Chuck." But her next big role is right around the corner, we are sure.
Andre the Giant
You can't have a list like this and not include Andre the Giant. And really, though he has appeared in a number of films, it's his iconic turn in THE PRINCESS BRIDE that cements Andre's legacy as one of the most famous wrestlers to ever jump to big-screen acting. His wordplay comedy was on point. His action skills were unparalleled. He was a gentle giant with whom we all fell in love, and he earned his place on this roster.
FIGHTING WITH MY FAMILY tells the true story of Paige and her ascent to stardom in the WWE. Directed by Stephen Merchant and co-starring Dwayne "The Rock" Johnson, it reaches select AMC theatres on February 13.