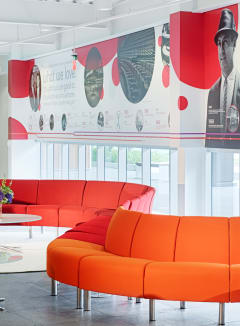 1920 Maurice, Edward and Barney Dubinsky purchase the Regent Theatre in Kansas City, Mo.

1961 Stanley Durwood becomes CEO of the company and renames it American Multi-cinema.

1962 AMC opens the world's first multiplex, the Parkway Twin in Kansas City.

1981 AMC becomes the first theatre chain to add cupholder armrests.

1991 Introduces Clip®, a "film strip" character to serve as an ambassador of the brand and its Silence is Golden® program.

1995 AMC opens the world's first megaplex. This innovative destination also inspires AMC to install stadium seating and LoveSeat®-style seating.

2000 AMC co-founds online ticket services to add convenience to even the busiest AMC theatres like Empire 25 in New York City, which is recognized as the busiest theatre in the world.

2002 AMC becomes the first theatre chain to introduce the circuit-wide gift card.

2005 AMC co-founds National CineMedia, which runs all of AMC's preshow entertainment and in-theatre advertising.

2006 AMC expands presence throughout the country with the acquisition of Loews Theatres

2007 AMC partners with IMAX to bring approximately 125 IMAX large-screen digital projection systems to AMC locations around the country.

2008 AMC launches Dine-In Theatres. The concept, which continues to expand throughout the United States, allows guests to order restaurant-style food with the push of a button, from the comfort of their own luxurious movie seat.

2009 AMC partners with Sony and RealD to implement digital and 3D technology.

2009 AMC partners with the Autism Society to launch AMC Sensory Friendly Films nationwide. The program allows children and families to enjoy a movie in a safe, accepting environment that allows talking, yelling, singing and walking around.
AMC opens its first all-recliner seating theatre, AMC Lakewood 12, dubbed "The Miracle of Lakewood".

2010 AMC acquires Kerasotes theatres and expands its presence in the Midwest.

2011 AMC launches its AMC Stubs rewards program, which provides members with new benefits like concessions upgrades and dollars back for every dollar they spend.

2012 AMC is acquired by the Beijing–based Wanda Group, which enables funding to ensure a massive escalation of AMC's world-class amenities, including recliner seating, better sight & sound presentation and MacGuffins bars.

2013 AMC goes public on the New York Stock Exchange. NYSE: AMC

2015 AMC and Dolby partner to create Dolby Cinema at AMC, a premium large format experience that includes Dolby Vision laser projection, Dolby Atmos sound and AMC's comfortable power recliners.
AMC acquires Starplex Cinemas.

2016 AMC announces it will acquire Carmike Cinemas.
AMC acquires Odeon & UCI Cinemas, the largest theatre chain in the UK & Ireland.
AMC adds a free tier to its AMC Stubs program—AMC Insider—to go along with its popular paid tier, AMC Premiere.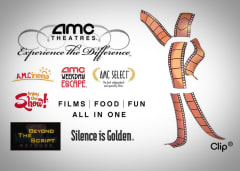 A.M. Cinema, Beyond the Script, Experience the Difference, Films. Food. Fun. All in one., AMC Select and Silence is Golden are all registered trademarks of American Multi-Cinema, Inc.
Contact Information
AMC Theatre Support Center
11500 Ash Street
Leawood, KS 66211
Call Us
(913) 213-2000
Guest Services: 877-262-4450