AMC Signature Recliners

•

Reserved Seating

•

IMAX with Laser at AMC

•

Discount Tuesdays

•

Discount Matinees

•

Food & Drinks Mobile Ordering

•

Coca-Cola Freestyle

•

Open Caption (On-Screen Subtitles)

•

Closed Caption

•

Director's Lounge
Universal Cinema AMC at CityWalk Hollywood
100 Universal City Plaza, Universal City, California 91608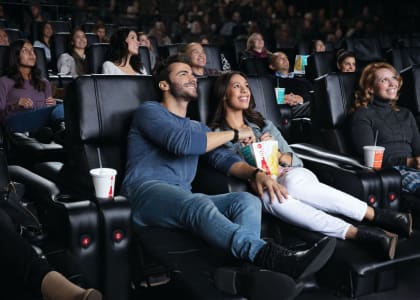 Experience Universal Cinema
See movies where movies are made at Universal Cinema, located on CityWalk at Universal Studios Hollywood. Enjoy a show in our deluxe power-reclining seats, available in 18 auditoriums with laser projection or at our 7-story IMAX® with laser projection.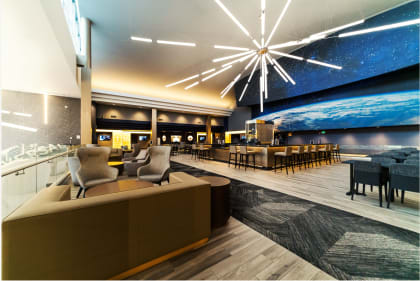 Director's Lounge
Enjoy handcrafted cocktails, draft and imported beers, wines, and Universal Exclusives at the Director's Lounge. Enjoy your drink at the bar or select auditoriums. For guests 21 and over only.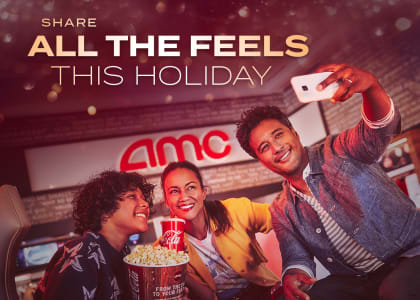 Movie Cheer with Your Near and Dear
Grab your loved ones this holiday season and go watching in a movie wonderland. Come to AMC Theatres and share in the wonder of the holidays, the magic of the movies, and the memories for a lifetime.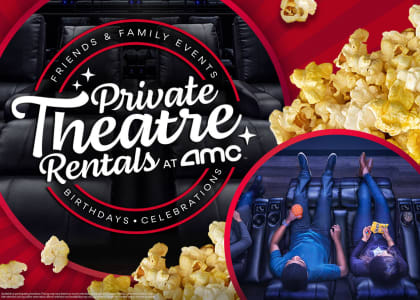 Celebrate the Holidays Your Way
Invite your closest family and friends for an intimate holiday celebration in a Private Theatre Rental. Choose from new or classic, fan fave films and earn AMC Stubs® points when you book.
AMC Signature Recliners
Kick back and enjoy the show from a luxurious AMC Signature Recliner.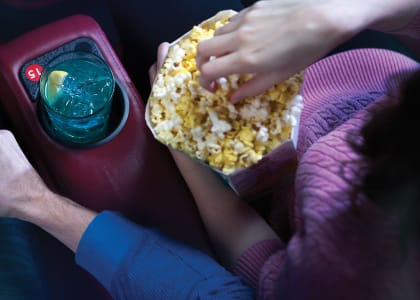 Reserved Seating
Select your seat when you buy your tickets online, on our mobile app or at the theatre.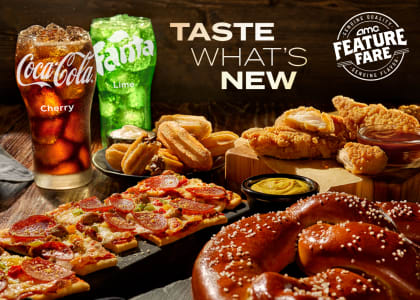 Enhanced Flavor Made to Savor
Bon appétit to a bold, fresh twist on our traditional favorites with our new Feature Fare food offerings! Try our new Bavarian Legend pretzel flavors, stone-fired flatbreads, hazelnut churros, and more!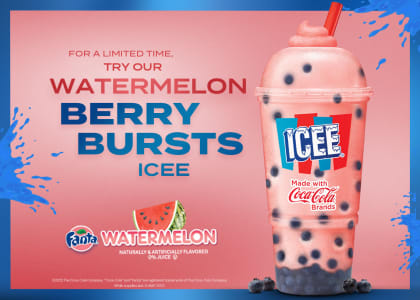 Savor Big Fruit Flavor
Blast your tastebuds with a mouthwatering explosion of blueberry fruit-fueled flavor. Try our new Watermelon Berry Bursts ICEE today – available now only for a limited time.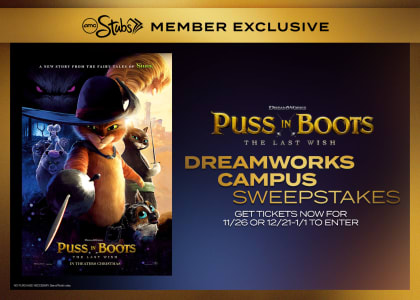 AMC STUBS® MEMBER EXCLUSIVE
The DreamWorks Campus Sweepstakes
Get tickets to PUSS IN BOOTS: THE LAST WISH on 11/26 or 12/21-1/1 to be entered for a trip to tour DreamWorks Animation Campus in L.A. Rent or buy PUSS IN BOOTS (2011) via AMC Theatres On Demand for extra entry.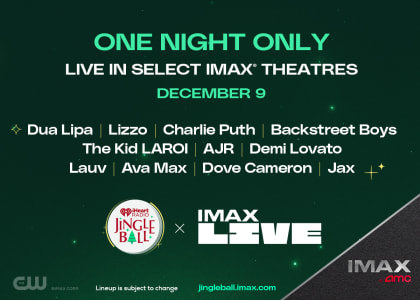 iHeartRadio JINGLE BALL IMAX Live
Grab your friends and holiday sweater and get tickets to iHeartRadio JINGLE BALL: The IMAX Live Experience. This sold-out concert features Dua Lipa, Lizzo, Charlie Puth, Backstreet Boys, and more!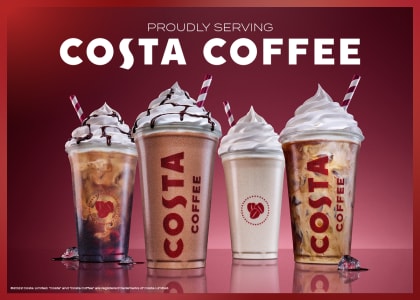 Introducing a Legendary Lineup
Explore a variety of new premium Costa Coffee beverages available at Universal Cinema. Serving Espresso, Brewed and Iced Coffee, Frappés and Hot Chocolate, enjoy choices for all coffee lovers.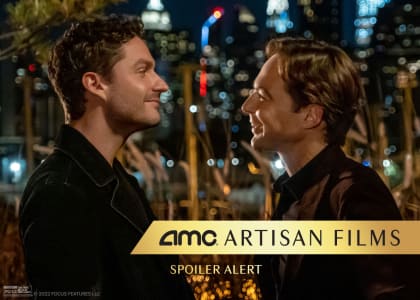 A True Story of Love and Endurance
Based on Michael Ausiello's memoir, SPOILER ALERT follows Michael and Kit's relationship as it transforms and deepens when one of them falls ill. See it at select locations 12/1, everywhere 12/8.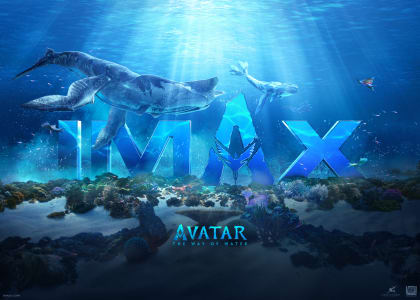 The IMAX 3D Experience
Don't miss the epic return to Pandora and experience Avatar: The Way Of Water in immersive IMAX 3D, the way director James Cameron intended. Opens 12/16.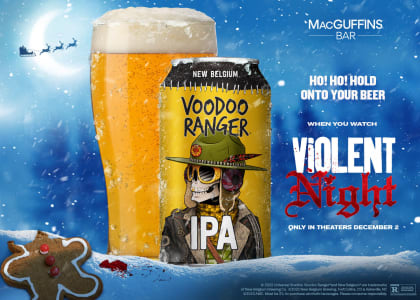 He Knows What You've Been Drinking
So drink good for your own sake. Enjoy a New Belgium VooDoo Ranger IPA from MacGuffins Bar and get tickets to see Santa go on a slay ride this Christmas in VIOLENT NIGHT, now playing.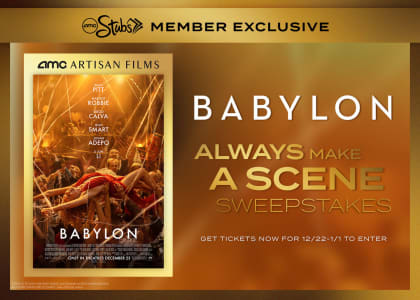 AMC STUBS MEMBER EXCUSIVE
You Could Make a Scene in Hollywood
Get tickets now to see BABYLON 12/22-1/1. You'll be entered for a chance to win a decadent trip to Hollywood featuring a luxurious hotel stay, dining, a Paramount Pictures Studio tour, and more!
IMAX with Laser at AMC
Immersive, heart-pounding audio combined with crystal clear images on the largest screens take you beyond the standard cinema experience. Experience films to the fullest in IMAX with Laser at AMC.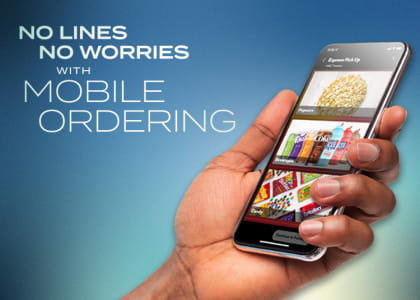 Order Snacks Ahead of Time!
Enjoy the convenience of mobile ordering with AMC Theatres. Simply place your order before your movie and it will be ready at your selected time when you arrive. Skip the line and enjoy the show!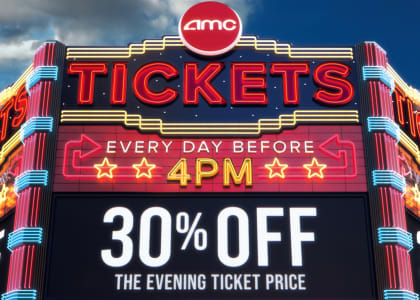 DISCOUNT MATINEES
30% Off Tickets Every Day Before 4PM
It's always a perfect day for a Discount Matinee! Every day before 4pm, save 30% off the evening ticket prices at select AMC® and AMC DINE-IN™ theatres.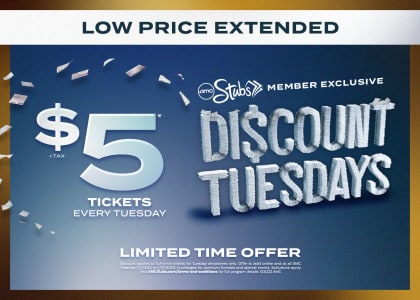 Discount Tuesdays Just Got Better
Right now, tickets to all the latest and greatest movies are just $5* all day, every Tuesday. Come in, catch a movie with us and enjoy this deal for a limited time only.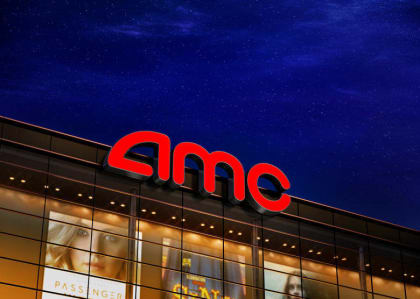 Open Caption (On-Screen Subtitles)
This theatre has select showtimes with Open Caption (On-Screen Subtitles) screenings.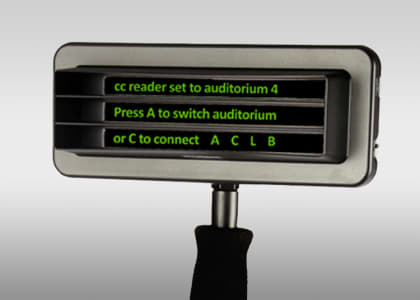 Closed Caption
Closed captioning devices available at this theatre. Contact the guest services desk at the theatre for more information.
At this theatre
Features

Open Caption (On-Screen Subtitles)

This theatre has select showtimes with Open Caption (On-Screen Subtitles) screenings.

Director's Lounge

Shake up your movie with a beer, glass of wine or cocktail from the Director's Lounge. Enjoy your drink at the bar or select auditoriums. For guests 21 and over only.

Senior Pricing

If you're 60 or over, save on your movie ticket. Just show a valid ID at the box office.

Student Pricing

Every day, starting at 5pm, show your valid student ID at the box office and save on your ticket.

Military Pricing

This location offers special military pricing. See box office for details. Must present a valid military ID.

Amenities and Accessibility

Discount Matinees

Save 30% off the evening ticket prices every day!

AMC Stubs Member Wi-Fi

Select the AMC Stubs Member Wi-Fi network to sign in or join AMC Stubs. Become an Insider member for FREE to take advantage of FREE Wi-Fi access in the lobby, or upgrade to get even more at the movies.

$5 Movie Parking

Parking is only $5 at Universal CityWalk with your purchase of a movie ticket. General parking price is $28 from open to 5pm and $10 after 5pm. AMC Theatres is happy to provide a rebate to bring parking costs down to $5 anytime. If purchased on the AMCTheatres.com website or mobile app, you will receive a barcode in the email receipt that provides a rate of $5 upon arrival at the tollbooth. If you do not have a barcode, you may take advantage of a rebate at the theatre to bring the General Parking price down to $5. Parking offers cannot be combined.

Mobile Ticketing

Skip the box office and go straight to the ticket drop with our mobile ticketing solution when buying tickets online.

Wheelchair Access

This theatre is wheelchair-accessible in all auditoriums.

Other Policies

Age & Time of Day Policy for R-Rated Films

Under 17 requires accompanying parent or adult guardian (age 21 or older). Guests 25 years and under must show ID. We restrict children younger than 6 from attending R-Rated films after 6pm to improve the experience for everyone. To bring your children younger than 6 to R-Rated films, please visit us before 6pm.

Alcohol Carding Policy

Regardless of age, all guests purchasing or consuming alcohol within the theatre must show positive proof of age. Guests without a valid ID cannot purchase or consume alcohol per AMC policy.

No Outside Food and Beverage

Please refrain from bringing outside food and beverage items into the theatre.

Pricing Notice

AMC reserves the right to exercise special pricing options for unique in-theatre experiences.

Refund Policy

No refunds after printed showtime.