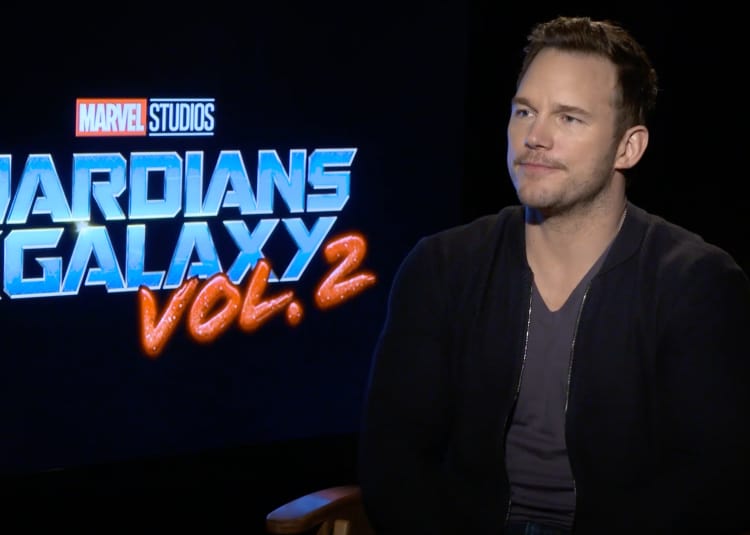 AMC Exclusive
We sat down with cast members from Guardians of the Galaxy Vol. 2 to discuss the highly anticipated sequel. Find out what they had to say.
Cast & Crew
Bradley Cooper

Rocket

Bradley Charles Cooper was born on January 5, 1975 in Philadelphia, Pennsylvania. His mother, Gloria (Campano), is of Italian descent, and worked for a local NBC station. His father, Charles John Cooper, who was of Irish descent, was a stockbroker. Immediately after Bradley graduated from the Honors English program at Georgetown University in 1997, he moved to New York City to enroll in the Masters of Fine Arts program at the Actors Studio Drama School at New School University. There, he developed his stage work, culminating with his thesis performance as John Merrick in Bernard Pomerance's "The Elephant Man", performed in New York's Circle in the Square. While still in school, Bradley began his professional career, appearing opposite Sarah Jessica Parker on Sex and the City (1998) and on the drama series The Beat (2000). His weekends were spent with LEAP (Learning through the Expanded Arts Program), a non-profit organization that teaches acting and movement to inner city school children. The summers took him all across the globe, from kayaking in British Columbia with Orca Whales to ice-climbing in the Peruvian Andes, while hosting Lonely Planet's Treks in a Wild World (2000) for the Discovery Channel. Bradley had to miss his graduation ceremony from the Actors Studio in order to star in his first feature Wet Hot American Summer (2001). After finishing his second feature Bending All the Rules (2002), his plans to relocate to Los Angeles were delayed when Darren Star hired him to star on the drama series The $treet (2000). Bradley went on to win the role of young law student Gordon Pinella in Changing Lanes (2002), starring Ben Affleck and Samuel L. Jackson, and also played Travis Paterson in My Little Eye (2002). He finally decided that it was time to forgo his other New York projects and move to Los Angeles when he was cast on Alias (2001). After supporting roles in Wedding Crashers (2005), Failure to Launch (2006), The Comebacks (2007), The Rocker (2008) and Yes Man (2008), Cooper broke out with major roles in He's Just Not That Into You (2009), The Hangover (2009) and Valentine's Day (2010). He co-starred in the action film The A-Team (2010) and headlined the thriller film Limitless (2011). Cooper received an Academy Award nomination for Best Actor after starring opposite Jennifer Lawrence in David O. Russell's Silver Linings Playbook (2012). He then received two more consecutive Oscar nominations, Best Supporting Actor for playing Richie DiMaso in Russell's American Hustle (2013) (again opposite Lawrence, though their characters shared no significant screen time), and Best Actor for playing Navy SEAL Chris Kyle in Clint Eastwood's American Sniper (2014), the highest grossing film of 2014. During this time period, Cooper also reprised his role in The Hangover Part II (2011) and The Hangover Part III (2013), turned in another strong dramatic turn in The Place Beyond the Pines (2012), and voiced Rocket Raccoon in the third highest grossing film of 2014, Guardians of the Galaxy (2014). In 2015, Bradley headlined two comedies, Cameron Crowe's Aloha (2015), set in Hawaii, and John Wells' Burnt (2015), set in London, and starred opposite Jennifer Lawrence again in David O. Russell's Joy (2015). Bradley has a daughter (born 2017) with his partner, model Irina Shayk.

View Full Bio

Zoe Saldana

Gamora

Zoe Saldana was born on June 19, 1978 in Passaic, New Jersey, to Asalia Nazario and Aridio Saldaña. Her father was Dominican and her mother is Puerto Rican. She was raised in Queens, New York. When she was 10 years old, she and her family moved to the Dominican Republic, where they would live for the next seven years. While living there, Zoe discovered a keen interest in performance dance and began her training at the prestigious ECOS Espacio de Danza Dance Academy where she learned ballet as well as other dance forms. Not only did her training provide an excellent outlet for the enthusiastic and energetic youngster, it would also prove to be a fortunate precursor for the start of her professional acting career. At age 17, Zoe and her family moved back to the United States where her love for dance followed and an interest in theater performance became stronger. She began performing with the Faces theater troupe which put on plays geared to provide positive messages for teens with themes dealing with issues such as substance abuse and sex. These performances not only gave her valuable experience but also a source of great pride knowing that she was making a difference in the lives of young people like herself. While performing with the Faces troupe and also the New York Youth Theater, Zoe was recruited for a talent agency and her dance training years before coupled with her acting experience greatly helped her land her first big screen role as Eva Rodriguez, the talented and headstrong ballet dancer in the film Center Stage (2000). Since her professional career began several years ago, Zoe's talent and determination has allowed her to be involved in blockbuster films and act with major actors, actresses and industry insiders at a pace that very few young professionals have experienced. Zoe has not only held her own in major motion picture productions but gained the respect and praise from industry insiders such as Jerry Bruckheimer and Steven Spielberg and actors/actresses such as Tom Hanks, Bernie Mac, Keira Knightley, Ashton Kutcher, Kirsten Dunst and Orlando Bloom. According to many of her co-stars, producers and directors, the sky is no limit for this young star who has incredible range, intense concentration, and a steely determination to be involved with projects that challenge her professionally with wide-ranging subject matters and characters. Just to ask practically anyone who she has worked for or with about her, glowing comments abound and earned friendships and respect are readily revealed. A star has been born, and growing every day.

View Full Bio

Chris Pratt

Peter Quill/Star-Lord

Christopher Michael Pratt is an American film and television actor. He came to prominence from his television roles, including Bright Abbott in Everwood (2002), Ché in The O.C. (2003), and Andy Dwyer and Parks and Recreation (2009), and notable film roles in Moneyball (2011), The Five-Year Engagement (2012), Zero Dark Thirty (2012), Delivery Man (2013), and Her (2013). In 2014, he broke out as a leading man after headlining two of the year's biggest films: he voiced Emmet Brickowoski, in The Lego Movie (2014), and starred as Peter Quill / Star-Lord in Guardians of the Galaxy (2014). In 2015, he headlined the sci-fi thriller Jurassic World (2015), the fourth installment in the Jurassic Park franchise and his most financially successful film. In 2016, he co-starred in the remake The Magnificent Seven (2016), with Denzel Washington and Ethan Hawke, and appeared with Jennifer Lawrence in the sci-fi drama Passengers (2016). In the near future, he returns as Star-Lord for Guardians of the Galaxy Vol. 2 (2017), with Jurassic World: Fallen Kingdom (2018) not far behind. He was born in Virginia, Minnesota, to Kathleen Louise (Indahl), who worked at a supermarket, and Daniel Clifton Pratt, who remodeled houses. His mother is of Norwegian descent and his father had English, German, Swiss, and French-Canadian ancestry. Chris grew up in Lake Stevens, Washington state. He is married to fellow Washington State native, Anna Faris, whom he met on the film set of Take Me Home Tonight (2011), and with whom he has one child, Jack Pratt. Chris's hobbies include fishing, hunting and working on cars. He has two older siblings, Cully and Angie.

View Full Bio

Dave Bautista

Drax

David Michael Bautista, Jr. was born on January 18, 1969 in Washington, D.C., to Donna Raye (Mullins) and David Michael Bautista. His father is Filipino, and his mother has Greek ancestry. When WCW officials told him he'd never make it in sports entertainment, Bautista pushed himself to achieve his dream of being a Superstar. In May 2002, he made his debut on SmackDown using the ring name Batista, but it wasn't until a move to Raw and two victories over Kane that "The Animal" began to make noise in the WWE Universe. The wins impressed Ric Flair and Triple H, who were looking to align themselves with the industry's brightest new stars. After a lengthy search, they identified Randy Orton and Batista. Collectively the four Superstars became known as Evolution. Batista earned his first championship alongside "The Nature Boy" when the duo captured the WWE Tag Team Championships in December 2003. As Evolution dominated WWE, Batista started to emerge from the shadows of Triple H and Ric Flair. By the time Batista won the 2005 Royal Rumble Match, World Heavyweight Champion Triple H viewed him as a serious threat to his title. After a triceps injury at the hands of Mark Henry forced Batista to relinquish the title in January 2006, he vowed to return. Batista successfully regained the World Heavyweight Championship at Survivor Series in 2006. Four months into his second reign, Batista faced the Undertaker at WrestleMania 23. "The Animal" took Undertaker to the limit, but was unable to stop the streak of "The Deadman" at WrestleMania. Though disappointed, Batista stayed hungry and always managed to keep himself in the championship hunt for the rest of his career. At Bragging Rights in 2009, Batista shocked the world when he blamed Rey Mysterio for a loss to Undertaker, then attacked his former tag team partner. "The Animal" then became locked in a tense rivalry with another former friend, John Cena, over the WWE Championship. The grueling match at Over the Limit led to a wheelchair-bound Batista declaring "I quit!" the following night on Raw before fading from the WWE Universe in May 2010. Following his departure from WWE, Bautista appeared opposite Vin Diesel in the Universal film Riddick (2013) and RZA's feature directorial debut The Man with the Iron Fists (2012), in which he played the villainous Brass Body and starred opposite Russell Crowe and Lucy Liu. His other film credits include The Scorpion King 3: Battle for Redemption (2012), where he played Argomael; the action film House of the Rising Sun (2011); and Wrong Side of Town (2010) opposite rapper Ja Rule. Two years later, he joined MMA and won his first professional MMA fight. In January 2014, he made his long awaited return to the WWE, before quitting a second time in June of that same year. He did this in order to promote Guardians of the Galaxy (2014), which was released on August 1, 2014, and starred Chris Pratt, Benicio Del Toro, Zoe Saldana, and Djimon Hounsou, alongside Bautista. He will shoot Kickboxer: Vengeance (2016), directed by John Stockwell, and co-starring martial artist Alain Moussi and UFC fighter Georges St-Pierre. The remake of the 1989 Jean-Claude Van Damme film, Kickboxer (1989) is about two brothers David and Kurt Sloan; When David wins the Karate World Championship, a promoter lures him to Hong Kong, despite his brother's protestations that the man is a crook. When Kurt travels to Thailand to meet his brother, he discovers he has died and seeks his revenge.

View Full Bio

Kurt Russell

Ego

Kurt Russell was born Kurt Vogel Russell in Springfield, Massachusetts, to Louise Julia (Crone), a dancer, and actor Bing Russell (Neil Oliver Russell). He is of English, German, Scottish and Irish descent. His first roles were as a child on television series, including a lead role on the Western series The Travels of Jaimie McPheeters (1963). Russell landed a role in the Elvis Presley movie, It Happened at the World's Fair (1963), when he was eleven years old. Walt Disney himself signed Russell to a 10-year contract, and, according to Robert Osborne, he became the studio's top star of the 1970s. Having voiced adult Copper in the animated Disney film The Fox and the Hound (1981), Russell is one of the few famous child stars in Hollywood who has been able to continue his acting career past his teen years. Kurt spent the early 1970s playing minor league baseball. In 1979, he gave a classic performance as Elvis Presley in John Carpenter's ABC TV movie Elvis (1979), and married the actress who portrayed Priscilla Presley in the film, Season Hubley. He was nominated for an Emmy Award for the role. He followed with roles in a string of well-received films, including Used Cars (1980) and Silkwood (1983), for which he was nominated for the Golden Globe Award for Best Supporting Actor - Motion Picture. During the 1980s, he starred in several films by director Carpenter; they created some of his best-known roles, including the infamous anti-hero Snake Plissken in the futuristic action film Escape from New York (1981) (and later in its sequel Escape from L.A. (1996)), Antarctic helicopter pilot R.J. MacReady in the horror film The Thing (1982), and Jack Burton in the fantasy film Big Trouble in Little China (1986), all of which have since become cult classics. In 1983, he became reacquainted with Goldie Hawn (who appeared with him in The One and Only, Genuine, Original Family Band (1968)) when they worked together on Swing Shift (1984). The two have lived together ever since. They made another film together, Garry Marshall's comedy Overboard (1987). His other 1980s titles include The Best of Times (1986), Tequila Sunrise (1988), Winter People (1989) and Tango & Cash (1989). In 1991, he headlined the firefighter drama Backdraft (1991), he starred as Wyatt Earp in the Western film Tombstone (1993), and had a starring role as Colonel Jack O'Neil in the science fiction film Stargate (1994). In the mid-2000s, his portrayal of U.S. Olympic hockey coach Herb Brooks in Miracle (2004) won the praise of critics. In 2006, he appeared in the disaster-thriller Poseidon (2006), and in 2007, in Quentin Tarantino's Death Proof (2007) segment from the film Grindhouse (2007). Russell appeared in The Battered Bastards of Baseball (2014), a documentary about his father and the Portland Mavericks, which debuted at the Sundance Film Festival in 2014. Russell starred in the Western films Bone Tomahawk (2015) and The Hateful Eight (2015), and had a leading role in the dramatization Deepwater Horizon (2016). He also co-starred in the action sequels Furious 7 (2015) and The Fate of the Furious (2017). Russell and Goldie Hawn live on a 72-acre retreat, Home Run Ranch, outside of Aspen. He has two sons, Boston Russell (from his marriage to Hubley) and Wyatt Russell (with Hawn). He also raised Hawn's children, actors Oliver Hudson and Kate Hudson, who consider him their father. Russell is also an avid gun enthusiast, a hunter and a staunch supporter of the Second Amendment of the United States Constitution. He is also an FAA-licensed private pilot holding single/multi-engine and instrument ratings, and is an Honorary Board Member of the humanitarian aviation organization Wings of Hope.

View Full Bio

Vin Diesel

Baby Groot

Vin Diesel was born Mark Sinclair in Alameda County, California, along with his fraternal twin brother, Paul Vincent. He was raised by his astrologer/psychologist mother, Delora Sherleen (Sinclair), and adoptive father, Irving H. Vincent, an acting instructor and theater manager, in an artists' housing project in New York City's Greenwich Village. He never knew his biological father. His mother is white (with English, German, Scottish, and Irish ancestry), and his adoptive father is African-American; referring to his biological father's background, Diesel has said that he himself is "definitely a person of colour". His first break in acting happened by chance, when at the age of seven he and his friends broke into a theatre to vandalize it. A woman stopped them and offered them each a script and $20, on the condition that they would attend everyday after school. From there, Vin's fledgling career progressed from the New York repertory company run by his father, to the Off-Off-Broadway circuit. At age seventeen and already sporting a well-honed physique, he became a bouncer at some of New York's hippest clubs to earn himself some extra cash. It was at this time that he changed his name to Vin Diesel. Following high school, Vin enrolled as an English major at Hunter College, but dropped out after three years to go to Hollywood to further his acting career. Being an experienced theatre actor did not make any impression in Hollywood and after a year of struggling to make his mark, he returned to New York. His mother then gave him a book called "Feature Films at used Car Prices" by Rick Schmidt. The book showed him that he could take control of his career and make his own movies. He wrote a short film based on his own experiences as an actor, called Multi-Facial (1995), which was shot in less than three days at a cost of $3,000. Multi-Facial (1995) was eventually accepted for the 1995 Cannes Film Festival where it got a tumultuous reception. Afterwards, Vin returned to Los Angeles and raised almost $50,000 through telemarketing to fund the making of his first feature, Strays (1997). Six months after shooting, the film was accepted for the 1997 Sundance Film Festival, and although it received a good reception, it did not sell as well as hoped. Yet again Vin returned disappointed to New York only to receive a dream phone call. Steven Spielberg was impressed by Multi-Facial (1995) and wanted to meet Vin, leading him to be cast in Saving Private Ryan (1998). Multi-Facial (1995) earned Vin more work, when the director of The Iron Giant (1999) saw it and decided to cast Vin in the title role. From there, Vin's career steadily grew, with him securing his first lead role, as Richard B. Riddick in the sci-fi film Pitch Black (2000). The role has earned him a legion of devoted fans and the public recognition he deserves. Since then, he has headlined a series of blockbusters, often but not only centered on fast-driving motor vehicles: The Fast and the Furious (2001), xXx (2002), The Pacifier (2005), Fast & Furious (2009), Fast Five (2011), Fast & Furious 6 (2013), and Furious 7 (2015). He also voiced Groot in Guardians of the Galaxy (2014) and starred in the lower-budgeted courtroom drama Find Me Guilty (2006), the latter directed by Sidney Lumet.

View Full Bio
Cast & Crew photos provided by TMDb.
Justice League

1 hr 59 minPG13Released Nov 17

Get Tickets

Daddy's Home 2

1 hr 40 minPG13Released Nov 10

Get Tickets

A Bad Moms Christmas

1 hr 44 minRReleased Nov 1

Get Tickets

Three Billboards Outside Ebbing Missouri

1 hr 55 minRReleased Nov 10

Get Tickets

Not finding what you're looking for?

Murder On The Orient Express

1 hr 55 minPG13Released Nov 10

Get Tickets