The Killing Of A Sacred Deer
14 Must Watch Films From TIFF 2017
From The Disaster Artist and Darkest Hour, to Lady Bird and Three Billboards Outside Ebbing, Missouri, TIFF is showcasing the best in cinema this year. Here's our guide.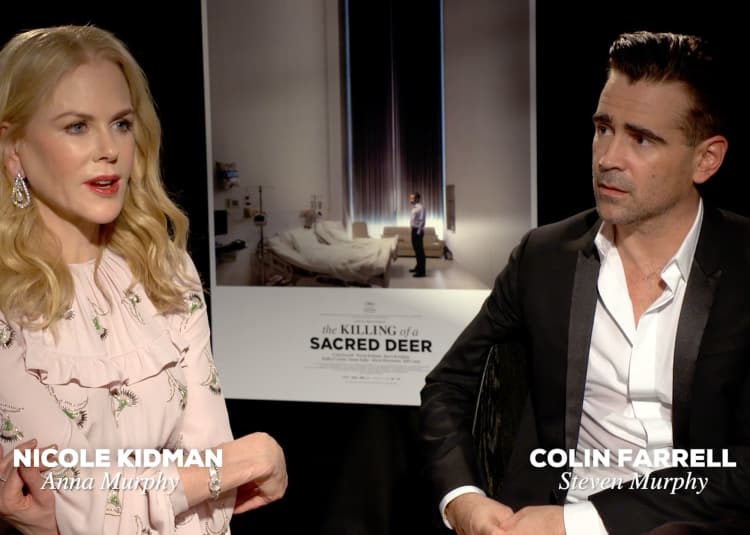 AMC Exclusive
The doctor is in. See the new revenge thriller from the twisted visionary behind THE LOBSTER, Yorgos Lanthimos. Watch our interviews with stars Colin Farrell and Nicole Kidman, and get tickets today.
Cast & Crew
ALICIA SILVERSTONE

Martin's Mother

Alicia Silverstone was born on October 4, 1976 in San Francisco, California, the youngest of three children. She is the daughter of Didi (Radford), a former flight attendant, and Monty Silverstone, a real estate investor. Her English-born father is from a Jewish family, while her Scottish-born mother converted to Judaism. Alicia's career began at the tender age of six, when her father took some photos of his young daughter, which eventually led to her getting several television commercials. After a guest spot on The Wonder Years (1988) as a literal "dream girl", she moved on to movies. She landed a role in The Crush (1993), a sort of Fatal Attraction (1987) for teenagers in which she portrayed a disturbed young girl obsessed with an older man. The nasty little role did not impress the critical establishment but it wowed its target audience: teenagers. In fact, the role won her the 1994 MTV Movie Award for "Best Villain" and "Breakthrough Performance". It is interesting to note that during the filming of the movie, Alicia became an emancipated minor in order to get around child labor laws which would have interfered with her working hours. She was a dedicated actress from early on. The film also caught the attention of Aerosmith, who hired her to appear in a string of their music videos. The first of them, "Cryin'", was voted the #1 video of all time on MTV. Silverstone was definitely a hit with the MTV crowd, but larger commercial success still eluded her. That all changed when she landed the role of Cher in Amy Heckerling's Clueless (1995). Cher was the antithesis of Alicia's role in The Crush; this time around, she was a rich, naive yet endearing girl from Beverly Hills in search of love in the 1990s. The film was a huge box-office hit and wowed both audiences and critics alike and demonstrated Alicia's strength and bankability. She was hailed as the woman of the hour, and branded the spokeswoman for an emerging young generation. She signed a deal with Columbia TriStar worth $10 million and got the coveted role of Batgirl in the Batman franchise. Also, as part of the package, she received a three-year first-look deal for her own production company, First Kiss Productions. The first film released by First Kiss was Excess Baggage (1997).

More

Colin Farrell

Steven Murphy

Colin Farrell is one of Ireland's biggest stars in Hollywood and abroad. His film presence has been filled with memorable roles that range from an inwardly tortured hit man, to an adventurous explorer, a determined-but-failing writer, and the greatest military leader in history. Farrell was born on May 31, 1976 in Castleknock, Dublin, Ireland, to Rita (Monaghan) and Eamon Farrell. His father and uncle were both professional athletes, and for a while, it looked like Farrell would follow in their footsteps. Farrell auditioned for a part in the Irish Boy Band, Boyzone, but it didn't work out. After dropping out of the Gaiety School of Acting, Farrell was cast in Ballykissangel (1996), a BBC television drama. "Ballykissangel" was not his first role on screen. Farrell had previously been in The War Zone (1999), directed by Tim Roth and had appeared in the independent film Drinking Crude (1997). Farrell was soon to move on to bigger things. Exchanging his usually thick Dublin accent for a light Texas drawl, Farrell acted in the gritty Tigerland (2000), directed by Joel Schumacher. Starring Farrell amongst a number of other budding young actors, the film portrays a group of new recruits being trained for the war in Vietnam. Farrell played the arrogant soldier Boz, drafted into the army and completely spiteful of authority. The film was praised by critics, but did not make much money at the box office. It was Farrell's first big role on film, and certainly not his last. Farrell followed up with American Outlaws (2001), where he played the notorious outlaw Jesse James with Scott Caan, son of legendary actor James Caan, in the role of Cole Younger. The film was a box office flop and failure with the critics. Immediately, Farrell returned to the war drama film that had made him famous. Co-starring in the war film Hart's War (2002) opposite Bruce Willis, Farrell played the young officer captured by the enemy. The film was another failure. Farrell struck gold when he was cast in the Steven Spielberg film Minority Report (2002) that same year. Set in a futuristic time period, Farrell played the character Danny Witwer, a young member of the Justice Department who is sent after Tom Cruise's character. The film was a smash hit, and praised by critics. Farrell continued this success when he reunited with Joel Schumacher on the successful thriller Phone Booth (2002). Farrell played the role of the victim who is harassed by an unseen killer (Kiefer Sutherland) and is made to reveal his sins to the public. 2003 was a big year for Farrell. He starred in the crime thriller The Recruit (2003) as a young CIA man mentored by an older CIA veteran (Al Pacino). Pacino later stated that Farrell was the best actor of his generation. Farrell certainly continued to be busy that year with Daredevil (2003), which actually allowed him to keep his thick Irish accent. The film was another success for Farrell, as was the crime film S.W.A.T. (2003) where Farrell starred opposite Samuel L. Jackson and LL Cool J. Farrell also acted in the Irish black comedy film Intermission (2003) and appeared another Irish film Veronica Guerin (2003) which reunited him with Joel Schumacher once again. The following year, Farrell acted in what is his most infamous film role yet: the title role in the mighty Oliver Stone film epic Alexander (2004), which is a character study of Alexander the Great as he travels across new worlds and conquers all the known world before him. Farrell donned a blond wig and retained his Irish accent, and gave a fine performance as Alexander. However, both he and the film were criticized. Despite being one of the highest grossing films internationally and doing a good job at the DVD sales, Farrell did not come out of the experience without a few hurts. Farrell attempted to rebound with his historical film The New World (2005). Reuniting with "Alexander" star Christopher Plummer, and also acting with Christian Bale, Farrell played the brave explorer John Smith, who would make first contacts with the Native peoples. The film did not do well at the box office, though critics praised the film's stunning appearance and cinematography. Farrell returned to act in Michael Mann's film Miami Vice (2006) alongside Jamie Foxx. The film was a film adaptation of the famous television series, and did reasonably well at the box office. Farrell also acted in Ask the Dust (2006) with Salma Hayek and Donald Sutherland, though the film did not receive much distribution. The next year, Farrell acted alongside Ewan McGregor in the Woody Allen film Cassandra's Dream (2007) which received mixed reviews from critics. Farrell followed up with the hilarious black comedy In Bruges (2008). Written and directed by Irish theatre director Martin McDonagh, the film stars Farrell and Brendan Gleeson as two Irish hit men whose latest assignment went wrong, leaving them to hide out in Bruges, Belgium. The film has been one of Farrell's most praised work, and he was nominated for a Golden Globe. As well as In Bruges (2008), Farrell acted alongside Edward Norton in the crime film Pride and Glory (2008) which was not as successful as the former film. As well as working with charity, and speaking at the Special Olympics World Games in 2007, he has donated his salary for Terry Gilliam's The Imaginarium of Doctor Parnassus (2009) to Heath Ledger's little daughter (who was left nothing in a will that had not been updated in time). Ledger had originally been cast in the film and was replaced by Farrell, Johnny Depp and Jude Law. The film was a critical and financial success, and Farrell also played a small role in Crazy Heart (2009) which had the Dubliner playing a country singer. Farrell even sang a few songs for the film's soundtrack. As well as those small roles, Farrell took the lead role in the war film Triage (2009). Farrell incredibly lost forty-four pounds to play the role of a war photographer who must come to terms with what he has experienced in Kurdistan. While the film was finely made, with excellent performances from all involved, the film has received almost no distribution. Farrell's other leading role that year was in Neil Jordan's Irish film Ondine (2009). In recent years, he co-starred in the comedy horror film Fright Night (2011), the science fiction action film Total Recall (2012), both remakes, and McDonagh's second feature, and the black comedy crime film Seven Psychopaths (2012). Since the mid-2000s, Farrell has cleaned up his act, and far from being a Hollywood hell raiser and party animal, Farrell has shown himself to be a respectable and very talented actor. He also starred in The Lobster (2015) and The Killing of a Sacred Deer (2017), both directed by Yorgos Lanthimos. For The Lobster he was nominated for an Golden Globe.

More

Raffey Cassidy

Kim Murphy

Raffey Cassidy is an English actress known for Snow White and the Huntsman (2012) and Dark Shadows (2012). Her breakthrough role came as Athena in Brad Bird 's Tomorrowland (2015) opposite George Clooney. In 2013, aged 11, Raffey was the youngest ever actor to be named in Screen International's Stars of Tomorrow and her performance as Athena won worldwide critical acclaim. Raffey has been performing since the age of seven with roles in the acclaimed television drama Mr Selfridge (2013) opposite Jeremy Piven. In 2016 Raffey appeared alongside Brad Pitt in the WW2 drama Allied (2016), and in 2017 will appear opposite Nicole Kidman and Colin Farrell in The Killing of a Sacred Deer (2017) director Yorgos Lanthimos's eagerly anticipated Cannes Film Festival 2017 Best Screenplay Winner and Palm d'Or contender The Killing of a Sacred Deer (2017).

More

BARRY KEOGHAN

Martin

Barry came to prominence in the 2017 film 'The Killing of a Sacred Deer' with his truly terrifying portrayal of Martin,an American teenager exacting a grisly revenge on drunken surgeon Colin Farrell, but he was not an American nor a teen-ager, born in Dublin on 17th October 1992 and has a brother Eric. From the age of thirteen he was raised by a grandmother and got into acting by answering an advert for non-professionals to train at a school called the Factory. Beginning in Irish soap Fair City' he played Irish roles in the likes of '71' but in 2017 bagged the role of Martin as well as appearing in the lauded 'Dunkirk. In addition to acting Barry is a talented amateur boxer, representing the Celtic Core and is an ambassador for Dior.

More
Cast & Crew photos provided by TMDb.