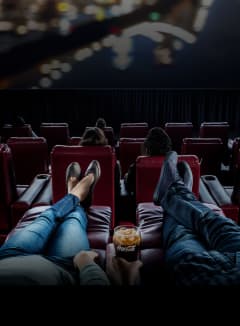 AMC Signature Recliners
Just kick back and enjoy the show!
Dine & Recline

At Dine-In Theatres, you're invited to put your feet up in one of our AMC Signature Recliners featuring a tray table. Relax into power recliners & enjoy great meals! Complete with personal swiveling tables, our signature recliners are waiting for you—sit back & eat up!

Power Reclining!

The power to relax is in your hands in our AMC Signature Recliners. Seat warmers make it cozy, AMC makes comfort easy! Take your movie experience to the max when you tilt back & sink in to the comfort now reclining near you!

Great Movies, Premium Comfort

You're going to love the revolutionary luxury of our AMC Signature recliners! Experience the best in entertainment & comfort when you lean back, stretch out, and settle in for a great time at the movies!

Full On Fun with Full Recliners

Experience the coziest, most luxurious seating around when you sit back with our full recliners! Relax & unwind like never before when you leave the drama to the screen and sink into easy comfort!

Dolby Cinema™ Recliner

This sleek, top-of-the-line AMC Signature recliner features seat rumblers that reverberate with the action. Only available in Dolby Cinema™ auditoriums.