Free Costa Coffee for AMC Investor Connect Members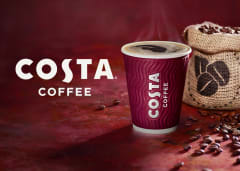 We have another special offer for our AMC Investor Connect members. Enjoy one FREE cup of Signature Blend Medium Roast Costa Coffee at participating AMC Theatres, valid until October 31. The FREE Costa Coffee reward has been conveniently added to your AMC Stubs account, so you only need to scan your virtual card to receive the discount. You must self-identify as an investor by July 12 to qualify for this offer.
Participating Theatres
Participating Theatres
Stockholders will receive one free cup of Costa Coffee during the promotion window (7.15.21 – 8.31.21). Stockholder must be a member of AMC Stubs program and self‑identify as an investor by 7.12.21 to qualify for offer. Stockholders are limited to one free cup of Costa Coffee, at participating locations, which will be available in their AMC Stubs account within 7 days of self‑identification and expire 10.31.21. Discount will apply at the time of purchase after the stockholder scans their virtual AMC Stubs card. Available to U.S. stockholders only.