A month after the shortlist of semi-finalists for the Best Foreign Language Film Oscar® was announced, the nominees were cut from nine to five, and A FANTASTIC WOMAN, a film hailing from Chile, sprang to the front of the pack as the fan and critic favorite. Why? Well, the short answer is because it's a great, groundbreaking film. But besides that, the director of A FANTASTIC WOMAN is one to watch.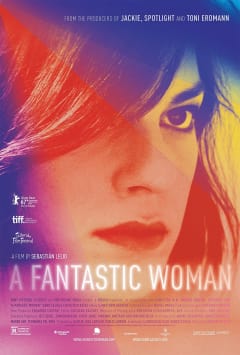 If you haven't seen the film (and if you want to win your Oscar pool, you probably should), the story is about a transgender woman whose partner passes away suddenly. She is marginalized by her partner's family and the authorities — all while trying to grieve the death of the one she loved most in the world. The narrative itself is gripping, with emotions boiling just under the surface, but more than that, it takes a close look at this woman's story with both sensitivity and candor, from a director who has a talent for examining women's stories with great care and no judgement. In the starring role of Marina, director Sebastian Lelio cast transgender actress Daniela Vega, lending the character a sense of authenticity, sincerity and intimacy that is rarely seen.
As for Lelio, this isn't his first — and it certainly won't be his last — film that features women's stories. In 2013, he directed another Spanish language film, GLORIA, which was also Chile's entry for the Best Foreign Language Film Academy Award®, but it never made it to the Oscar shortlist. If you missed GLORIA, you'll have a second chance to see the storyline unfold, because Lelio is currently filming an English language version that will star Julianne Moore, Sean Astin and Michael Cera. No word on the release date yet, but our fingers are crossed it will hit screens in late 2018.
If you can't wait that long, Lelio has another film called DISOBEDIENCE, starring Rachel McAdams and Rachel Weisz, coming to theatres in April. There's no doubt this director is staying busy, and we all benefit by seeing his great stories, featuring lots of different and complicated women on screen. Keep 'em coming, Lelio!