No one would have guessed that a micro-budget horror movie that premiered at a 2007 horror festival would help build one of the most powerful production companies in Hollywood. And literally no one would have expected one of the company's titles to end up as a surprising Best Picture contender. But a decade later, Jason Blum's company, Blumhouse Productions, is home to several successful franchises. It also regularly takes chances on small movies and unproven directors – like Jordan Peele, creator of Get Out.
In ten years Blumhouse has released more than 60 films. It would be difficult to find a regular moviegoer who hasn't seen at least a few of them. 2018 has already had three Blumhouse releases in 2018 alone, with another five coming up. The next is Truth or Dare, which opens on Friday, April 13. Then we'll see The First Purge on July 4 and the hotly-anticipated new Halloween on October 19.
So how does a small production outfit end up on top of the Hollywood heap? It took a little Paranormal Activity, and a lot of hard work.    
Blumhouse was founded in 2000, and Jason Blum's career goes back several years before that – his first producing credit is on Noah Baumbach's 1995 debut Kicking and Screaming. But 2007's Paranormal Activity – which didn't hit theaters until 2009 – really turned the power on at Blumhouse.
The tiny horror movie, about a family haunted by an unusually active ghost, popularized found-footage conventions that would dominate horror for several years, and helped build a new market for low-cost genre movies. And while the true success of Paranormal Activity is based in many factors, including some alterations pushed forward by Paramount before the film was distributed, the film had one constant champion throughout: Jason Blum.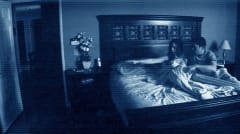 Under Blum's guidance, Paranormal Activity stayed true to its nature. He oversaw a cost-effective production, but one which was constantly focused on freaking out the audience. It worked. The original movie was followed by three sequels and two spin-off films, all produced on a small enough budget that they made terrific returns.
Similar methods were applied to the Insidious, Sinister and Purge film series. Each of these is based on a good concept from a filmmaker with a strong vision.
The company gave James Wan leeway to develop the Insidious films as a way to explore ghost stories and ideas of the afterlife. The series is more than a bunch of hauntings; it develops characters in a way that we don't usually see from studio movies, and is remarkable for focusing on characters like Lin Shaye's Elise Rainier.
Blum helped Scott Derrickson create the story of a decades-long chain of evil in the Sinister films, which still might end up giving horror a whole new iconic villain in the form of the demon Bughuul.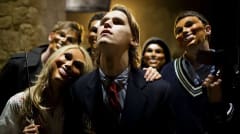 And then there's James DeMonaco, who got the freedom to build his vision of a violent bizarro-America in The Purge series. The elemental power of the Purge films, combined with DeMonaco's willingness to get weird with his blend of horror, social commentary, and politics, makes those movies stand out far beyond most of the horror films and thrillers being made anywhere else. 
All together, that's a more powerful set of horror series than all the other major studios have created in the last decade combined. And it doesn't even get into projects like the two Creep movies from Patrick Bryce and Mark Duplass, which live on Netflix.
Furthermore, Blumhouse isn't just a house of horror – or not a conventional one, at least. There's Whiplash, winner of three Oscars, which gave Damien Chazelle the visibility to make La La Land. Blumhouse funded Joe Carnahan's strange thriller Stretch, and has shepherded the revival of M. Night Shyamalan by making films like The Visit and Split. So when Glass arrives later this year, finally giving fans the Unbreakable sequel they've wanted for almost 20 years, thank Blumhouse.
The rest of Blumhouse's 2018 slate is a wild ride. There's the new film, Truth or Dare, which applies horror logic to a classic party game. It looks like one of the most classic horror films Blumhouse has made, between the strong young cast, the high concept, and overall tone. No one makes movies quite like the ones from the 1980s slasher boom, but Truth or Dare looks to be a blend of that model and the '90s horror that followed.
There's The First Purge, on July 4, which is courting controversy with a promo campaign that explicitly links the movie to current politics. Whatever your feeling about that is, it's a bold move, and horror should be bold. Finally, one of the most exciting horror films of the year is the return of Halloween, which brings Jamie Lee Curtis back into the fold in a direct sequel to the original movie, with Danny McBride and David Gordon Green writing and Green in the director's chair. That should be a franchise return worth screaming about, and one which caps off a decade of Blumhouse movies in brutal, bloody style. 
Truth or Dare opens on Friday April 13.