This Independence Day, celebrate with family, friends and the Hindi sports drama GOLD at AMC. Set between 1936–1948, the years leading up to India's independence, GOLD tells the inspirational story of the hockey team that won the first Olympic medal for India as a free nation on August 12, 1948.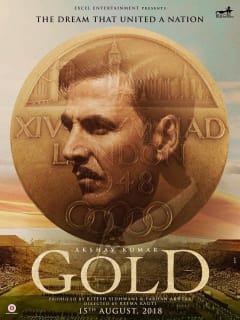 To honor the 70th anniversary of this historic feat, GOLD highlights India's emergence from the shadow of the British Empire as it meets the British hockey team on the field, this time as a nation in its own right. Audiences will relive the glory of the team that fought against all odds to bring their nation hope, pride and respect.
In an interview with the Times of India, writer-director Reema Kagti (HONEYMOON TRAVELS PVT. LTD., TALAASH) said, "The script really encapsulates the lead up to the Indian independence. Yes, the story is a fictional account, but it's also a homage of sorts to India's great sporting legends and their achievements."
Her focus was on finding a link between 1936 and the 1948 Olympics, and one piece of history stood out. "I remember reading an article about a young junior manager who had waved the Indian National Congress' flag at a hockey match, which at the time was banned by the British. But, the Indian team actually saluted that flag in the most discreet manner."
That man, Kishan Lal, became the manager of the Indian hockey team in 1948. She said his story "strongly influenced our movie," and fans who are familiar with the history may see similarities between Kishan and GOLD's Tapan Das, played by Akshay Kumar.
Kunal Kapoor, Vineet Kumar Singh, Amit Sadh and Sunny Kaushal also star, and TV actress Mouni Roy makes her Bollywood debut.
Relive the dream that united a nation and root for team India. Get your tickets to GOLD at AMC today.