Chloë Grace Moretz has been acting since she was 4 years old, and now, at 22, she's adding yet another credit to her resume with GRETA, opening March 1 at AMC®. In the new thriller, Moretz plays Frances, a young girl trying to make her way in New York City. When Frances finds an abandoned purse on the subway, she immediately returns the bag to its rightful owner, Greta (Isabelle Huppert), a lonely widow. The two women become fast friends, but Greta's interest in Frances grows more intense as time goes on.
As we wait in anticipation for the release of GRETA, let's take a look back at Moretz's best roles.
The Amityville Horror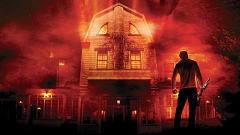 The 2005 remake of the 1979 classic propelled Moretz's movie career — though she was only 8 years old at the time and couldn't watch the final product. In the film, Moretz plays daughter Chelsea, who starts to see people in her family's new (and clearly haunted) house. She told W magazine she had to cry four to five times while auditioning "to prove that I could and that I wasn't making myself crazy doing it."
Kick-Ass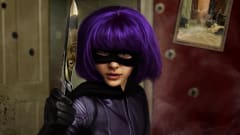 Hit-Girl is arguably Moretz's most-loved role to date, despite the controversary surrounding the violent film and her character specifically. Hit-Girl is a highly skilled assassin, whose tongue is as sharp as her knives. To prepare for the performance, Moretz trained with Jackie Chan's stunt crew for three months and did most of her own stunts in the movie.
Let Me In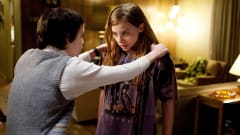 The same year she was kicking ass (2010), Moretz was also terrifying audiences as 12-year-old vampire Abby in LET ME IN, a remake of Swedish horror LET THE RIGHT ONE IN. Moretz balances the role perfectly: She's both soft spoken and sweet — and uncontrollably blood-thirsty.
Hugo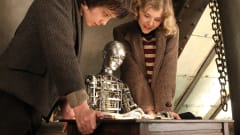 Next, Moretz starred in Martin Scorsese's HUGO (2011), a film adaptation of the novel "The Invention of Hugo Cabret" by Brian Selznick. As Isabelle, she helps Hugo (Asa Butterfield) retrieve his late father's notebook and "unlock" the automation he believes contains a message from his father. HUGO received 11 Academy Awards® nominations — more than any other film that year — and won five.
Carrie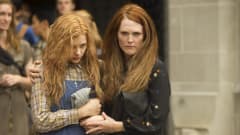 In 2013, Moretz returned to horror in the title role of CARRIE, the third film adaptation of Stephen King's 1974 novel of the same name. Though the modern reboot received mix reviews, Moretz and co-star Julianne Moore (who played her deeply religious mother) gave strong performances.
The Equalizer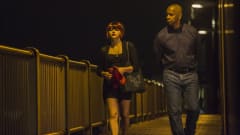 In an interview with the Independent, Moretz said THE EQUALIZER, starring Denzel Washington, is one of her favorite movies she's ever made. Moretz plays Teri, a young sex worker under the control of ultra-violent Russian gangsters. (Talk about range.) Robert McCall (Washington) becomes her protector, and the two form an unlikely but genuine bond on screen.
If I Stay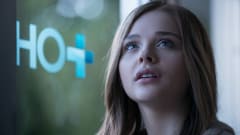 Based on the YA novel of the same name, IF I STAY is a teen romance drama in which Moretz's character, Mia, faces a (literal) life-and-death decision. For her poignant performance, Moretz received the Teen Choice Award for Movie Actress in a Drama.
Neighbors 2: Sorority Rising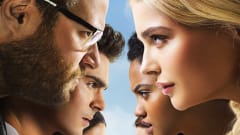 OK, so her role as the party girl leader of a sorority isn't her most refined, but she plays the part well — and stars alongside an incredible cast featuring Seth Rogen, Rose Byrne and Zac Efron. The sequel is just an entertaining, good time and a pleasant departure from the more serious roles we're used to seeing Moretz embody.
Suspiria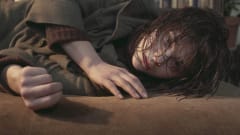 Last year, Moretz played a supporting, but crucial, part in SUSPIRIA, an adaptation of the 1977 supernatural horror of the same name. The film is disturbing, to say the least, and Moretz's character is just one dance company student to become a victim of the "bloody, sighing nightmare."
Don't miss Moretz in GRETA when the thriller opens at AMC on March 1.