Odd couples often are a hit in Hollywood. You find two personalities that aren't supposed to gel on screen, and audiences sit back to watch the sparks fly. This can be done for romantic tensions or for comedic explosions. But when the right pair gets together on screen, movie magic can happen.
THE UPSIDE puts two very funny men together — Kevin Hart and Bryan Cranston — in the uplifting remake of the extremely popular French film THE INTOUCHABLES. Hart plays a caretaker hired to tend to a wealthy quadriplegic (Cranston), and the two form an unlikely friendship despite their extremely different backgrounds.
As you head to the theatres to see how Hart and Cranston play off each other, we looked ahead to the rest of 2019 to find more exciting movie pairings you can look forward to on screen.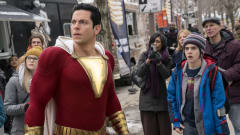 Zachary Levi and Jack Dylan Grazer, SHAZAM!
Shazam isn't a household name in the DC Universe. So, you might not know that the buff superhero is actually a teenage boy in the body of an adult, who transitions into the hero every time he screams out the word "Shazam!" The April release of SHAZAM! casts Zachary Levi in the title role. The actor will have to play a kid inside a grown adult, which means he'll get to have a lot of fun with his actual-kid co-star, Jack Dylan Grazer. Early word on SHAZAM! is that it's a lot like Tom Hanks' BIG, but with superheroes. And if that doesn't get you excited, nothing will.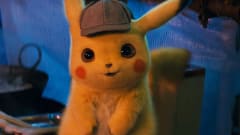 Justice Smith and Ryan Reynolds, POKÉMON: DETECTIVE PIKACHU
Buddy cop comedies are a dime a dozen, but when the formula clicks, we get such memorable movies as LETHAL WEAPON and TANGO & CASH. There's a very real possibility that Justice Smith and Ryan Reynolds will become the next lovable detective pairing, especially because Reynolds is voicing none other than Pikachu, the legendary Pokémon. You heard that right. POKÉMON: DETECTIVE PIKACHU casts the DEADPOOL star as the yellow Pika, paired with a young man who is investigating a crime. The trailer had laughs galore, and we can't wait to see the type of trouble these two get up to on May 10.
Rebel Wilson and Anne Hathaway, THE HUSTLE
Much like THE UPSIDE, Chris Addison's comedy THE HUSTLE is a remake, this time adapting the 1988 film DIRTY ROTTEN SCOUNDRELS with female leads. In that film, two con men (played by Michael Caine and Steve Martin) use wildly different tricks to deceive an American heiress. There are plenty of twists and turns in the criminal games, and it's exactly the type of material that Wilson and Hathaway can revel in. We haven't yet seen a trailer for THE HUSTLE, but it opens at AMC theatres on May 10.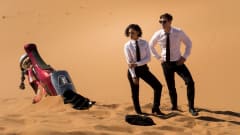 Chris Hemsworth and Tessa Thompson, MEN IN BLACK: INTERNATIONAL
For years, the MEN IN BLACK franchise belonged to Will Smith and Tommy Lee Jones. Every once in a while, a trusted series gets new life breathed into it by recasting, and Sony will give that a shot with June 14's MEN IN BLACK: INTERNATIONAL. Stepping into the signature black suits of some new "Men" will be Chris Hemsworth and Tessa Thompson. And seeing as how we loved their on-screen chemistry in THOR: RAGNAROK, we're anxious to see how their comedic timing can bring MEN IN BLACK back into the mainstream.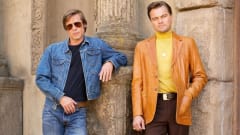 Brad Pitt and Leonardo DiCaprio, ONCE UPON A TIME IN HOLLYWOOD
When Quentin Tarantino makes a new movie, we sit up and pay attention. When Tarantino works with two of his most engaging lead actors, we get very excited. But when Tarantino pairs major A-listers Brad Pitt and Leonardo DiCaprio in a period piece-love letter to Los Angeles during its most tumultuous time — when Charles Manson had the city on edge — we're positively salivating over what these three can cook up. Add in Margot Robbie as Sharon Tate; Dakota Fanning as "Squeaky" Fromme; and a supporting cast that includes Scoot McNairy, Damian Lewis, Luke Perry and Al Pacino, and July 26 can't get here quick enough.
Dwayne Johnson and Jason Statham, FAST & FURIOUS PRESENTS: HOBBS & SHAW
We already know how these two operate. They straight up don't like each other. But audiences are so in love with the combustible chemistry shared between Dwayne Johnson and Jason Statham in the FAST & FURIOUS franchise that Hobbs and Shaw have become the first two characters to get their own spinoff. Will they be at odds? Will they have to find a way to work together? And could Vin Diesel cameo? All will be revealed on August 2. 
Kristen Bell and Idina Menzel, FROZEN 2
Disney fans have had to "Let It Go" for years now. It's time for some new music from the frozen landscapes of FROZEN 2. The entire cast will return for the musical sequel, animated by the wizards at Walt Disney Animation Studios. But really, it was the beautiful relationship between Anna (Kristen Bell) and Elsa (Idina Menzel) that kept us rooted in the original FROZEN, and we'll be buying tickets to FROZEN 2 to see how that family bond develops. Also, more Olaf (Josh Gad) is always a good thing.