Terence Blanchard remembers a school trip that he took as a child to go hear the symphony. As he remembers it, there was one black member of the symphony playing that day. "He was a flutist," Blanchard recalled to AMC during a recent interview. But the man had an immediate impact on Blanchard — obviously, as Blanchard has made a living in music, notably in film composition.
"Years later, I got a chance to hire him on one of our film sessions," Blanchard continued. "And I told him, 'Man, I remember you when I was a kid.' And he told me, 'You're the reason why I stayed as long as I did.'"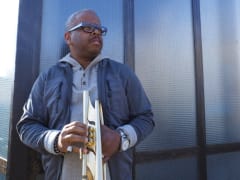 Blanchard reflected on his legacy, and his impact on current and up-and-coming composers, while he spoke with AMC about his Oscar nomination for Best Original Score for Spike Lee's BLACKKKLANSMAN. Remarkably, this is Blanchard's first and only Oscar nomination, even though his collaborations with Lee date back to JUNGLE FEVER in 1991. Over the years, Blanchard has composed a number of exquisite scores for Lee's films, including MALCOLM X, SUMMER OF SAM, 25TH HOUR, INSIDE MAN and MIRACLE AT ST. ANNA.
He admitted it was "surreal" learning that he had been nominated for an Oscar after decades of composing.
"I was happy for everybody who was involved on the project," Blanchard said. "It's a beautiful experience to have, knowing that your peers have voted you into a prestigious club. To share it with Spike and Barry [Alexander Brown], man, that's even more of an honor for me."
Blanchard also said that the Oscar nomination is just something he never considered as being a possibility, after not hearing his name called out by the Academy year after year and project after project.
"It's one of those things where I'll tell somebody, 'Man, you can never miss what you never had.' So, I never thought about it like that. Every now and then, people say to me, 'Oh man, this score should have been nominated for an Oscar.' People make those comments. I'm going, 'Oh, OK. Thank you.' But it never entered into my thought process about it being there and not being there. But now that it has happened, it's a powerful experience. You know, it's been a great experience meeting other nominees, not only in my category, but just in general, hanging out with people who love film as much as I do — who love making movies as much as I do. It's been a beautiful experience."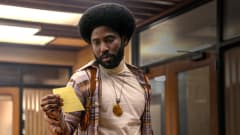 BLACKKKLANSMAN tells the true story of Colorado Springs detective Ron Stallworth (John David Washington), who with the help of a Caucasian police officer (Adam Driver) infiltrates the Ku Klux Klan. Blanchard said that he loved pulling musical cues from the 1970s once Spike Lee told him where and when the story would take place.
"Oh man, the movie itself is obviously a very serious film," Blanchard said. "But when I got my first cut and saw that opening sequence with John David walking with that afro and that brown leather jacket, I just lost it. I remember telling the audience last night at a screening, 'Man, I remember wanting that jacket!' My parents wouldn't get it for me. They were like, 'Boy, you know how much that costs?'
"So it's extremely — it's a lot of fun, you know, being able to delve back into that period," he continued. "And I remember hearing Stokely Carmichael speak at Rutgers when I was in college. He was probably touring then. So, it allowed me to relive a lot of things in my life and my past. But it also allowed me to be part of something that made a statement. And hopefully we'll open up some hearts and minds. That's the goal."
A secondary goal will be winning that Best Original Score Oscar on February 24, because Terence Blanchard understands that many will be watching him and seeing his success — and thinking that there might be a path into the creative arts for them as well.
"I do think about all of the young people from different ethnic groups watching me be nominated. I think about all of the women that have seen people like Regina King be nominated and what that can do," Blanchard said. "I know being nominated, it's been a big thing. It's well beyond me as an individual. This has been an exciting moment in time for a lot of people who don't even work in film, but who just see other people of other ethnic groups and other genders being recognized at a moment in time where there's hope for everybody else, and hopefully it's going to inspire other people.
"Hopefully, this is not a one-off with the nominations," Blanchard continued, "but this is more evidence of a sea change and what's happening in the industry."
Spike Lee's BLACKKKLANSMAN is still playing in AMC theatres, so grab tickets to a showing. The Academy Awards® will be held on Sunday, February 24 and will air on ABC.