At the end of March, a beloved Disney tale will take you to new heights when Tim Burton's DUMBO flies into AMC theatres. The live-action remake expands on the classic story of a newborn elephant with unusually large ears, who goes from laughingstock to main attraction at a struggling circus. AMC sat down with the iconic director to discuss the new adventure, his journey with Disney and more. Find out what he revealed and get your tickets to DUMBO at AMC today.
Tim Burton first started at Disney in the early 1980s as an animator. He quickly worked his way up and established himself as a filmmaker with the short VINCENT. But his distinctive, gothic style didn't always fit with the shiny Disney brand.
"That's what DUMBO is all about," he said of his relationship with the studio. "I realize one of the reasons I wanted to do it is this is kind of like my story — this weird character that doesn't quite fit in, working with a large family entertainment company. It's been a funny journey."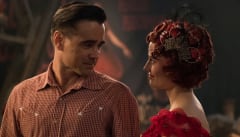 Over the decades, Burton has helmed several stop-motion animated films for Disney, including the acclaimed THE NIGHTMARE BEFORE CHRISTMAS and JAMES AND THE GIANT PEACH. In 2010, he directed his first live-action Disney film, the sequel ALICE IN WONDERLAND. The new DUMBO is technically his first Disney remake, which he describes as "a simple fable done in an artful style."
"You can't remake that movie for lots of different reasons," Burton said of the 1941 classic. "But the simple, core idea of it was just so simple and beautiful that we just tried to bring the feeling of that into another [film] with actors. Everybody sort of just tried to make it feel like, for me, one of those old Disney movies."
Disney has historically used their stories to teach audiences (specifically kids) about loss, joy, sadness, fear and family. DUMBO focuses in on the latter. To Burton, running away to join the circus represents a "romantic ideal," in which misfits come together and find their home and a sense of belonging.
"The reason I like Dumbo as a symbol, as an idea — you know, a little flying elephant — it's just very symbolic of things that don't fit in trying to find your place in the world — you know, using a disadvantage to an advantage, all those thematic things … Circuses always seemed to have that kind of multicultural, you know, just weirdos from all over the world, and that was always kind of appealing."
To play the circus "weirdos," Burton cast Danny DeVito as the ringleader, Colin Farrell as Dumbo's caretaker, Michael Keaton as the sleazy owner of Dreamland, and Eva Green as one of Dreamland's aerial artists.
"When you're making a film, it's like a weird, dysfunctional family," Burton said. "For me, the story — which is simple and about those themes — it meant a lot to me that Michael and Danny and Eva, who I've worked with, and Alan Arkin and Colin who I felt like I've worked with [forever] … To make it like a weird feeling of family was very important to the subject matter as well."
Bring your family to see DUMBO at AMC, opening March 29.