There's no denying AVENGERS: INFINITY WAR is catching a lot of people's attention this week. But if you're one of those adventurous types looking for something off the beaten path — maybe even something that's rooted in the pages of newspapers instead of comic books — then KINGS might just be for you.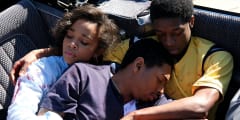 Starring Halle Berry and Daniel Craig, the film follows a mother struggling to hold down a job while keeping her kids safe and dealing with her crotchety neighbor (you know, the one who's always yelling about turning the noise down). KINGS is an interesting turn for both actors, compared to some of their past roles. Rewatch these signature films and see the diversity in each actor's body of work.
Halle Berry
MONSTER'S BALL. This was a gut-wrenching film, but Berry's performance was so riveting, you couldn't take your eyes off the screen. It's also the role that won her a historic Oscar®, so if you haven't seen it, you better get to it.
X-MEN. Which one? Any of them! No stranger to the comic book world, Berry is great as Storm, and she's a vital member of the team. Hopefully she'll get her own movie soon; we'd love to see her own the spotlight in the X-Men universe!
DIE ANOTHER DAY. I mean, come on. It's Bond. You have to, right?
Daniel Craig
Again, it's Bond. While you could easily choose CASINO ROYALE or QUANTUM OF SOLACE (and we can't wait for BOND 25 in 2019), SKYFALL is the one that really gets to the heart of Bond and how he became who he is. It's stark and riveting, and it's almost impossible to take your eyes off Craig.
THE GIRL WITH THE DRAGON TATTOO. Talk about amazing. In the remake of the original Swedish film (based on the Swedish novel), Craig and Rooney Mara chewed up every scene they were in. A must-see film, to be sure.
LOGAN LUCKY. Even Craig likes to have fun, and he definitely did in the comedic role of Joe Bang. As Bang, Craig is exactly the opposite of Bond in every way, right down to his Southern drawl. With a great ensemble cast (Adam Driver, Channing Tatum, Katie Holmes and Riley Keough), LOGAN LUCKY is a sure crowd pleaser.
Find showtimes and get tickets to KINGS at AMC today.