It seems like only yesterday we were all swept off our feet by the singing and dancing of THE GREATEST SHOWMAN, and the tunes of MAMMA MIA! HERE WE GO AGAIN just feel so far away (actually, July 20, but it seems like forever). What's a fan of catchy songs and swingin' moves to do?
Mark your calendar for April 8 and 11! On those days, GREASE is the word, as Danny and Sandy dance back onto the big screen, with all that Sha-Na-Na fun. It's hard to imagine a time when there was no such song as "Greased Lightning," but 41 short years ago, that was the case. So, it's only fitting to jump in your jalopy and head down (no drag racing!) to your nearest AMC theatre to celebrate the year that GREASE actually did become the word.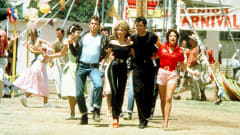 We're starting the celebration now with some of the best tunes from GREASE:
"There Are Worse Things I Could Do," sung by bad girl Rizzo (aka Stockard Channing). This is a musical favorite for every girl who just wants to belt out a tune at the top of her lungs and really speaks to the independent and rebellious spirit of not only the character, but the movie as well.
"Beauty School Dropout," sung by actual teen angel Frankie Avalon. The song is infused with wit and humor, and who could forget the stairway to heaven, populated by women in curlers?
Tie: "We Go Together" and "Born to Hand Jive." Both are classics! On one hand, learning the shamma-lamma-ding-dong words to "We Go Together" is the ultimate badge of honor; on the other, you'll suddenly be fully prepared for any dance-off once you get the hand movements down for "Born to Hand Jive." It's a toss-up, but both songs make participation part of the fun and are therefore mandatory.
"Hopelessly Devoted to You." For hardcore fans, this one might not make the cut, since it was only in the movie version, not the stage version. But who could forget Sandy (aka Olivia Newton-John) in all her blonde, good-girl innocence, pining for the baddest boy of the T-Birds while drowning her love letters in a baby pool? Never gets old.
"Summer Nights." Tell me more, tell me more! This is such a fun one, hopping back and forth between the girls and guys, hilariously highlighting how differently Danny and Sandy describe the same exact experience. In some ways, not much has changed in the last 40 years!
Get the gang back together for the 40th anniversary of GREASE at AMC. Get your tickets for April 8 or 11.