Eight years ago, Apricot Lane Farms, about an hour outside of LA, was 200 acres of barren land. Its new owners, former city dwellers John and Molly Chester, could barely break through the soil with a shovel. But with a dream to harvest in harmony with nature — and a whole lot of sweat, patience and likely tears — the couple set out to build a successful, sustainable farm where they could live a happier, healthier life with their rescue dog, Todd.
AMC sat down with John, a filmmaker turned farmer, to discuss the journey in his new documentary THE BIGGEST LITTLE FARM, playing now at an AMC near you.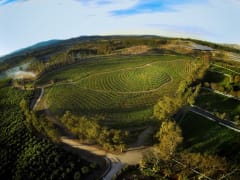 The movie is an eight-year progression of Apricot Lane Farms. Can you talk about the first year: your challenges, your successes, your vision for the next year or years?
The first couple of years were really about building the soil. It was scary, because we were having to clean out crops that could have brought in income, but in the long term, utilized maybe not the most economically and environmentally sustainable system with what was planted there. We literally pulled 40 to 50 percent or more of the plants out … and replanted it with diversity and habitat wildlife restoration and a multitude of different types of crops that maybe would do well with less water and would give us more options to sell food year-round.
It took actually every bit of four or five years for us to really see the biodiversity pay off. After about three years or so, you really saw that the soil was getting better — you thought it was better until you got to year five and it settled, but you don't know. You're in an abused landscape.
In another interview with AMC, you talked about why you decided to make THE BIGGEST LITTLE FARM after witnessing the farm's evolution. Can you talk about that revelation and what you saw that inspired you?
I didn't have any intention to make a film … I didn't have a message. So, at year five, when I saw the return of all this biodiversity, it was as simple as like the ladybugs that weren't here in such big numbers to even be able to attack the aphids, because the aphids were being protected by the ants — once I saw the ladybug population mostly overpower the aphids population because they were able to overcome the ants trying to protect them, I realized that the habitat we had created for ladybugs with our cover crops had turned in another way [with the return of more wildlife].
It was like, "Oh my god, I'm starting to see how all these things fit together," and then I was so overwhelmed — I'm the only person I know that had been given this opportunity to live inside the engine of this deeply complex story, to be able to illustrate something I've seen people talk about, but never have I been able to see who the players are and illustrate it better than what I'm seeing now.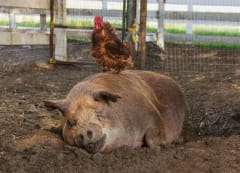 You and Molly were intentional from the beginning of this journey to run a traditional farm, using regenerative agriculture. How did you maintain your ideals as the farm grew?
It was a decision to be, even while questioning it, to be — to show great reverence and tenacity for the possibilities as long as we were able to sustain the pain that we may feel in going into a much deeper relationship with a very complex ecosystem. We were going to take the time to understand it. We were going to take the time to appreciate why the bad things existed.
There's no such thing as a weed … all plants exist as a form of repair to the soil, and they come in phases, and when you understand what plants are growing and why, you begin to understand the efficiencies of that piece of farm. It takes time, and you have to be committed to not looking at things, not overly simplifying as to see nothing but enemies. That was the nectar we had to drink to make any sort of change.
You talk a lot about co-existence in the movie, and there are some painful moments with pests and predators. What is the most important lesson you learned about co-habitation, from your firsthand experience?
The most misunderstood reality of co-existence is that actually the ecosystem teaches you, at least it taught us, that uncomfortable level of disharmony is co-existence. You have to be accepting of the imperfections and the consequences that can come from our rigidity in expectation of a perfect harmony. Disharmony is part of it. It's how we view its purpose, though.
What do you hope audiences learn or take away from THE BIGGEST LITTLE FARM?
I was never given this lens, a way to view the world, that I have been given to with this experience, and I made the film to share this lens so that others may view the natural world around them as deeply purposeful. There are endless possibilities to collaborate with it that don't require us to put it in a straightjacket and allow permissibly for collateral damage in order to get at the thing that you don't like. We need to have this appreciation for that deep complexity if we're ever going to find a way to harmonize with it and regenerate the damage we've done to it.
I would hope for people to begin to see themselves as a force of nature and that their force can have an incredible and effective impact on the reversing of our transgressions.
Get your tickets to THE BIGGEST LITTLE FARM at AMC today.