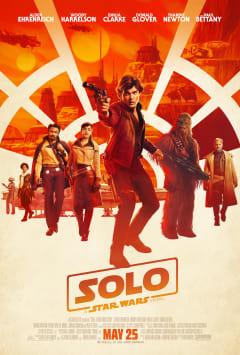 Today is May 4, the unofficial yet totally legit movie holiday that pays homage to Star Wars - arguably, the best movie franchise in cinematic history. It's also the day Solo: A Star Wars Story tickets go on sale (how's that for timing). While May 4 isn't so much a gift giving holiday we do have a little something for you. We recently chatted with Solo director, Ron Howard to hear about his experience directing the film and to try to get some inside scoop. While the latter wasn't successful, we did get even more excited for Solo's debut on May 24 and walked away with a bit of insight into Ron Howard's passion for Star Wars. Here's what he shared with us.
AMC Theatres: What initially got you excited about directing this project?
Ron Howard: There were a lot of people who were involved in the production who I've always wanted to work with, the late Allison Shearmur, Kathleen Kennedy, Larry Kasdan and of course there's George Lucas. However, with all that said, I never considered tackling a Star Wars project. So when the opportunity came my way, it really began and ended with the script and story to me.
I thought the screenplay written by Larry and John Kasdan really answered questions I had about Han Solo in ways that surprised me but in very satisfying ways. That really hooked me. What's interesting about the story and screenplay, is it's something Larry was interested in doing even before Lucas Film went into business with Disney. In his mind, this was a great storytelling opportunity. I think that understanding of Han Solo's character is very very present in the story. That's what I really embraced.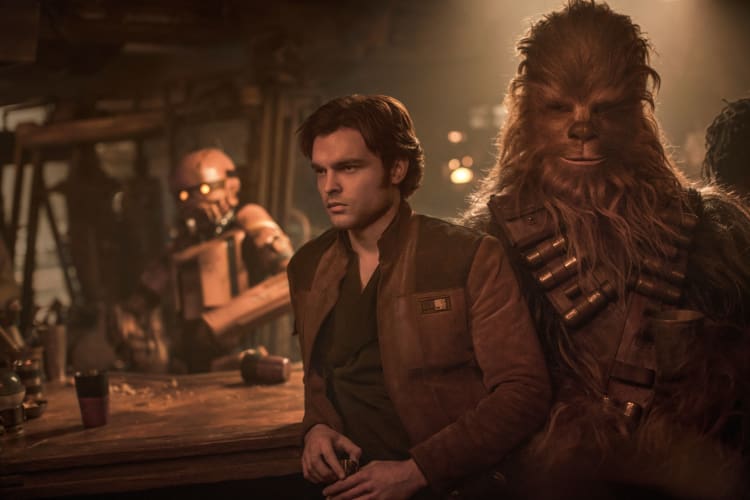 AMC Theatres: What movies influenced you to make this film which from the early looks of it feels like a western set in the Star Wars universe?
Ron Howard: So, there's kind of a 70s' vibe to the movie. While at times we thought about young Harrison Ford, I thought a lot about Steve McQueen. The movie Bullitt was influential, the speed, the danger, the crime and the strategies around speed and danger are part of the fun in this movie. There is also a little bit of a western feel in a contemporary way. So if it's a western, it's a 70s' type of western that involves high stakes danger.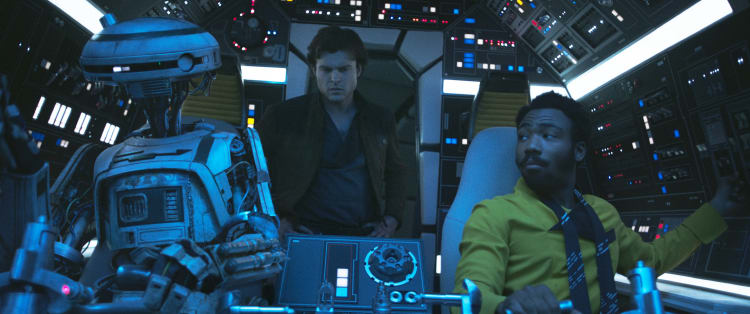 AMC Theatres: What was it about Star Wars newcomers Alden Ehrenreich and Donald Glover that made you know that these George Lucas characters Han and Lando were in good hands?
Ron Howard:  I was very happy to come in and inherit this casting. Alden is one of these actors that everyone in the film world has been aware of. He's a talented and creative young actor. When I met him I was so impressed with his attitude about the work. You know, the only request Harrison Ford made was that he hoped no one would come in an imitate him (he said laughing). And Alden didn't do that. Instead, he made a great study of not only all of the Star Wars characters but he even did research on characters from movie history and literature that might have influenced Harrison when he played Han. I thought that awareness of male movie iconography was very useful. He does a great job in the movie. He gives it the swagger, he has the twinkle in his eye and he's got the humanity to go with the masculinity.
With Donald Glover, he felt a real responsibility and excitement for getting to flesh out the Lando Calrissian character. He is incredibly intelligent and a very entertaining actor. He loves the character and understood him on a very nuisance level. Donald was also very inventive and he had lots of great adlibs and terrific ideas. He was a pleasure to collaborate with. I would also say Joonas Suotamo who plays Chewbacca does a great job too. Chewbacca just like Han and Lando, have more screen time in Solo than in the other films. Their friendship is significant to the movie and it's fun to see it unfold.
AMC Theatres: How did you go about balancing bringing a fresh take on such an iconic character with the fan's expectations?
Ron Howard: So much thought in that regard had been underway for a years, coming from writers Larry and John Kasdan. They both had an exciting point of view and a deep knowledge of what fan expectations might be and how you could work with those expectations and surprise them too. I felt like so much good work had been done in that regard that I merely added my own creative mindset to it. The story was already well formed, which was one of the reasons I came on board. I felt it had a great foundational value in place. It was really fun to continue to work with that.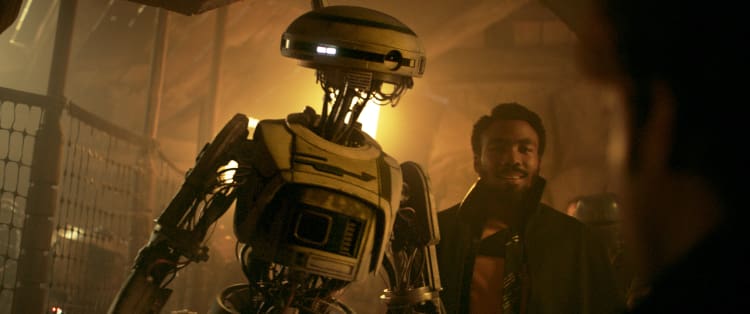 AMC Theatres: Now that we've heard about some original characters, we want to know about the new ones. Which new character will excite and entertain the fans the most and why?
Ron Howard: We have a few new characters. Qi'Ra played by Emilia Clarke is a great new character and so is L3-37, a female droid played by Phoebe Waller-Bridge. Phoebe brought a lot of improvisational elements to the character. L3 is an incredibly valuable droid with a lot of attitude. I think these characters will be a lot of fun for people.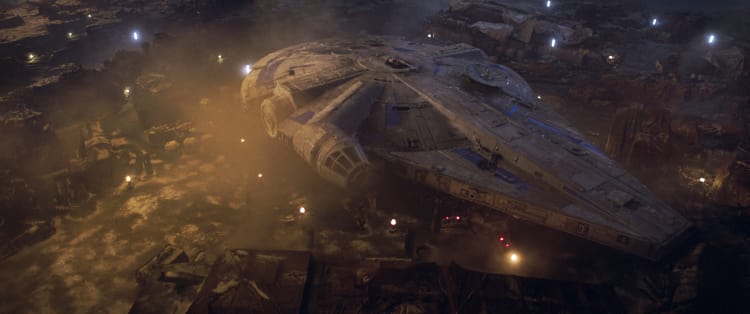 AMC Theatres: Talk to the younger Ron Howard super fan from the 70s, what can that super fan expect to see in Solo?
Ron Howard: Well, I mean when I saw the final trailer come together I thought two things. One: I want to see this movie today, and certainly young 70s Ron would DESPARATELY want to see it right now. And two, having made the movie, this is an honest and accurate expression of what the movie promises to fans. Plus more. It's not giving much away. But it suggests a tone, and feel, and an energy and look which is consistent with the movie we made. I think what you're going to get is an action adventure that has a lot of humor but also a lot of heart. It's something a younger audience can relate to because it is a rites of passage story for not just Han Solo, but a group of younger people starting to find themselves led by Han Solo.
After hearing about 1970s' Ron being excited to see Solo, we had to hear more from 2018 Ron. But our time was coming to an end. So fired off four more rapid fire questions with the hopes of getting some new information about Solo. Here's what Ron Howard was allowed to share.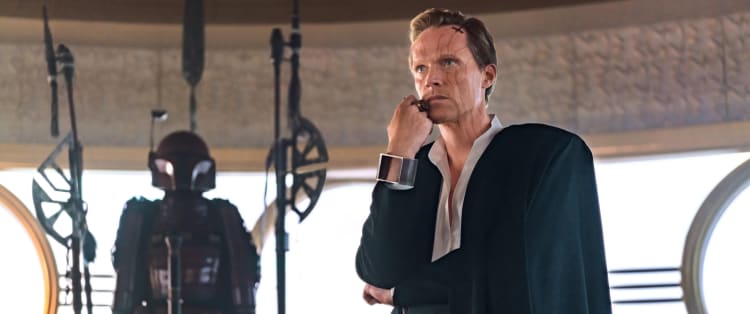 Rapid Fire Questions
How many years before A New Hope does this story take place?
Oh Gosh! Someone has done that math and I remember it sounding right. But I can't remember right now.
Will we see Jabba the Hut, Bobba Fett or both?
I have to take the 5th.
Is the A Mandalorian seen in images a body guard for Dryden Vos?
I hate to give away any spoilers. But Dryden is a dangerous character that requires a lot of support.
Do we get to see the origin of why the dice are so important to Han?
Boy these questions are tough [he said with a chuckle]! I can't answer any of these questions without ruining something. So that's going to be my answer.
That's all we could out of him. Even though it wasn't much, it has us even more excited to see Solo: A Star Wars Story at AMC Theatres when it opens on May 24. Tickets for Solo are now on sale!