The best trailers set a mood without revealing too much footage. We don't want to see the whole movie. We want a tease of what's to come. IT: CHAPTER TWO understands this, delivering a first-look trailer at the anticipated sequel that basically establishes the terrifying tone with one long scene, and then skips through snapshots from the thriller that will have the hair on your arms standing straight up.
The bulk of the first trailer for Andy Muschietti's IT: CHAPTER TWO is an extended scene focused on older Beverly (Jessica Chastain). She is back in the haunted town of Derry, because as a kid, she and the Losers' Club agreed to return if Pennywise the Clown (Bill Skarsgård) ever resurfaced.
Those of you who read Stephen King's novel "It" know that there's an entire untold story about the adult members of the Losers' Club, who do return to Derry to take care of the evil force once and for all. The book weaved the story of the kids and the adults into one cohesive narrative. The filmmakers chose to break them up, and we're ready to see what happens to the adults now that the clown is back in town.
This new trailer for IT: CHAPTER TWO gives us the best look yet at the actors cast as the grown members of the Losers' Club, the kids who made an oath to reunite if their hometown was threatened again. Their unofficial leader, Bill, will be portrayed by James McAvoy. As you saw, Jessica Chastain will play older Bev. These two will be joined by Bill Hader, James Ransone, Isaiah Mustafa and Jay Ryan.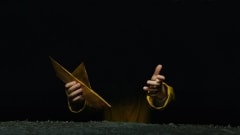 Fans of the book no doubt will groove on the first look at the Losers, but for those who really dug Muschietti's terrifying first IT movie, this new one is all about the clown. We don't get to see a lot of him in action, but we can tell you that his calling card — floating red balloons — has never seemed more disturbing than in this new trailer.
Retaining Muschietti for the continuation of the IT saga seems imperative, as he carried the first movie to a $700 million global box office take. Fans are sure to flock to IT: CHAPTER TWO to see how the story concludes.
You only have to wait until September 6, when Warner Bros.' anticipated sequel creeps into an AMC theatre near you.