Two years ago, Jordan Peele announced himself as a strong, creative new voice in the horror genre with GET OUT. The Oscar® win for Best Original Screenplay cemented Peele's status as an exciting filmmaker to watch, and audiences began eagerly anticipating his next move. Now we know that Peele plans to follow up GET OUT with US, and the horror thriller dropped its first trailer on Christmas Day. Watch it now, before we dig into what has been revealed.
The song that's now stuck in your head is Luniz's 1995 hip-hop single, "I Got 5 On It," which Jordan Peele uses to both set the mood at the start of the trailer, then to creep us out the deeper into US we get.
We're introduced to a family, led by Winston Duke and Lupita Nyong'o (both of BLACK PANTHER fame), who are driving to the beach for some rest and relaxation. Notice the son wearing a JAWS shirt for a beach getaway? You might say that he's asking for trouble.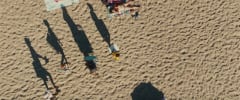 Well, trouble is exactly what this family finds. We're not sure exactly what the catalyst behind the madness is (the US trailer needs to keep a few secrets), but the family eventually finds themselves stalked by four duplicates of themselves. What looks like it might be a routine "home invasion" thriller takes several detours, one involving scissors and another involving … bunny rabbits? 
The US trailer suggests incredible growth by Jordan Peele as a director — which, after GET OUT, is actually saying something. Take the above shot from the trailer as an example. Knowing that the family soon will be stalked by dark mirror images of themselves, Peele visually suggests that with a very simple overhead shot of the family "pursued" by their shadows. Chilling, in the proper context!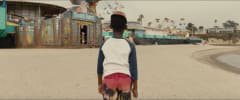 Also, when the youngest son, Jason, goes missing — long before the threat surfaces — he's walking toward a carnival ride called Merlin's Forest, with the tagline "Find Yourself." Also unnerving, once you understand the full extent of where US is going.
And yet, because of the wild montage of footage at the tail end of the US trailer, we don't exactly know where this movie is going. There are a lot of dead bodies in the streets, and a child who seems unaffected by fire. Elisabeth Moss of "The Handmaid's Tale" seems to be sticking a pair of scissors in her ear, and the concept of "uncoupling" looks to be pretty important.
Basically, this first trailer for US has us very intrigued about where the movie can go. Thankfully, it opens soon enough, hitting theatres March 15, 2019. And even better news: Tickets are currently on sale. So be sure to get seats at your favorite AMC, because people will be talking about US as soon as it opens, and you don't want to hear about the movie's best secrets second hand.