Live-action feature films aimed at kids are a lost art. Family-friendly features usually are contained to the animated realm, where RALPH BREAKS THE INTERNET and THE INCREDIBLES wait to entertain audiences of all ages with their latest endeavors. But it's rare that we get to see actual kids going on full-blown expeditions, with high stakes and even higher thrill counts. So, when a movie like THE KID WHO WOULD BE KING rolls around, we want to celebrate it. 
Joe Cornish directs the upcoming adventure comedy, where young Alex (Louis Ashbourne Serkis, the son of Andy Serkis) escapes the bullies at his middle school by grabbing a sword that just happens to be Excalibur. What are the odds, right? With the help of the sorcerer Merlin (Patrick Stewart), Alex forms a new Round Table of colleagues and prepares for an epic battle against the evil Morgana (Rebecca Ferguson). 
That sounds like so much fun. Knowing that your little ones likely are asking you to go see THE KID WHO WOULD BE KING, we singled out a handful of similar titles that you can use to prepare them for the type of adventure they may see on screen in KING. Or, if you haven't seen these films yet, have them close by when you come back from KING and make a fun, full family day with a double feature. 
A KID IN KING ARTHUR'S COURT (1995)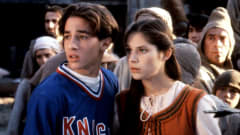 Because Joe Cornish's THE KID WHO WOULD BE KING revolves around King Arthur, Merlin, Lancelot and the Knights of the Round Table, your kids may want to know more about these famous figures and the missions they went on. There are numerous takes on the King Arthur legend, the most recent submitted by Guy Ritchie in 2017. But we'd recommend the 1995 comedy A KID IN KING ARTHUR'S COURT, which sent a nerdy California teenager (Thomas Ian Nicholas) back in time to interact with Arthur and his knights. 
PERCY JACKSON & THE OLYMPIANS: THE LIGHTNING THIEF (2010)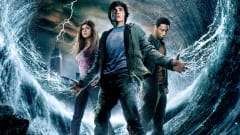 The 1995 comedy might seem a little dated to your modern child, so let's go with something a little more contemporary and point them in the direction of the PERCY JACKSON movies. This enjoyable series was largely overshadowed by the HARRY POTTER films, though they cover different bases and approach their literary adaptations in different ways. Start your PERCY JACKSON watch on the initial adventure, THE LIGHTNING THIEF, and know that you have PERCY JACKSON: SEA OF MONSTERS waiting for you if your kids dig this. 
THE CHRONICLES OF NARNIA (2005)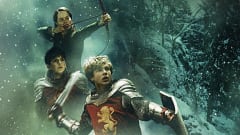 When it comes to children stepping back in time to embark on an adventure, few stories hold a candle to C.S. Lewis' "The Chronicles of Narnia." Hollywood attempted a big-screen mounting of the Narnia series in 2005 and got off to a very good start with THE LION, THE WITCH AND THE WARDROBE, which saw a family stepping into the magic land through the wardrobe in their English bedroom. Though the franchise fizzled after two more movies, these are excellent stories to introduce to your kids, especially if they love the tone of THE KID WHO WOULD BE KING. 
THE PAGEMASTER (1994)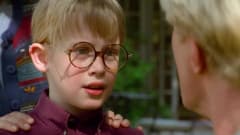 Let's dip back into the archives for one last recommendation, this time singling out Macaulay Culkin's THE PAGEMASTER. Capitalizing on Culkin's enormous popularity following the two HOME ALONE movies, THE PAGEMASTER casts him as a fearful loner who hides from a storm in a library, only to be sent on a series of magical missions through the pages of famous literary works. Much like all of the movies mentioned above, THE PAGEMASTER gives your kids a hero who looks like them and should inspire bouts of imagination that will have them sword fighting mythical beasts for days. 
Be sure to grab tickets for your whole family to see THE KID WHO WOULD BE KING, as it's heading to AMC theatres on January 25. And use the above movies to either get your kids ready for the on-screen adventure or to continue the fun once they come home from the theatre and are still on that fantasy high.