Written and directed by acclaimed filmmaker Andrew Haigh (45 YEARS), LEAN ON PETE is a modern-day western about a lost boy and a down-and-out racehorse.
While this may sound like a strong foundation for an inspiring coming-of-age tale, in which the protagonists save each other, the narrative Haigh has adapted from the novel of the same name is much more complex.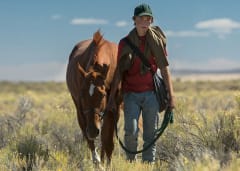 Fifteen-year-old Charley (Charlie Plummer), in some ways, is your average teenager. He loves football; he works a summer job for little pay; and he simultaneously longs for support and autonomy.
In many other ways, Charley's life experiences have been anything but typical. His mother abandoned him and his father (Travis Fimmel), who is well-intentioned but too distracted by beer and women to provide stability. To fill the void of both of his parents' absence, Charley leans on his workplace "family:" dodgy horse trainer Del Montgomery (Steve Buscemi), seasoned jockey Bonnie (Chloë Sevigny), and their failing competitor, five-year-old quarter horse Lean on Pete, who Charley bonds with most.
When Del decides to "retire" Pete after losing one too many races, Charley takes the reins to spare his new friend's life. Together, they embark on a gorgeously shot cross-country journey in search of Charley's loving aunt and a possible home.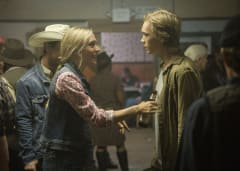 LEAN ON PETE, though emotional, is never sentimental. Not once does Haigh take advantage of the audience by evoking cheap tears, as easy as that would be. Loneliness and heartbreak seem to follow the pair wherever they go.
Haigh, in an interview at the London Film Festival, said the purpose of the film is to show how easy it is for people to "fall through the cracks if there isn't a safety net underneath them to save them." His approach is in step with Willy Vlautin's novel, which "reveals the lives and choices of American youth like Charley … who were failed by those meant to protect them and who were never allowed the chance to just be a kid."
While developing the script, Haigh stayed with Vlauntin in Oregon, where the film is based. Vlautin showed him the local tracks that inspired the novel and introduced him to personalities in the horseracing community. Haigh immersed himself in this world. He even retraced the journey Charley takes in the novel. Over the course of a three-month road trip across the Pacific Northwest, Haigh stayed in many of the same motels and camped in the same locations.
His dedication to the film's authenticity paid off: LEAN ON PETE is a winner — a heartrending story that somehow manages to weave in universal goodness.
LEAN ON PETE is available now at AMC theatres. Get your tickets today (but leave your mini movie lovers at home for this one).