Patton Oswalt has a voice that's as recognizable as his face. The stand-up comedian and longtime performer has danced in between television and film, co-starring in everything from BLADE: TRINITY and OBSERVE AND REPORT to his most recent "A.P. Bio." But when he's not on camera, Patton Oswalt is lending his voice to numerous animated programs and features. Fans of "American Dad!," "Rick and Morty," and "The Simpsons" likely associate his voice with characters they have grown to love over the years. And a handful of movie patrons now know Oswalt's work due to the sound of his voice.
Patton Oswalt replaces Louis C.K. as the adorable dog Max this month in the animated sequel THE SECRET LIFE OF PETS 2. Hear from Oswalt and his co-stars in our exclusive interview below.
If it connects with audiences the way that the first movie did, PETS 2 will make Oswalt as recognizable as these next three movies did. Before he barked his way through the upcoming sequel, Oswalt created these memorable film characters, mostly in the field of animation. Which one is your favorite?
Teen Titans Go! To the Movies
Atom is DC's version of Ant-Man: He's able to shrink to subatomic sizes. He's a colleague of the Justice League, but in 2018's summer hit TEEN TITANS GO! TO THE MOVIES, Atom tries to stop the Titans as they race away in a cart, only to land on their windshield. It goes poorly (as you might imagine), and Beast Boy tries to clear Atom off the windshield with his wipers … causing a human smear. The tiny hero was voiced by Patton Oswalt, ever so briefly.
Ratatouille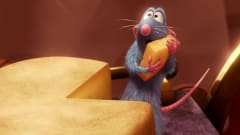 Easily Patton Oswalt's most popular role. He lent his voice to a Parisian rat with a nose for cuisine who learns how to cook with the help of a human friend. RATATIOULLE came out during Pixar's earliest run and established the animation giant as well as Oswalt as a talented storyteller with a tremendous voice for warm-hearted family comedy. He likely doesn't get roles like Max in THE SECRET LIFE OF PETS 2 if not for his turn in RATATOUILLE.
Sorry to Bother You
Patton Oswalt doesn't always have to do safe, kiddie comedy. In last year's edgy SORRY TO BOTHER YOU, Oswalt was the voice of Omari Hardwick's "white impersonation." What? Yes, in the dark comedy, African-American telemarketers put on "white voices" to sell things to patrons. Lakeith Stanfield gets David Cross as his white voice. And Oswalt lends his voice to Omari Hardwick, with great results.
Don't let your kids see SORRY TO BOTHER YOU, but do buy them tickets to see the anticipated sequel THE SECRET LIFE OF PETS 2, which will open in AMC theatres on June 7.