No one ever thinks of MEN IN BLACK as a comic book adaptation, but that's exactly what the original movie was. The comic was published by Aircel beginning in 1990; that publisher became Malibu, which was bought by Marvel in 1994, turning the Men in Black into a stealth Marvel property. With MEN IN BLACK, director Barry Sonnenfeld and writer Ed Solomon found just the sort of formula that has worked so well for Marvel in the years since: likable stars with big personalities thrown into a fast-paced spectacle with an even mix of action and comedy.
MEN IN BLACK: INTERNATIONAL brings the series full circle. The June 14 release stars Tessa Thompson as an aspiring MIB agent and Chris Hemsworth as the cocky hotshot in the U.K. office who takes on Agent M (Thompson) as a partner. Yep, that makes the new movie a reunion for the THOR: RAGNAROK duo, who also shared the screen in AVENGERS: ENDGAME. The comic book series which became a Marvel title led to a movie starring some of Marvel's best talent.
Still Making This Look Good
Let's get you up to speed, since the original MEN IN BLACK arrived on Earth in 1997, and the two sequels were pretty evenly spaced out, in 2002 and 2012. The Men in Black organization is a secretive operation which keeps tabs on all alien life on Earth and helps keep order in the universe.
Even if you haven't seen one of the films in a while, you probably remember some other details. The agency believes regular people aren't ready to know about aliens, so they wipe the memories of anyone who sees agents or aliens in action. That tech — along with all of the exotic weaponry used by agents in the field — is based on stuff borrowed, confiscated or inspired by extraterrestrial gear.
So, how does Thompson's character, who we'll come to know as Agent M, know about the alien peacekeepers? Years ago, when agents J and K, the characters played by Will Smith and Tommy Lee Jones in the original film, did the "flashy thingy" to erase a crowd's memories, they missed someone. Thompson's character has spent her whole life trying to track down the MIB, with one goal in mind: She wants to sign up.
Unearthly Chemistry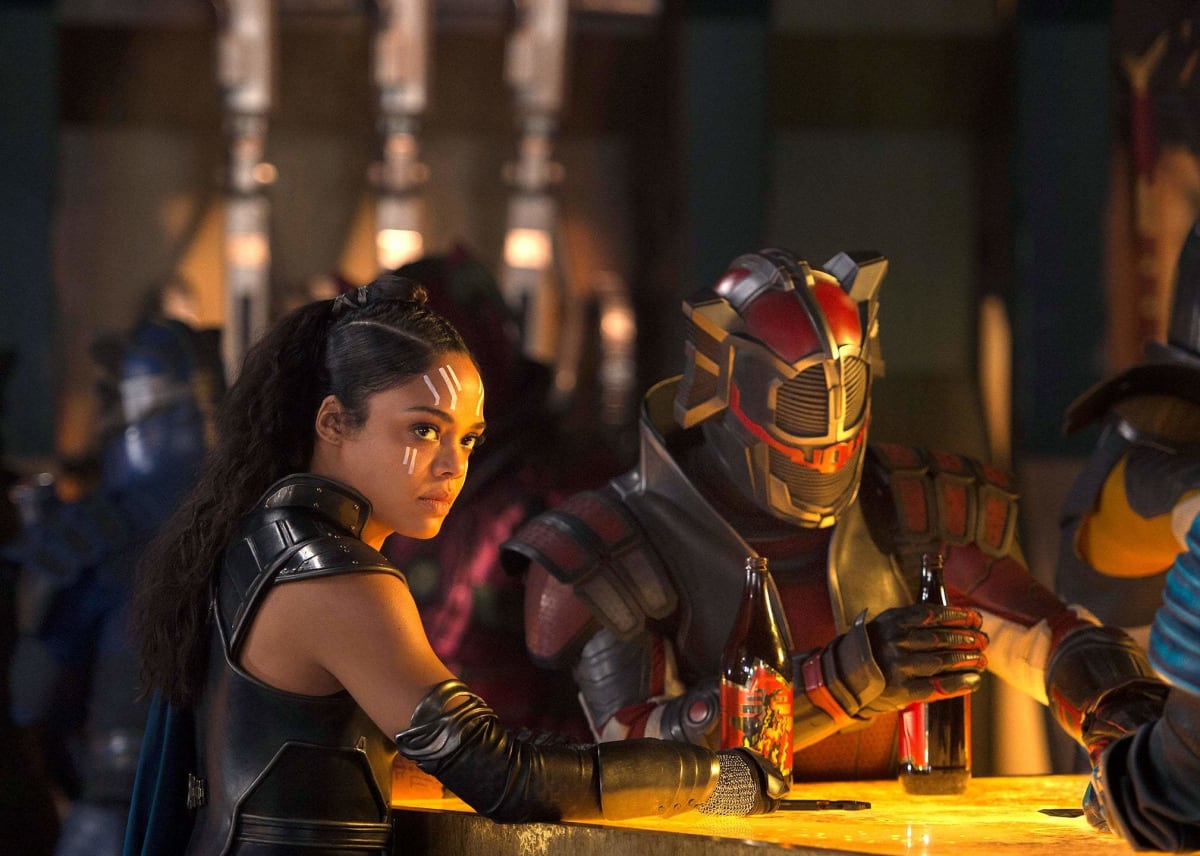 THOR: RAGNAROK (above) set up a brilliant dynamic between Hemsworth and Thompson, as Thor is effectively stripped of his powers and caged in an unfamiliar environment. His relationship with Mark Ruffalo's Hulk is tricky enough, as the big green guy thinks he's happy on an alien planet where he can be a violent champion, and Tessa Thompson's Valkyrie only complicates things. She's seen it all, or so she thinks, and no longer has a reason to care about anyone other than herself. The push and pull between Valkyrie and Thor is, in a small way, a battle for Valkyrie's soul — and even for the future of Asgard, as we eventually see in AVENGERS: ENDGAME.
The relationship between Hemsworth and Thompson's characters is effectively flipped in MEN IN BLACK: INTERNATIONAL. Hemsworth's Agent H is the field-tested and seemingly slightly jaded agent who shows a newcomer the ropes. Thompson's Agent M is the eager newcomer who has fresh eyes to see situations in a new light. The two stars have worked so well together that we're eager to see them effectively swap roles.
All This and Aliens, Too
Each MEN IN BLACK movie has featured alien designs lifted right from the covers of bizarre sci-fi magazines, often with great comedy talent to bring each visitor from space to life. Kumail Nanjiani ("Silicon Valley," THE BIG SICK) plays a major role as the voice of the diminutive alien Pawny. Nanjiani gets to act as a comic foil to both Thompson and Hemsworth as their characters seek out a mole in the MIB organization.
They face Rebecca Ferguson, from the MISSION: IMPOSSIBLE films, as Riza, a dangerous alien, and Les Twins, who play shape-shifting alien twins who are on a quest of their own. We don't know much about any of those three characters, but Ferguson is a particular delight to see in this context. She's been such a highlight of the last two MISSION: IMPOSSIBLE movies that we want to see her in everything!
Emma Thompson also returns as Agent O, the head of MIB's American office, while Liam Neeson signs on as the interestingly named High T, who commands the U.K. branch of MIB. Since this new story involves some high-level espionage within their organization, there's likely to be a big shake-up in the outfit by movie's end. We can't think of a more able pair of authority figures — if anything, the only disappointment is that we can't also see Emma Thompson and Neeson out in the field as a bickering buddy pair in their own right.
MEN IN BLACK: INTERNATIONAL comes to Earth on June 14.