Ari Aster, the visionary director of HEREDITARY, is back with a new and very different nightmare. In MIDSOMMAR, a group of friends travels to a secluded Swedish village that's hosting a festival that occurs once every 90 years. But they quickly realize that their idyllic vacation is a gateway to an experience very different from the one they imagined.
HEREDITARY gave us dark dreams for months. The violent rituals that mark the festivities in MIDSOMMAR are bound to make our own mid-summer very scary. Here's what you need to know about the film.
"You're Going to Love It"
Christian (Jack Reynor) and Dani (Florence Pugh) are about to break up. Shaken by a family tragedy, Dani and Christian have come to the conclusion that a vacation could save their relationship. Christian invites Dani to join him and his friends on a trip to a secluded Swedish village for a once-in-a-lifetime festival.
This doesn't even seem weird. One of Christian's friends is originally from the village and swears by the festival's legendary experience. "You're going to love it," promises one of the locals as she greets them. But this is no weekend trip to Coachella. During the festival's nine-day frenzy, the travelers are caught up in pagan festivities and horrific rituals. 
Sunshine, Flowers and Blood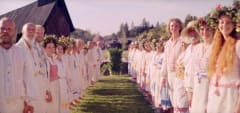 MIDSOMMAR's trailers introduce us to a stark contrast. Everything is sunny and blooming in the Swedish summer. "It can't be 9 p.m. The sky is blue," exclaims one of the characters, amazed by the eternal sunshine. But beneath this idyllic setting, sinister darkness looms. Acclamations, bloody stones, opened bodies and monstrous faces taint the film's pure-looking backdrop.
But as with HEREDITARY, there could be more going on than just a nightmarish "fish out of water" experience. We know there are big cracks in the relationship between Dani and Christian, and their problems could very well feed the horror going on around them. More than just a petrifying horror film, MIDSOMMAR will very likely also be an autopsy of dysfunctional relationships, groups and traditions. 
Master of Horror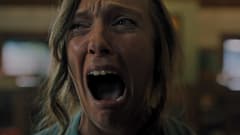 Writer-director Ari Aster got his big break with the chilling HEREDITARY, one of the big horror hits of 2018. The popularity of that hit gave Aster the leeway to get even more weird with this follow-up. And MIDSOMMAR gives the director the opportunity to craft the sort of bright but ominous images we don't often see in horror. It's like he's building on the crazy climax of HEREDITARY in the best way possible.
But Aster never sought out to be a horror filmmaker. In fact, he thinks of HEREDITARY as a "family drama." Even with his controversial first short film, "The Strange Thing About the Johnsons," Aster dealt with dysfunctional families. With MIDSOMMAR, Aster continues to explore the dark depths of human behavior, shifting his focus from families to romantic and platonic relationships. 
Alongside the versatile actress Florence Pugh (FIGHTING WITH MY FAMILY) and Jack Reynor (ON THE BASIS OF SEX) as the lead couple, we'll see Will Poulter (THE MAZE RUNNER) starring as Mark, Christian's friend who encourages him to break up with his girlfriend. William Jackson Harper (Chidi in "The Good Place") appears as fellow friend Josh, and Swedish actor Vilhelm Blomgren plays the village native who lures the group into the trip — and we're already wondering about his motives.
MIDSOMMAR comes to AMC on July 3.